Learn More About the Cards Plus Team
April 20, 2017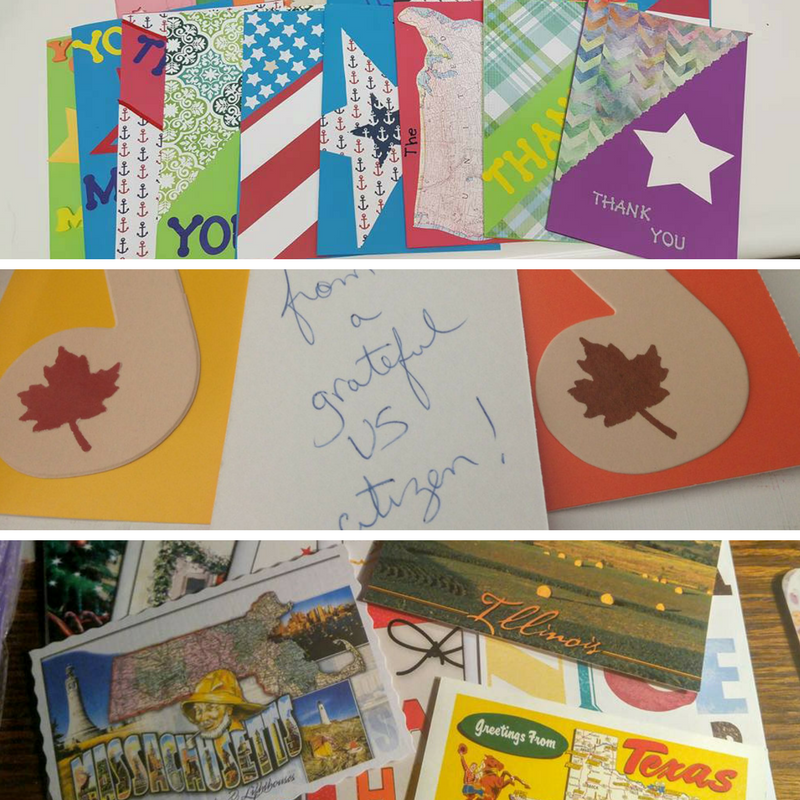 April is National Card and Letter Writing Month. We've told you all about our Letter Writing Team, now it's time to talk about our Cards Plus Team. The Cards Plus Team supports deployed service members, veterans, and military families by sending encouraging or celebratory cards.
Cards of support sent by the Team include, but are not limited to:
Birthday

Encouragement

Thinking of you/Get well

Anniversary

New baby

Welcome home
The Angels on our Cards Plus Team are so thoughtful and creative! They often post pictures of their creations within the Cards Plus Team Facebook Group. They use card creation services like Zazzle to create custom cards for their recipients, they hand make cards, and they swap postcards with other angels so they can send postcards from all 50 states! Our military heroes and families truly love receiving cards from our team.
How the Team Works
Angels on the team select an "opportunity" (basically a request for cards) from the CPT opportunities, and send a card or postcard to the individual listed. Requests come in for birthdays, for veterans who need some encouragement, for coming home… the occasions and reasons vary.
The Cards Plus team is growing and according to its team leader, Jerry Mott, it now supports more military families than in the past. The team has also been joining up with other Soldiers' Angels Teams. CPT has recently joined with Operation Top Knot, Women Of Valor, and the Chaplain Support Team to send cards to a wider audience. Another great new venture for the team is sending cards for 'mail call' to Honor Flights. Honor Flights is an organization that takes veterans to Washington DC to visit the memorials for the conflict/war they fought in.
The team has also been sending cards to Veterans in communities and at long term care facilities.
Meet Jerry Mott
Jerry is the team leader for the Cards Plus Team. She manages the Facebook Group, helps new angels, and makes sure the team is running smoothly.
How long have you been a part of the CP Team?
I have been with CPT since joining SA in March 2014.
Why do love this team or SA in general?
CPT is a great way for Angels at every financial situation to be able to support our military. I enjoy supporting service members on different levels and on different teams. Our Angels are great individuals and live to support our military and their families.
Do you hand make the cards you send? If not, how do you choose what cards to send?
I've seen pictures of some of the creativity that flows through this team. Some folks have that creative juice, me, I just go for the store bought ones. I'm not creative at all. Lol. I either use cards that I've bought or have been donated. The type of card depends on the occasion of the card request.
Do you take blank card donations?
Yes, we do, on occasion, have cards donated. Sometimes, the cards are sent to Soldiers' Angels Headquarters and some are sent directly to SA Angels.
Want to join the Cards Plus Team and send encouraging notes and cards to our service members, veterans, and military families? The requirement is simply one card per month minimum! Learn more here.
---