How To Make A Difference As A Virtual Volunteer
October 22, 2020
Make A Difference Day is a National day of community Service celebrated on the 4th Saturday of October. It's another great way to promote doing good in your community and helping those in need. Each year we use this day to promote some of our initiatives and programs and encourage others to use this day to make a difference in the lives of service members, veterans, and military families. This year, we are excited to focus on the many ways you can make a difference as a virtual volunteer.
This year's Make A Difference Day is going to look a lot different in communities across the country due to the safety measures that need to be taken to stop the spread of the Coronavirus. The great thing about Soldiers' Angels is that we've always offered virtual volunteer opportunities to those looking to serve! This year, due to the pandemic, we've expanded our virtual offerings to incorporate one-time opportunities and COVID specific support. Here's a look at some of the ways you can celebrate #MakeADifferenceDay through Soldiers' Angels.
Treats for Troops
Each year we host a Halloween candy collection drive to send candy overseas so that service members don't miss out on the sweetest holiday of the year! We ask businesses to host candy collection sites where supporters can drop off their leftover candy after the holiday.
Maybe you're not Trick-or-Treating this year, but we assure you, there will be no shortage of Halloween candy. Whether you have leftover candy to donate or you want to shop the after Halloween candy sale, we'll be sure to get your sweet treats to service members deployed overseas. AND, if you want to do something a little extra, we are also asking for help creating easy to distribute bags of candy, a great virtual volunteer opportunity that even the little ones will enjoy helping with!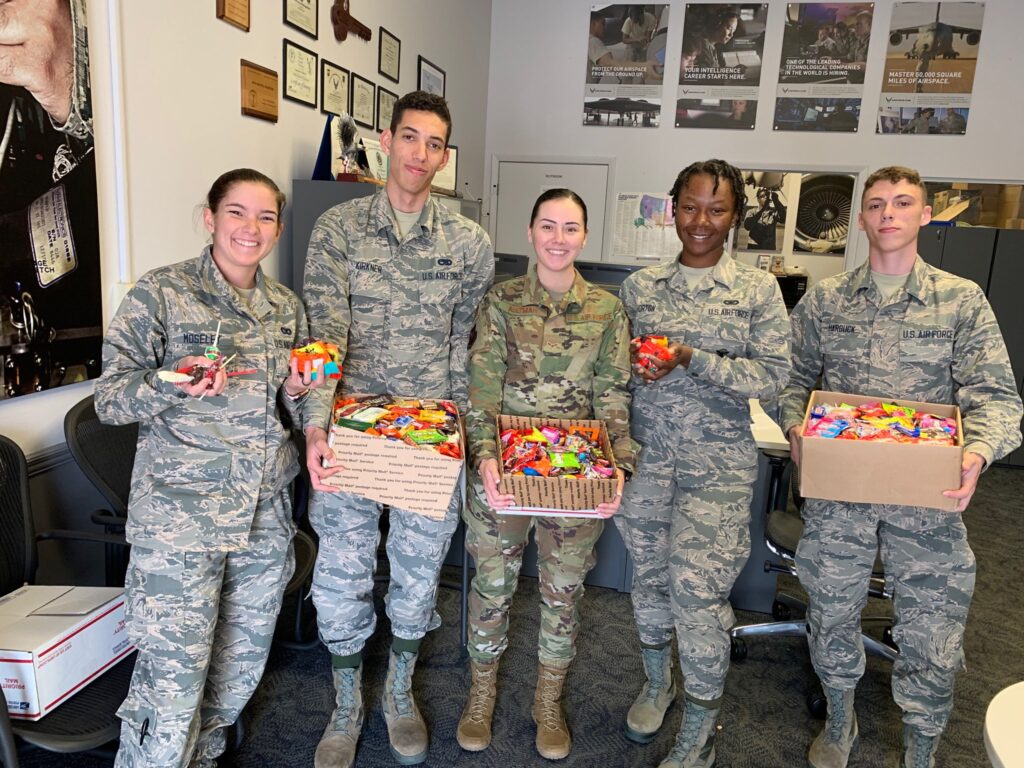 Holiday Stockings for Heroes
Another great way to make a difference is by pledging to send holiday stockings to troops and veterans. The holidays are always difficult for deployed service members and right now, they are increasingly hard on veteran patients who can't have family or visitors with them throughout their stay at the VA Hospital.
Whether you pledge one stocking or 25, any amount will make a difference to a service member or veteran. This year, our goal is to collect 20,000 holiday stockings to distribute within VA Hospitals across the country and to deployed service members overseas.
This virtual volunteer opportunity would be a great option for those that may not be able to be with their families in-person to carry out normal holiday traditions! Consider getting your whole family involved in the process of gathering items to stuff the holiday stockings, and then host a virtual stocking stuffing party! Play some holiday music in the background and encourage everyone to wear their ugly sweaters, you've got a new holiday tradition!
Learn more about the Holiday Stockings for Heroes here.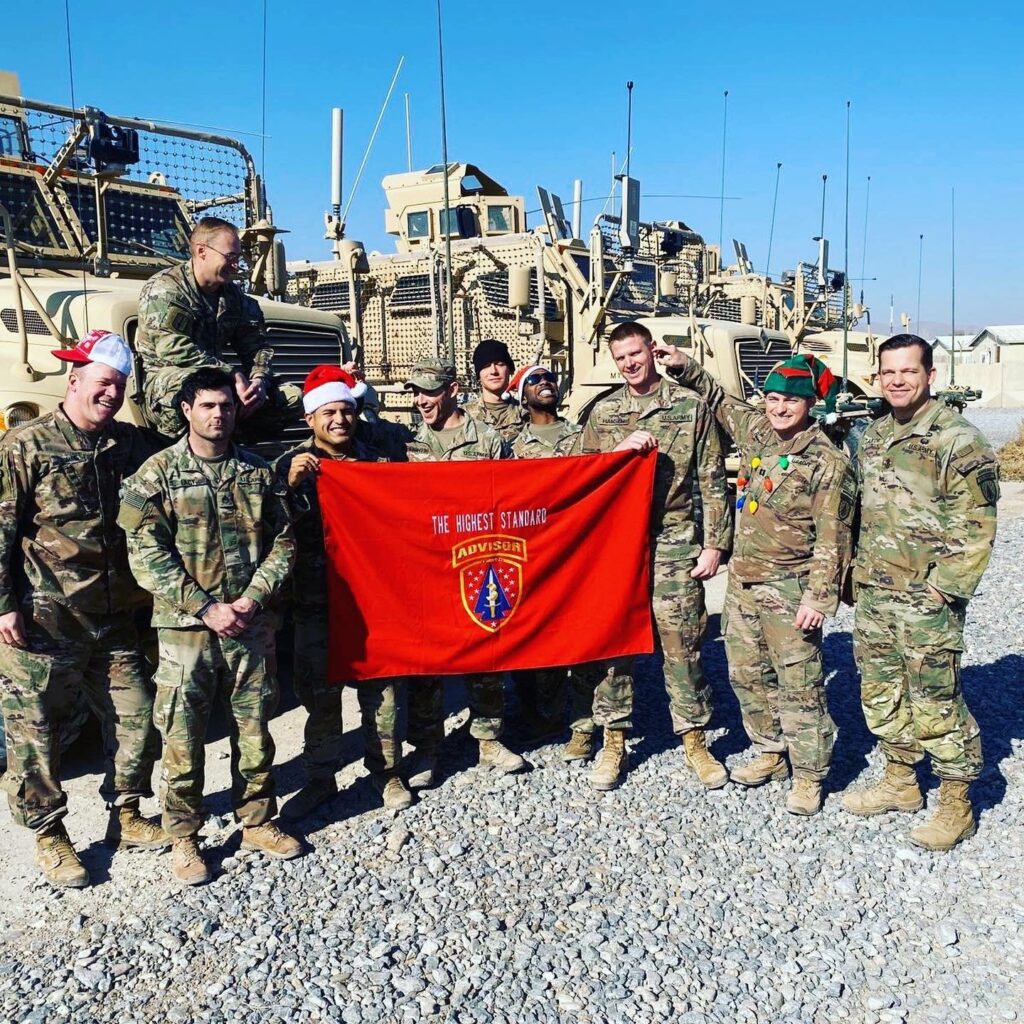 Go Camo
COVID has been hard on all of us, but for our service members, it has been extremely difficult. Whether deployed in the states to support current pandemic efforts, or deployed overseas, they face constant changes and worry about their own family's health during these uncertain times. It's safe to say that all of our military members could use a morale boost, which is why we launched the Go Camo care package collection drive. Supporting Go Camo means helping Soldiers' Angels collect the top-requested items used in care packages.
It's easy to be a virtual volunteer and support Go Camo: set-up a collection drive of the requested items, purchase items at stores near you and ship them to our headquarters, purchase items from our Amazon Wish List, or make a donation to help support the cost of shipping these care packages across the U.S. and overseas. Learn more about Go Camo here.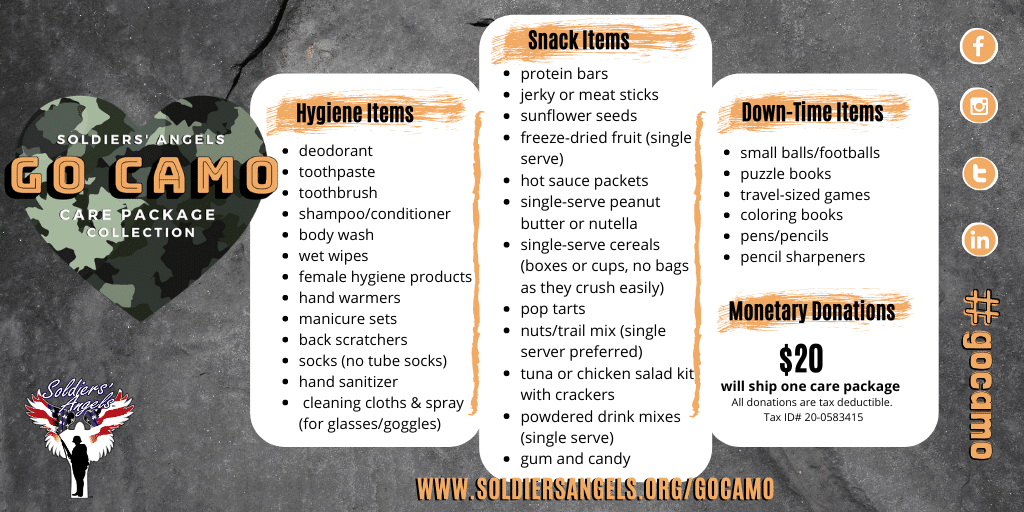 COVID Support
We've been working diligently to create and/or adjust our volunteer opportunities to fit the new landscape of this current Coronavirus pandemic. If you're looking for ways to support COVID specific programs, we have a few initiatives where we could use help. These unique, one-time support efforts include:
Read more about our COVID Support and COVID crafts opportunities here.
Become an Angel
Want to becoming a virtual volunteer all year long? Join one of our Virtual Teams and become a Soldiers' Angel! "Team Angel" volunteers work virtually to support deployed, veterans, and military families by writing letters, sending care packages, baking, sewing, and more on a recurring basis. We have six Deployed Support Teams who provide support on a regular basis in a variety of ways and six Family Support Teams who support military families in a variety of ways.
---