How Some of Our Angels Celebrated Be An Angel Day
August 25, 2016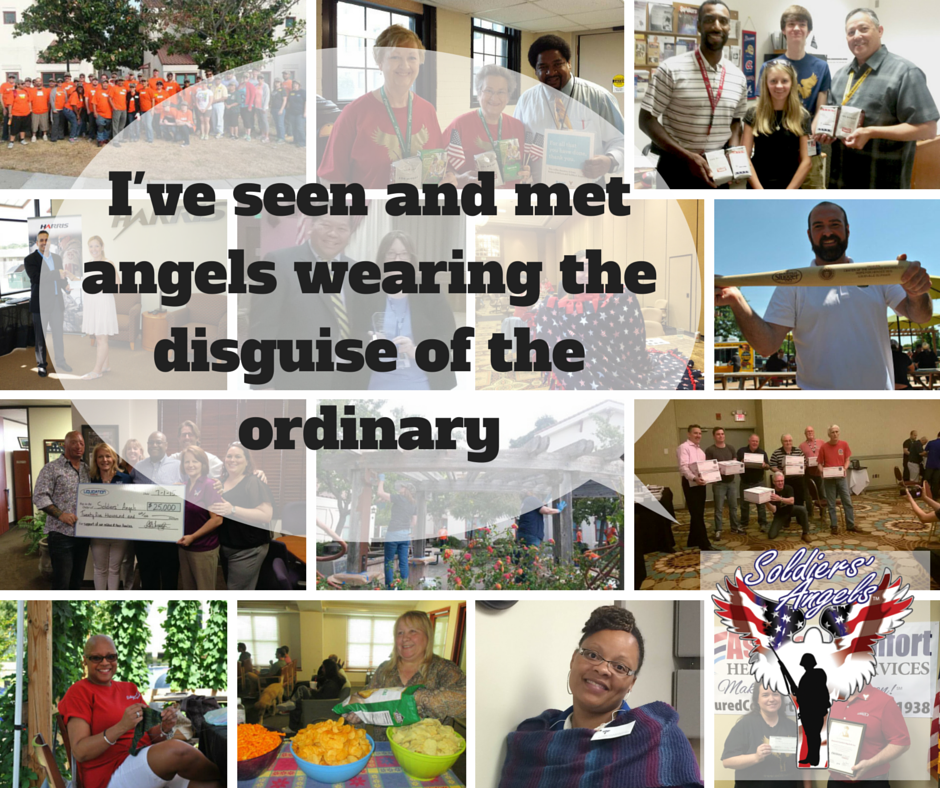 We didn't invent "National Be An Angel Day" but we're sure glad someone did! Every year on August 22nd, Be An Angel Day is celebrated. The holiday is meant to celebrate those who do good deeds and are kind to others. Well, since we're Soldiers' Angels, we choose to use the holiday to celebrate those who serve this country – the best deed you can do for your country. This year, we asked our angels to share with us how they are angels to our military. Here are some of the stories they told us.
Sending Letters, Cards, and Care Packages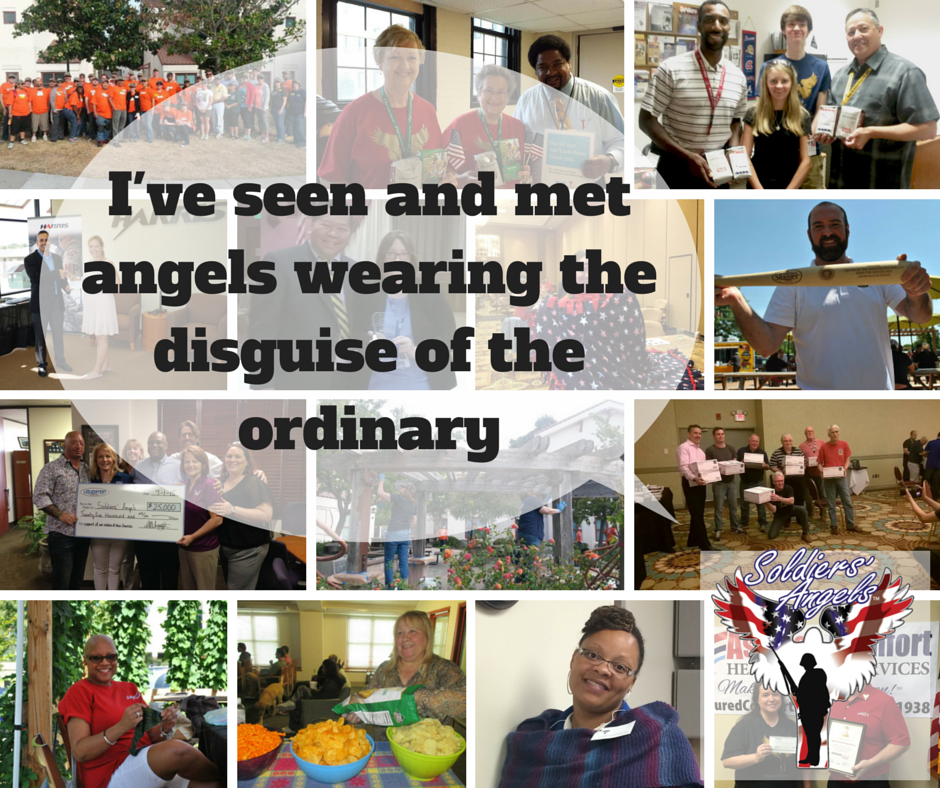 "I send out letters every day to our wonderful soldiers. I began my writing to our deployed 24 years ago, the first letter I received back was from Mike he is navy, we wrote back and forth and I sent packages until he came home. When he deployed again I did the same all over again.
Last year, after fifteen years, he got back in touch through Facebook, now we talk almost every day." – Pam
"7 years ago, through Soldiers' Angels, I received a name and wrote my letter, we began corresponding until he came home. I knew nothing about him but his name. Each time he redeployed, he'd email me and I'd begin sending letters and boxes. 6 times he came home and I still didn't know anything about him. 2 months ago he contacted me, asked if he could call me and if I'd write again as he redeploys for the 7th time. I'm happily writing and sending boxes. I have a small light in my front window, his name is written on it and I attached a small flag. That light will stay there until he safely returns and my lettering writing for his last deployment has come to an end. I'm so honored to have him ask me to write each time he goes over. And so excited when I actually spoke to him and could tell him Thank You in person!" – Debbie
"I've written letters to all my adopted service members today." -Lilly
"I sent out 3 cards today. I try to do one for every day of the week. I remember my first free mail! It felt really good to know I made a difference in someone's day. The message brought me to tears. There are so many veterans in my life, my husband, dad, best friend (first woman commander of VFW in SD), nephew, and many many friends. They inspire me to show the thankfulness I feel." – Lisa
"Mailed 3 postcards being collected for "Welcome Home" and "Thank You" Postcard Books (for deployed soldiers). And sent two birthday cards to deployed soldiers.
"Writing and collecting letters for two CA Honor Flights – 120 Veterans in total. I try to write two letters every day, so I am not overwhelmed as the trips approach. So grateful to all the CPT Angels who jump right in and help make sure the Veterans receive so many letters!" -Ronni
"I got my confirmation email that I am an approved "Angel". I have adopted an Army soldier and will be sending out a letter today and a care package on Thursday."
"Mailing cards to my current adoptees. I actually have one from a few years ago that's kept in touch and asked me to write again as he gets redeployed." – Barbara
A Simple but Meaningful "Thank You"
"First off, let me say how absolutely proud I am to be an Angel. Soldiers' Angels is such an amazing organization, full of dedicated and wonderful people, and it truly gives me purpose to get up everyday! It has been such a rewarding experience! Today, I made sure to reach out to all of the veterans in my family and thank them for their service. I believe a "thank you" goes such a long way. I have also worked all morning on expanding our volunteer base in Texas. I'm looking forward to new Angels joining our Angel family and spreading this message of gratitude. " – Laura
"It was the first day of school and I inducted 32 new "Jr. Angels" for the year. We unofficially adopt and have special guests visit our classroom throughout the year to be honored and thanked for their service. Room 27 *hearts* our troops!!" – Lori
Volunteering
"Mine wasn't vet related, but I am collecting donations and driving them 6 hours one way to the flood victims in LA this weekend. 🙂 I have a lot so far!!! But I did write my 2 letters for today." -Dannielle
Baked Goods
"I made my very first rice-crispies-marshmallows cakes today. I hope my DS likes them as much as I (of course I tasted them!)" – Edith

We enjoyed reading about all of the great things our angels are doing for our military! Keep up the good work and may no soldier go unloved!

---