Day of the Deployed
October 22, 2015
I'm sure you know about Veterans Day, the day we honor all of those who have served.
Most people get Memorial Day off, a day we honor those who have made the ultimate sacrifice for our freedoms.
But do you know about the Day of the Deployed?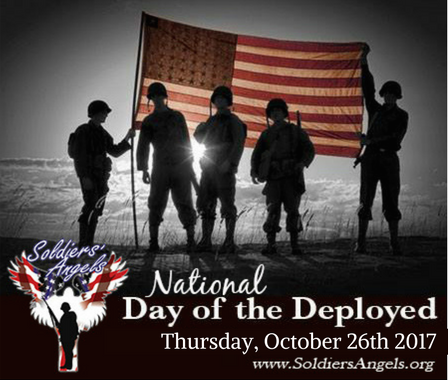 The Day of the Deployed is a National holiday founded by Soldiers' Angels to honor all of the brave men and women who have been deployed and are sacrificing, or have sacrificed, their lives to fight for our country. It's also a day that acknowledges their families they are separated from. Soldiers' Angels founded this holiday to further support our mission of ensuring that No Soldier Goes Unloved. It's important to us that our deployed military service members and their families are supported.
"Day of the Deployed is a day to honor the many selfless actions demanded of military members and their loved ones across the globe serves as a tangible reminder of the sacrifice being made in homes across America every day. Every deployment reflects the deep commitment of not only the deploying member, but of the many friends and loved ones who are left behind to aid in answering our nations call. Selfless men, women and children who are called upon to set aside their personal comfort and convenience to support the heroes they call mom, dad, father, mother, brother, sister or friend." – Patti Patton Bader, Soldiers' Angels Founder
Day of the Deployed is celebrated each year on October 26th. The holiday was first launched in 2006 by then-Governor of North Dakota John Hoeven in support of Soldiers' Angels. The effort spread, and in 2010, 40 states had proclaimed a Day of the Deployed. In 2011, the U.S. Senate passed with 100% yes votes to make the day a National day of honor.
"Our U.S. service men and women currently deployed, along with their loved ones, make untold sacrifices as they serve our nation. A national Day of the Deployed pays tribute to their commitment to our country and their work to protect our freedoms. We want to ensure that our military members and their loved ones know of our appreciation and support before, during and after their service." – John Hoeven
---