Honoring Angel Elizabeth Raulston
February 25, 2021
It is with a very heavy heart that we share news of the passing of one of our dedicated Angel volunteers, Elizabeth Raulston. On Thursday, February 18th, Elizabeth, who was only 44 years old, lost her battle with COVID-19. Elizabeth fought long and hard with COVID and, like so many, appeared to be on the road to recovery before her passing last week.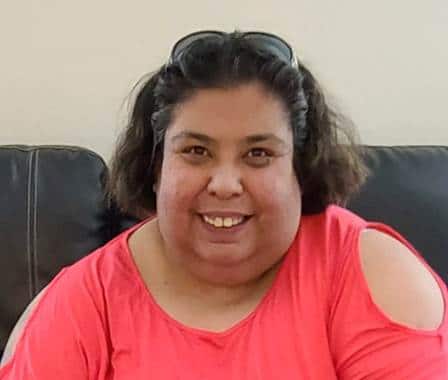 Elizabeth was an incredibly dedicated Angel volunteer who has been with Soldiers' Angels since 2013. She was a part of many teams, including the Deployed Adoptions Team, Angel Bakers, Adopt-A-Family, and Letter Writing. Eager to help even more, Elizabeth became the Group Leader for the Letter Writing Team in 2013 and then the Team Leader for the Letter Writing Team in 2019.
Not only was Elizabeth an Angel for the military and veteran community, she was an inspiration to her fellow volunteers and the staff at Soldiers' Angels. She was known to call or Skype with Deployed Support Program Manager, Tracy Curran, or her fellow Team Leaders and Group Leaders just to tell them a joke and make them smile. When she felt something was wrong or a friend needed to be lifted up, she reached out and was known for spending hours on the phone with Angels on her Team who may have just needed someone to talk to.
Elizabeth was married but lost her husband in September of 2020 due to a non-COVID-related medical condition. The couple did not have any children but did leave behind cats who are certainly feeling the loss of their family.
Elizabeth, you fought long and hard, but please, rest easy now. We are so incredibly proud of all that you did for the military and veteran community during your time on this Earth. You touched the hearts and lives of countless service members, veterans, military families, and fellow volunteers in a way that will be remembered for lifetimes. Thank you for your service.
Here are a few thoughts and memories about her from her fellow angels honoring Angel Elizabeth Raulston. These lovely comments truly show just how dedicated and kind she was.
"Elizabeth was a great team leader and an even better friend. She was a wonderful source of information and inspiration for her Group Leaders. Elizabeth loved her husband James, their cats Smokey & Midnight, Starbucks, Grogu, and watching movies with her hubby. She loved writing service members and had a huge pen collection which she added to weekly. She loved finding new types of pens and cards. Elizabeth loved participating in the Soldiers' Angels Christmas Adopt-A-Family program and she loved shopping for her Deployed Adoptions Team service members. She looked forward to interacting with her angels on the Letter Writing Team and she enjoyed coming up with contests and outreach posts. I looked forward to our daily chats and I would give anything to hear her laugh again."

'Good friends are hard to find, harder to leave and impossible to forget.'

– Lyndsey H.
"Elizabeth was the sweetest, kindest soul. It was such a pleasure to work with her when I was a group leader. She will be dearly missed."

– Kara P.
"One time talking to Elizabeth in the Fall, she told me the funniest story. She had an Echo in her office. Later she was in another room and heard talking. She looked all around and it turned out it was the Echo. Somehow it had been hacked in to and had voices coming from it. She told me if it did it again she would toss it out the window. She thought it was aliens! Elizabeth thought this was the funniest event."

– Terry
"Elizabeth was so funny! I enjoyed her humor so much. Does anyone remember when she has us guessing the name of her cats?! I miss her but am grateful for the opportunity to have interacted with her."

– Betsi L.
"Elizabeth was a tremendous Angel and was always sending messages making sure I was okay. She will be missed."

– Susie Turner
"I was on Elizabeth's Letter Writing Team and she called me one day just out of the blue. We visited and laughed for quite a while before hanging up. I can still remember her laugh. She loved her work with Soldiers' Angels and was such an inspiration to so many of us. She will be missed."

– Ernestine S.
"I knew Elizabeth for a very short while as I came on as a Group Leader shortly before her husband's passing. She was always so cheerful and upbeat. I could text her at any time with questions and she was always calling or texting me to check and make sure I was ok — especially during the hurricanes. I'm so appreciative of everything she taught me and I hope I can continue to honor her memory by being the best Group Leader I can be."

– Karen P.
"Elizabeth was the first person who called to tell me that I was chosen for a team leader position last August. She sounded so happy. She was always pleasant to talk to. Anytime I needed help, every time I thought I was asking too many questions or just having a bad day, talking to Elizabeth made me feel much better. She would always assure me that I wasn't causing too much chaos for her and always made suggestions to try before sending the information to her. She would drop everything just to help me out or help others. I have never met her in person, but I could imagine her being that one person who walks into a room and just brightens the room with just her presence. She will be greatly missed."

– Nikki L.
It seemed with Elizabeth whenever I had a question she always responded with a phone call and then we would end up chatting, laughing and (after her husband passed) crying too. She was a passionate individual who felt for everyone, never had a bad thing to say about anyone, never complained – we both had cats and we would laugh over their antics, how much trouble they would get into and how they would drive us 'nuts' but we always knew no matter what we would love them and spoil them much as Mommas do with their kids!

After her husband's passing Elizabeth would call when she needed to 'vent' which was perfectly fine with me – looking back on her calls I'm just happy to know I could be there for her and wish I could have been more for her than just a phone call."

– Bertha M.
"Elizabeth was always there willing to help whether it was with a Soldiers' Angels' issue or not. She was a joy to talk to. My family always knew when I was talking to Elizabeth because of the laughter and length of the phone call. We could talk for hours about anything and everything and it seemed like barely five minutes had passed. I will miss our conversations very much. She will be missed by everyone."

– Wendy
---