Home of the Brave Campaign 2021
November 5, 2021
The Home of the Brave campaign is an effort started in 2012 to connect corporate giving with VA Hospitals across the country to celebrate Veterans Day. We had to be creative for last year's Home of the Brave Campaign due to Covid-19 safety restrictions. Although many VA's are still under COVID precautions and not all of our volunteers will be able to go to the VA once again this year, employees volunteering from all participating sponsoring companies have come up with creative ways to support veterans from a safe distance throughout Veterans Day week. Activities ranged from luncheons and BBQ's to patient visits, handing out care items, distributing coffee and donuts, and having Veterans Day ceremonies or parades.
Here's a look at just of few of the fun initiatives that happened across the country this year in celebration of Veterans Day.
Sharing Swag in Cincinnati, Ohio
A community of Bristol Myers Squibb and VA volunteers came together to show their love and appreciation for our Veterans. "We are so grateful. Thank you." – Soldiers' Angels Home of the Brave participants in Cincinnati, Ohio.
No Sew Blankets in Marion, Indiana
Bristol Myers Squibb Cardiovascular Indiana Sales Team, "Hoosier Force," made 25 No-Sew blankets for veterans at the Marion, Indiana VA.
Cards and Shirts in Columbia, South Carolina
These Home of the Brave volunteers celebrated Veterans Day at the Columbia VA by packing bags of shirts and thank you cards at home and then delivering them to the VA! The group represented Peraton and USAA.
Gifts and Snacks in Richmond, Virginia
At the Richmond VA, Peraton and Bristol Myers Squibb volunteers made paracord bracelets and delivered body wash, trail mix, and over 1,000 cookies.
"We dropped off these items with the VAVS on a beautiful fall day. They passed out the t-shirts, caps, and cookies to the veterans in the South Hall." – Elizabeth Minter, Bristol Myers Squibb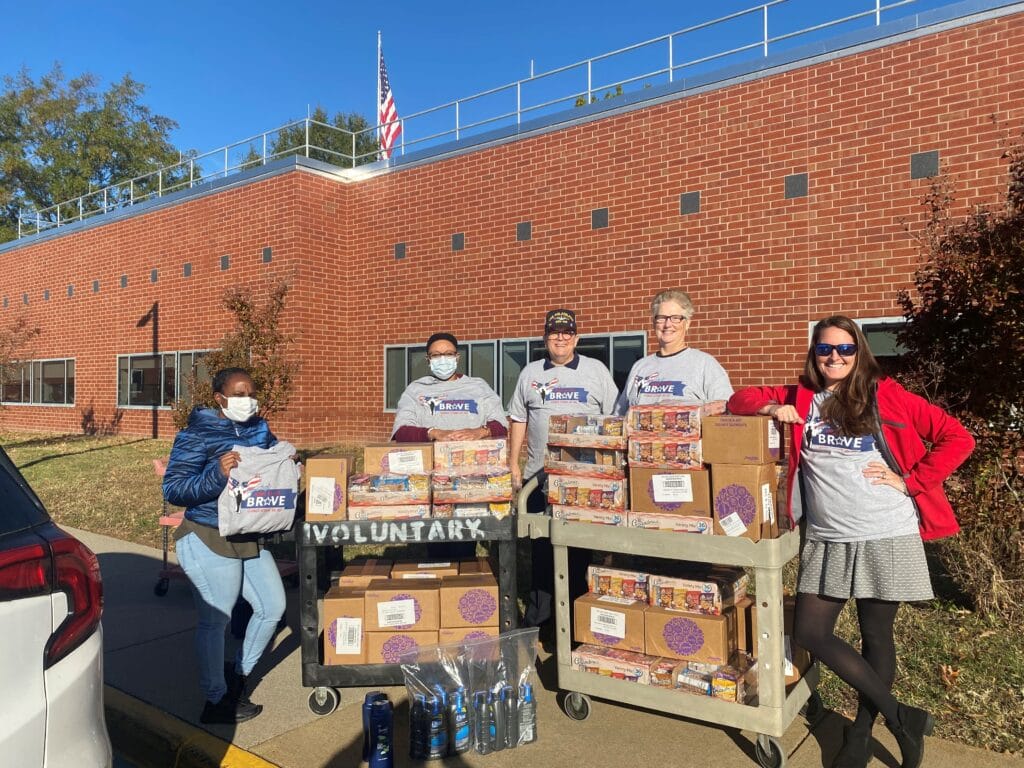 Celebrating Veterans in person in Kansas City, Missouri
"We had a GREAT time today at our HOB event in KC VA. We had a total of 5 volunteers (including myself) – and we were able to be LIVE and in-person to hand out cinch bags, hats, snacks, etc. One of the vets shared with a volunteer that he was 96 years old. When asked what the key to a long life was….he replied, "To spread kindness every day." – Jeanni Thompson, Bristol Myers Squibb volunteer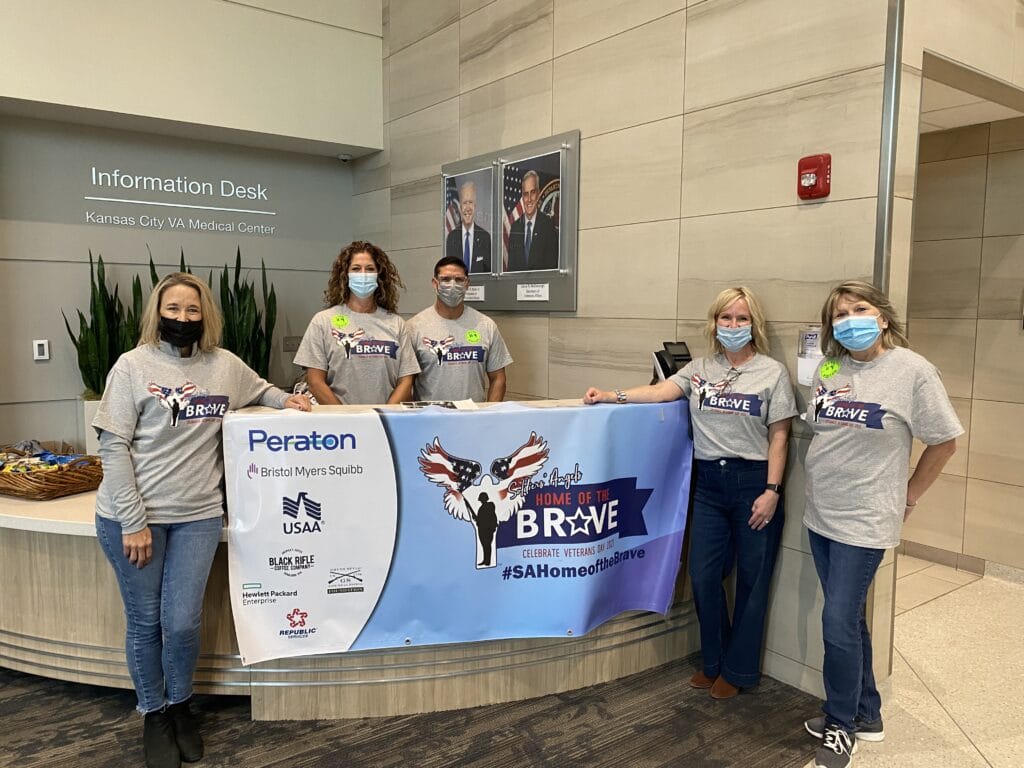 "Moving Forward" in Honululu, Hawaii
"This is the 2nd year that BMS oncology and CV teams have worked together on the Home of the Brave project. The Veterans Center for Aging or their preferred name VA Center for Living thanked us by presenting Charlene Kim, Drake Parker, and Richard Ogomori with IMUA volunteer medallion coins. In the Hawaiian culture, 'IMUA" means "to move forward" toward a goal. The goal being to recognize and remember our veterans for the sacrifices they made for us and our country. Mahalo for giving us the opportunity to collaborate with the VA Center." – Charlene Ki, Bristol Myers Squibb
Emergency food kits and gifts in Fargo, North Dakota
Bristol Myers Squibb employees wrote Thank You notes for the veterans at the Fargo, ND VA that accompanied Home of the Brave Hats, sling bags, and hygiene kits. They also assembled emergency food bags for veterans in need.
We want to thank the companies who participated in the Home of the Brave campaign this year: Peraton, Bristol Myers Squibb, USAA, Hewlett Packard Enterprise, Republic Services, Grunt Style, and Black Rifle Coffee Company. By November 12th, we will have honored nearly 25,000 Veterans at 125 U.S. Department of Veterans Affairs medical center sites in 43 states plus Washington, DC.
If your company has a national footprint, you are action-oriented, and believe in supporting our nation's finest, contact us today and sponsor Soldiers' Angels Home of the Brave in 2022. Learn more about the Home of the Brave Campaign here.
Home of the Brave Contact
---