Holiday Help from Carrot-Top Industries
December 17, 2020
We love developing relationships with companies year after year who want to help out during the holiday season. When companies involve their staff, it goes a long way towards ensuring we support as many military families, veterans, and deployed service members as possible. One great partner we have worked with over the last two years is Carrot-Top Industries, an online retailer of flags and other merchandise.

Last year, they participated in our Adopt-A-Family program and adopted a Navy veteran family of seven who told Carrot-Top it was the best Christmas ever.
"The five children didn't ask for much, and their wish list wasn't grand. They were grateful for the small things in life while valuing their time together as a family. Our employee donations allowed us to give each child clothing and toys, and the entire family received a special holiday meal delivered by a local grocery store. Several of our business partners even joined in to help buy bed frames and mattresses for the children," says Jay Bernotas, Marketing Director, Carrot-Top Industries
This year, the company participated in our Holiday Stockings for Heroes program.
"As part of our Carrot-Top Cares program, we are always looking for ways to help service members and veterans across America throughout the year. For the holidays, Carrot-Top Industries' employees unanimously agreed to work with Soldiers' Angels again this year through their Holiday Stockings for Heroes program," explains Bernotas. "We wanted to figure out a way we can make a difference within the current state of the pandemic. Last year, we shopped for the items and wrapped the gifts as a group. With our company being remote since March this created some difficulties with getting organized."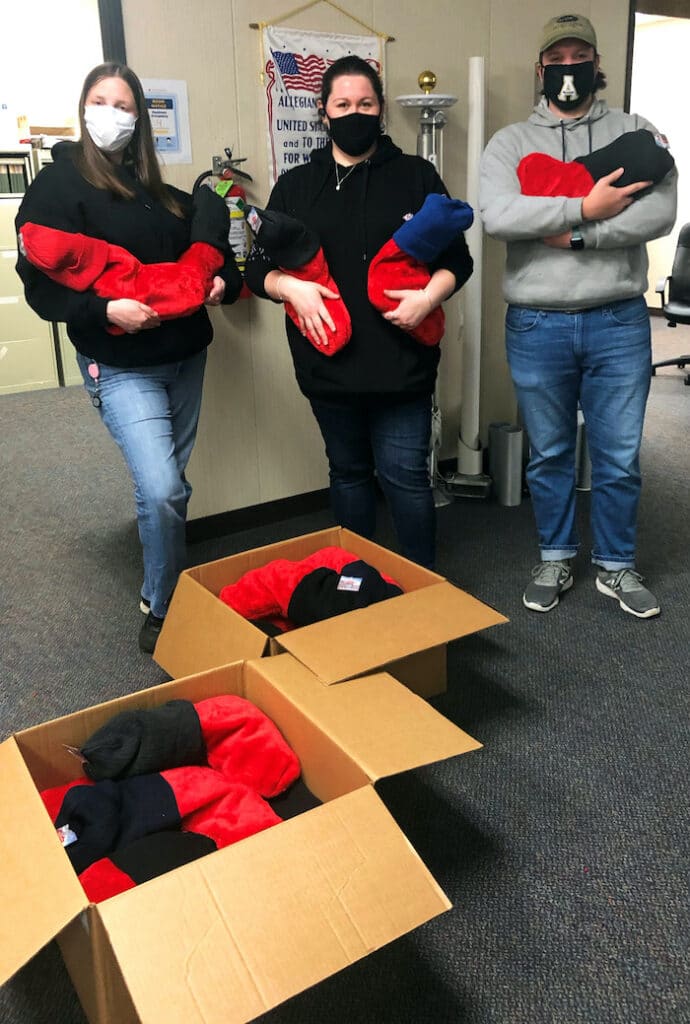 Heather Pendergraft, Carrot-Top's Morale Committee President, organized the Holiday Stockings for Heroes event at Carrot-Top Industries. Carrot-Top employees purchased the stocking items and brought them to the office. Some employees shopped for stocking items while other employees donated money. Pendergraft also shopped for additional stocking items that were needed. A team of five employees met at Carrot-Top to stuff the stockings together. The stocking items were set up in work stations so employees could socially distance while stuffing the stockings.
The team coordinated the assembly and delivery of the 25 holiday stockings filled with snacks, games, puzzle books, socks, and holiday treats and were shipped the same day! More employees would have been present to assist, but due to COVID-19, the team limited how many people gathered for the event.
"Our service members, veterans, and their families make sacrifices daily without asking for anything in return. Their selflessness makes it too easy for others to forget about all they do for our country. As we all know, it is difficult for anyone to ask for help, but it is especially difficult for a service member or veteran. It was important for Carrot-Top Industries to show our support throughout the year to let them know they aren't forgotten," says Jay Bernotas.
---