Help us Support Deployed Units with Carepackages
November 10, 2023
As the volatile situation in the Middle East continues to escalate, there's one thing we know for sure: our Service Members need our support and love. Soldiers' Angels stands ready to support those being deployed, but we need your help to do so!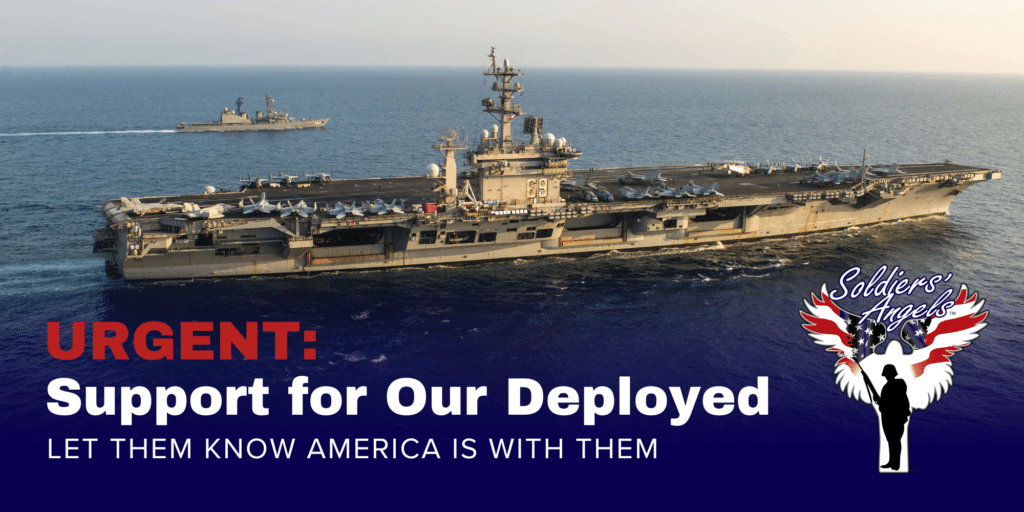 As of last week, 900 US troops have deployed or are deploying to the Middle East after a series of attacks on coalition bases that resulted in minor injuries for almost two dozen troops. These units are headed to support the regional deterrence efforts and further bolster US force protection capabilities after the recent drone attacks on military bases. In addition, multiple strike groups have already arrived in the region—home to thousands of Sailors as well as some Marines.
Our biggest need right now is care package items, Fly Away bag items, and monetary donations to send those care packages. We anticipate a steep increase in the number of deployed requesting support as well as a potential rise in the number who will be deploying, which means we need to be ready to support them!
Items needed
Wet Wipes
Toothpaste
Socks (no tube socks)
Protein Bars
Jerky or Meat Sticks
Fruit Snacks
Single-Serve Peanut Butter or Nutella
Nuts/Trail Mix (Single Serve Preferred)
Tuna Salad Kit w/Crackers
Chicken Salad Kit w/Crackers
Powdered Drink Mixes like Crystal Light or Sports Drinks (Single Serve)
Gum & Candy
If you're collecting items to provide support for troops or purchasing items locally, you can ship all of your items to our headquarters here in San Antonio. You will be responsible for all shipping costs. We will not accept COD deliveries. You can also shop our Amazon Wishlist here, where items will be sent to us directly, or donate here to help cover the cost of shipping overseas.
Soldiers' Angels Urgent Support for Deployed
2895 NE Loop 410, Suite 107
San Antonio, Texas 78218
America's deployed Service Members are consistently at the ready to respond when called upon. And so is Soldiers' Angels. If your support, either monetary or in-kind, is not used to support those deployed to the Middle East, it will be used for the next instance of urgent support for our deployed! Learn more here.
**Soldiers' Angels retains an a-political stance on all issues and does not support or oppose any political, ideological, or religious agenda. Our only mission is to support the men and women who volunteered to serve our nation and their families back home.
---