Help Us Provide Comfort and Warmth To Our Troops and Veterans
Learn more about how you can get involved with our veteran blanket service!
June 7, 2019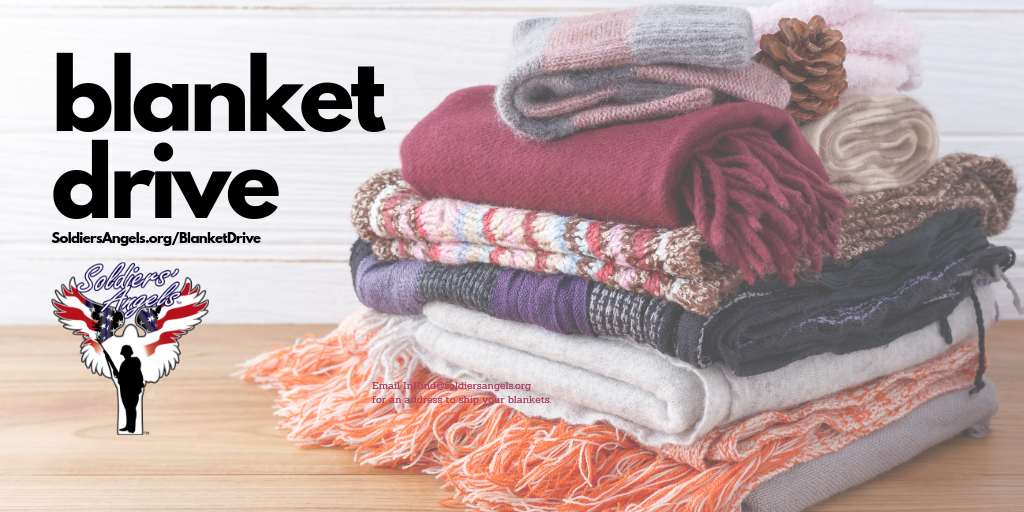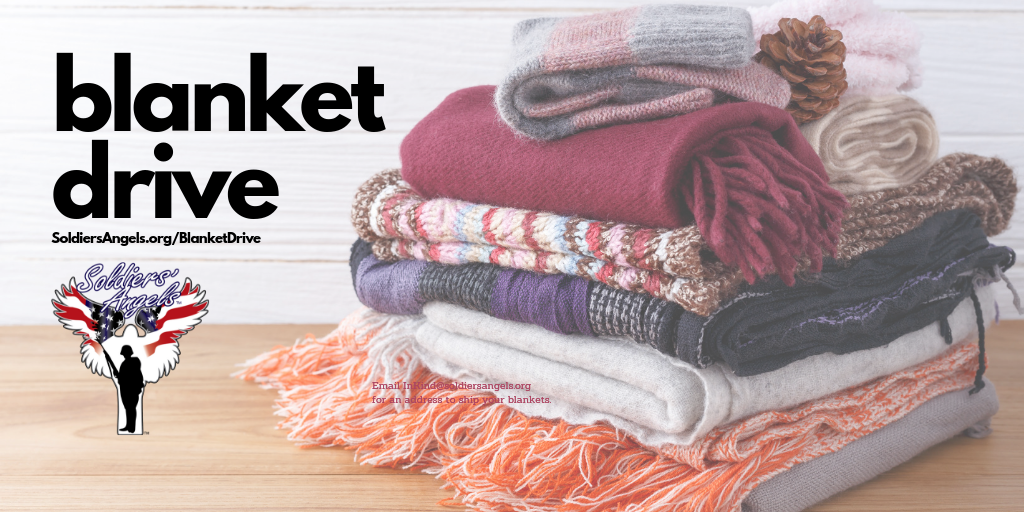 Every year around this time, Soldiers' Angels does a blanket drive for troops and veterans. As with many other drives we do throughout the year, our drive grows every year. You may be thinking… Why collect blankets in June? Well, it's not warm everywhere around the world, and summer doesn't exactly creep into the hospital, where it can be very cold.
Blankets are more than a sense of warmth. They are a form of comfort when you're sick, feeling down, or just need something to curl up with to relax. Think how much warmth and comfort your favorite blanket provides for you when you are cold or lonely. We want to gift that same feeling to veterans in VA Hospitals as well as wounded service members being treated in various facilities.
This Year's Blanket Drive
We'll be accepting donations this year from June 1st through August 31st. Last year, we collected 1,002 blankets, and this year, we're hoping to collect 2,000! In order for your blankets to count toward the Blanket Drive count, your package must be postmarked no later than August 31, 2019.
Types of Blankets to Send
We will be collecting new or handmade blankets that are twin sized (they are smaller and easier to ship, and are the standard size for an individual hospital bed). If you're looking to purchase blankets, check out our Amazon Wish List, where we have a lot of patriotic and military-ish styles. The blankets don't have to be themed, they can be solid colors or fun patterns – as long as the pattern is not offensive.
Want to make a blanket? Go for it! We have lots of talented angels who crochet and knit beautiful blankets, but if you're not into that, No-Sew blankets are easy and fun to create and our troops and veterans love them! They're also a great activity for kids. Here's a video on how to create one.
How to Participate
Ready to get started? Start by collecting or making as many blankets as you want. Whether it's a family project or a collection drive involving your work, civic organization, or other group, we'll take as many blankets as we can get to reach our goal!
Once you've collected your blankets, be sure to attach a thank you card to each one and add a personal note for the recipient.
Please note, we LOVE to see photos of your collections! From one blanket to a blanket-making event, we love to see the images of our collections in action. Send us a message on our Facebook page, tweet us a photo, or email photos to Michelle at [email protected].
Next, send an email to [email protected] to receive an address where you can ship your blankets. Pack them up and send them our way!
Some blankets will be shipped to our VA Representatives across the country and personally delivered to a veteran patient or wounded service member at a VA facility in that location. Other blankets will be shipped to headquarters in San Antonio, Texas where they will be used for local VA facilities.
Live nearby our San Antonio office and want to hand deliver them? Great! We love to meet the people behind the collections! Stop on by our office and drop off your donation whenever you are ready (before August 31st, that is). 2895 NE Loop 410, Suite 107, San Antonio, Texas 78218
We are so excited about this year's Blanket Drive and can't wait to see how many come in. Have more questions? Check out our official Blanket Drive page with instructions and FAQs.
---