Got Socks? Send Them Our Way!
January 31, 2019
We're gearing up for this year's Warm Feet for Warriors campaign to provide our heroes with one of the most requested items from service members and veterans. That's right, it's socks! So if you've got socks, send them our way! This year's sock drive will begin February 15th and end March 31st.
How You Can Help
Want to help keep the feet of our troops and veterans warm and toasty with the gift of brand new socks? All you have to do is send us new socks – of any kind! Our troops request socks to wear both in and out of uniform so don't worry about regulation. They're just happy to have fresh pairs of socks.
Each year we set a goal, and each year our supporters blow that goal out of the water! Our first year, the goal was 1,000 pairs and we received over 8,000! Last year our goal was 8,000 and we received over 14,000! So this year, our goal is 15,000 pairs of socks.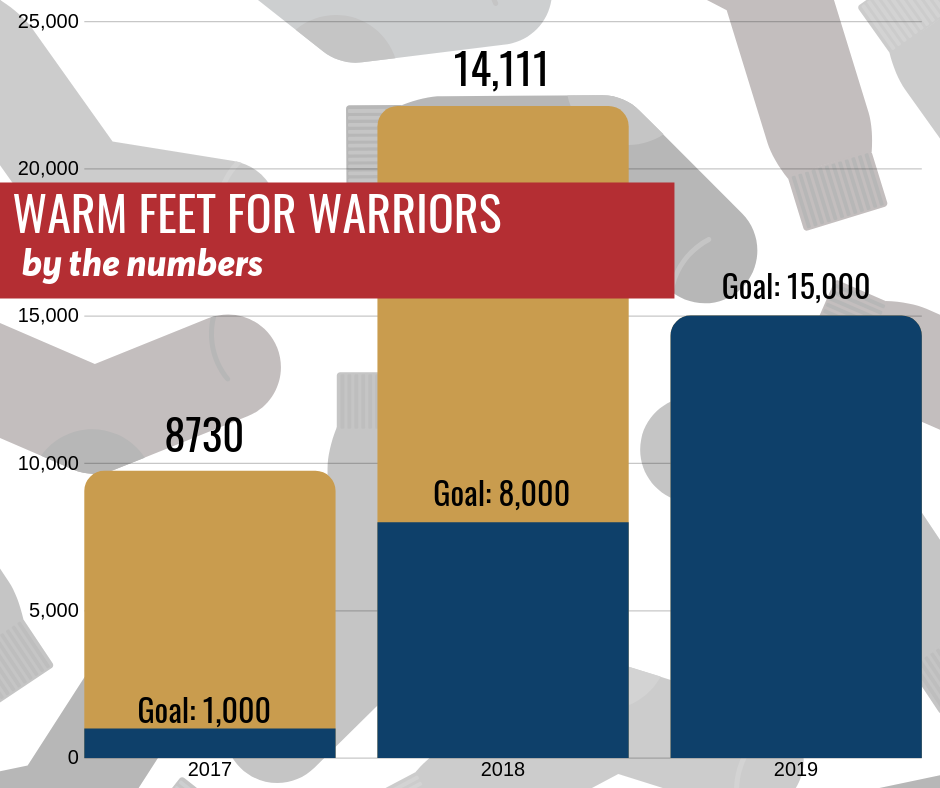 Host a Sock Drive
Want to help in a big way? Involve others! Start a sock drive at your workplace, among your friends, or with your church or civic organization. All you have to do is put out a bin, make a sign, and spread the word!
Once your sock collection is complete, ship them to our Headquarters in San Antonio, Texas:
Soldiers' Angels Warm Feet for Warriors
2895 NE Loop 410, Suite 107
San Antonio, Texas 78218
Buy Socks on Amazon
Want an easy peasy way to help out? We've started an Amazon Wishlist with a few examples of the type of socks that would be most useful for our deployed service members or veteran patients. Click here to view the Warm Feet for Warriors Amazon Wish List.
Socks collected during the Warm Feet for Warriors Drive will be distributed to deployed service members around the world and also to veterans in VA Hospitals across the country. For deployed, we send out care packages to the service members we support and even to deployed Chaplains that support entire units. For veterans, Soldiers' Angels volunteers work within nearly 40 VA Hospitals across the country. One of their main roles as a volunteer is to visit patients in the hospital. Socks are a fantastic comfort item for these volunteers to take on their patient visits and distribute to veterans of all eras!
For more information our campaign, please visit our Warm Feet For Warriors Info page.
---