From Virtual Support to Real Embrace: Unforgettable Moments with Service Members
August 31, 2023
Soldiers' Angels has tens of thousands of Angel volunteers who provide virtual support to Deployed Service Members in various ways. Some write letters, some bake, some make blankets and other care items, and some send care packages throughout their deployment. The efforts are at the core of what we do here at Soldiers' Angels – ensure that the Deployed are remembered, supported, and uplifted. While our Angels know full well that they may never hear back from a Service Member – because that's not why we do what we do – sometimes they do. And sometimes, beyond hearing back, a special bond develops. Every once in a while, an opportunity arises for the two to meet in person. Here are four touching stories that showcase just how impactful that virtual support can be to a Deployed Service Member.
Angel Patti gets a hand in the kitchen
Angel Patti has been a virtual volunteer since December 2020. She volunteers on the Card Plus, Deployed Adoptions, Special Operations Forces, Angel Bakers, and the Letter Writing teams. She developed a connection with one Service Member, Casey.
"She was actually the first female I wrote a letter to on her first deployment, and when she wrote me back, we realized she doesn't live too far from me. It was an instant connection. Throughout her first deployment, we would write back and forth. I would send her things from the area. She went on a second deployment, and I was with her every step of the way. We have grown closer since her coming home," says Patti.
The two actually met up recently to bake together! Patti and Casey made Lemon Blueberry Cake, Chocolate Chip Cookies, Oatmeal Butterscotch Cookies, and Candied Pecans. The baked goods will be used in a care package to support another Service Member.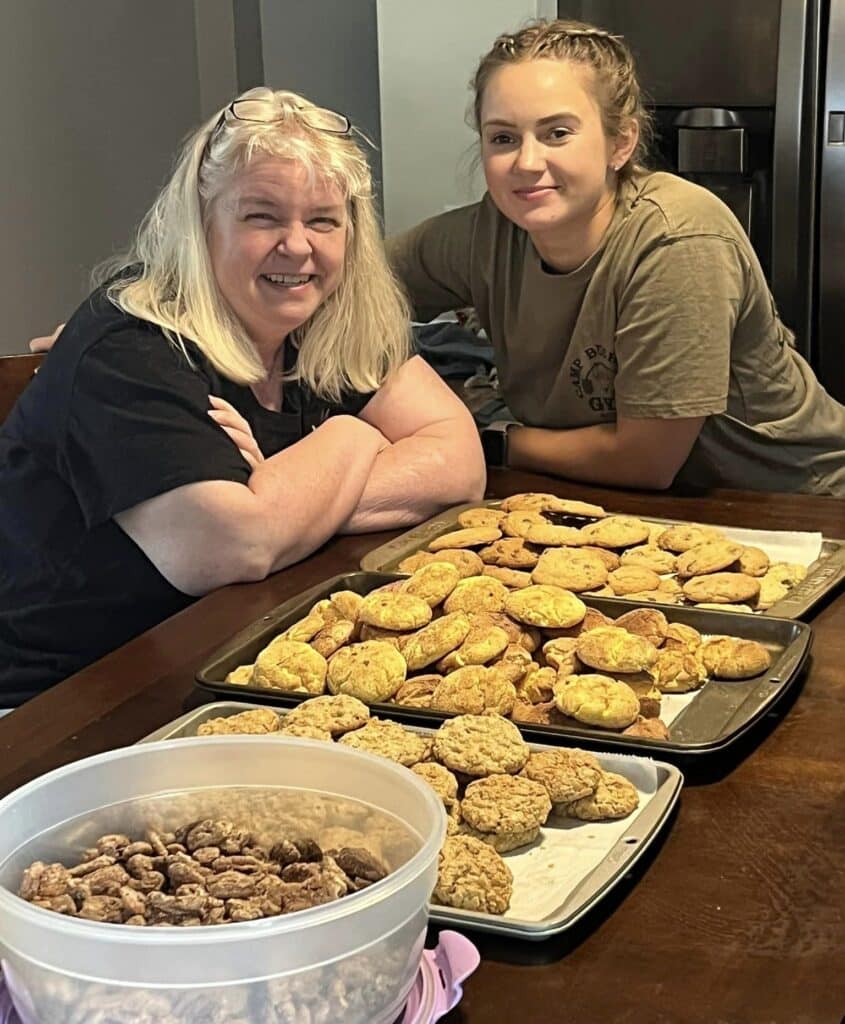 "Meeting her was great! We had such a good time, talking, laughing, and joking around. It was like being with an old friend. Since meeting, she has come over numerous times and has met my family and friends at a Birthday party we had for my husband. I started teaching her how to make cards, which I do on the Cards Plus Team. We connected through Soldiers' Angels as strangers, became friends, and now she's family. I am so glad I joined Soldiers' Angels and have made a fantastic connection with Casey."
Angel Mona, a new Godmother
Angel Mona had a very special surprise from a past Service Member she supported virtually – she was asked to be a Godmother!
"Happy (and extremely honored) tears. A former Soldier of mine is pregnant and asked me to be their Godmother! I'm truly touched by the couple asking me and of course, I said YES."
Meeting the Angel Behind the Letters
"Last year, I wrote a letter to a soldier [through Soldiers' Angels Letter Writing Team], and with God's perfect timing, it arrived on his birthday! He wrote me back, and we became fast friends and pen pals, chatting nearly every day of his deployment. My family and I took a road trip this spring and had the honor of meeting up with him and his family for a lovely afternoon in the park. I know most of our Service Members are silent, so just thought this would encourage everyone!" – Angel Jasmine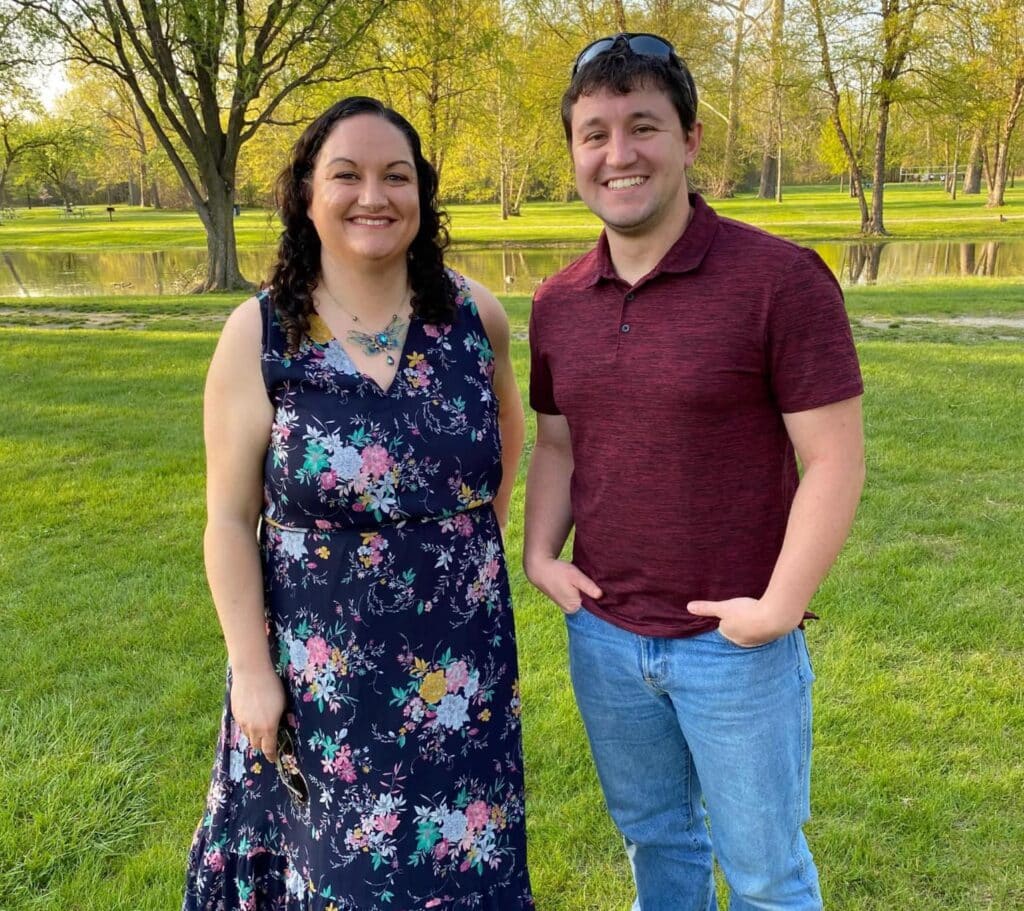 Service Member Tevin
On the flip side, we had a very special message come through from a Service Member about the relationship he has with his Angel, Tara.
"I have had a wonderful experience with Soldiers' Angels. I deployed in 2019 and was adopted by Tara. During my combat deployment, I was able to stay in contact with my Angel almost every day through email, packages, and letters! Halfway through my tour, my second daughter was born, and I was unable to go home. Tara and all of my adoption team were there for me with constant support and encouragement. I was sent my favorite gift: a blanket! I loved that blanket as it kept me warm in some of the coldest places in Afghanistan. I left it to another soldier when I departed. But Tara made sure to have a package waiting for me when I got home to share with my family. Fast forward 3 years, and we still talk regularly and even Zoomed to discuss some ideas I have about incorporating Soldiers' Angels into my push for a Mental Health movement to help Veterans, disadvantaged youth, and families in Indiana."
These stories are exceptional examples of the heart and soul of our organization. We could not honor our mission of ensuring "no soldier goes unloved" without their support and dedication! Learn more about our Virtual Volunteer opportunities here.
---