Christmas in July
June 4, 2021
The Dog Days of Summer are here and we are really feeling for our deployed service members. As temperatures rise, so does the request for support. Our deployed heroes could really use some good old fashion Christmas spirit to help them beat the heat and raise morale.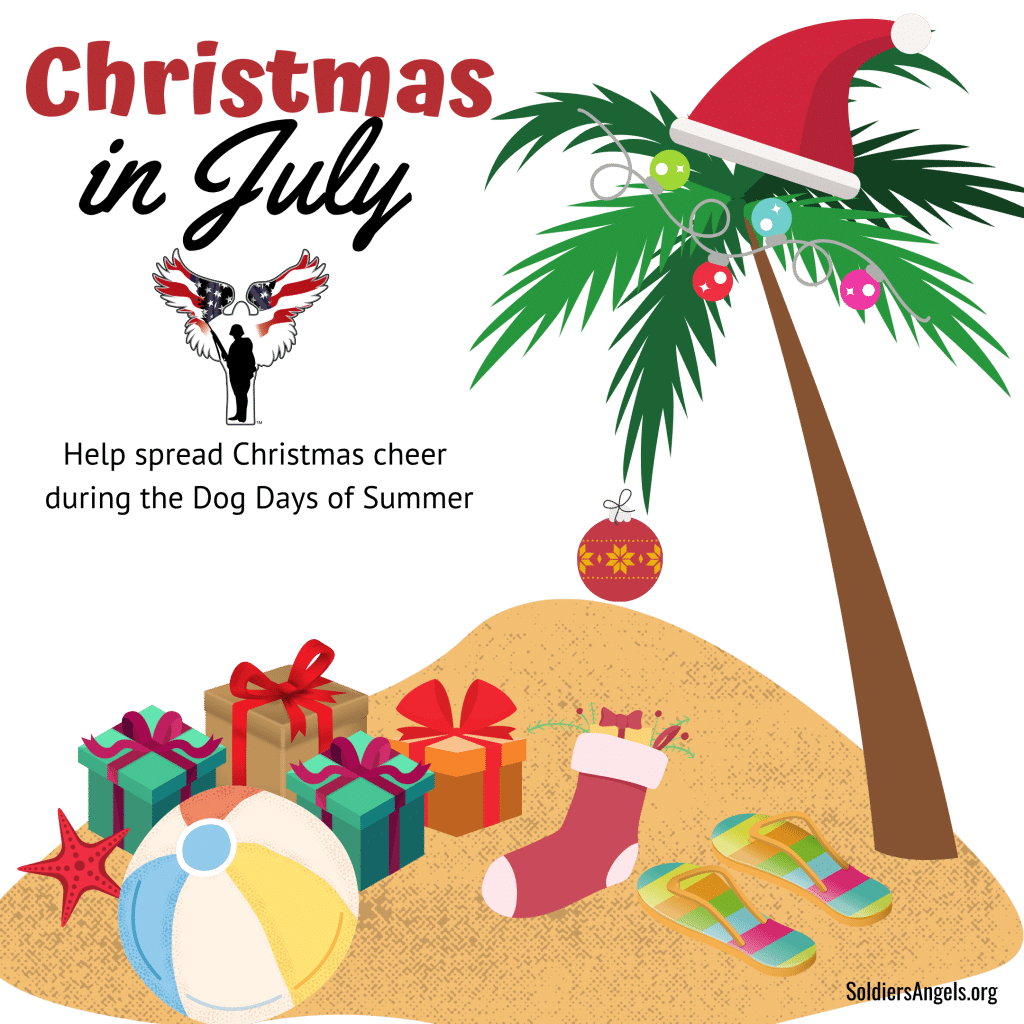 What they need is a little Christmas in July!
We're excited to launch a new campaign to help raise spirits during the summer months! Christmas in July is a spinoff of our popular Holiday Stockings for Heroes program. The stocking campaign is so popular that we thought we would give supporters the opportunity to participate outside of the very demanding holiday season. The summer months are just as demanding on deployed service members, so why not celebrate summer, too?
How it works
Simply put, stuff holiday stockings but give them a summer twist! We want you to have fun with the summer theme and stuff stockings with items needed during the summer months. And don't forget to have fun! Load your stockings up with beach balls, frisbees, and other summer entertainment in addition to sunscreen and snacks. With the campaign's proximity to the Fourth of July, it would definitely be appropriate to throw in some patriotic-themed items too! Once the collection drive is over, the stockings will be shipped to our Chaplains to distribute during a fun, summer celebration we are planning with several units.
Want to join in on the fun?
We will be collecting stockings from June 1 through July 15. There are several ways you can help us celebrate Christmas in July with service members overseas:
Get together with friends/family and stuff a few stockings together
Send supplies by shopping our Amazon Wishlist
Host a stocking drive at your school, work, or civic association
Make a donation to support the cost of shipping (shipping costs roughly $20/stocking)
Now that workplaces and other spaces are re-opening, this could be a fun way to get employees engaged and back together again (safely, of course) to support our military and have a little holiday fun. Maybe even host a Christmas in July-themed party to stuff stockings together!
If you're ready to dive in and start collecting items for Christmas in July, click the button below to visit the Christmas in July campaign page with full-details on how to participate!
Items to send
Here are some great suggestions for items to include in care packages that will help any service member feel like it's Christmas in July!
Hygiene and Personal Care:*
Sunblock
Aloe Vera Gel
Cooling Towels
Chap Stick
Lotion
Deodorant
Toothpaste
Toothbrush
Shampoo/Conditioner
Body Wash
Wet Wipes
Female Hygiene Products
Hand Warmers
Manicure Set
Back Scratchers
Socks (no tube socks)
Hand Sanitizer
Cleaning Cloths/Spray (for glasses/goggles)
*Travel-sized items preferred
Snack Items: **
Freezer Pops
Powdered Drink Mixes (Single Serve)
Protein Bars
Jerky or" Meat Sticks
Sunflower Seeds
Freeze-Dried Fruit (Single Serve)
Hot Sauce Packets
Single-Serve Peanut Butter or Nutella
Single-Serve Cereals (Boxes or Cups, no bags)
Pop-Tarts
Nuts/Trail Mix (Single Serve)
Tuna Salad Kit with Crackers
Chicken Salad Kit with Crackers
Gum and Candy
**Must be store-bought. If you are interested in baking, please check out the Soldiers' Angels Angel Baker Team
Down-Time Items:***
Beachballs
Small or Foldable Frisbees
Small Balls or Footballs
Fun/Party Sunglasses
Hand Fans or Personal Portable Fans
Patriotic-themed decor
Leis/Summer-themed decor
Back Scratcher
Puzzle Books
Travel-Sized Games
Coloring Books
Pens/Pencils
Colored Pencils
Pencil Sharpeners
***Please focus on small items that could easily fit into a stocking and/or a medium flat rate box.
Don't wait any longer— the Christmas in July campaign is fast and furious! Click the button below to get started and show your appreciation to our deployed for all that they do!
---