Angel Volunteer Highlight: Steve Moore
July 8, 2015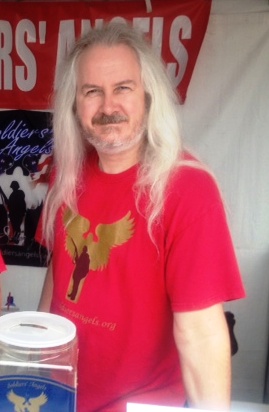 Today we want to highlight a special Soldiers' Angels volunteen who supports our Georgia Service Area: Steve Moore.
Steve has always jumped in freely whenever & wherever he's needed without being asked, and without expectation of anything in return. His assistance is mostly silent and behind-the-scenes, but has played an extremely important part in organizing the logistics of how donated items are picked-up, inventoried, sorted, stored, assembled, and delivered around the state. He has lent his 25+ years of warehouse expertise to doing everything from building & wrapping pallets of bulk donations, to loading & unloading trucks for transport, to making long-haul drives around the state to ensure that donations get to the military bases & VA facilities they are intended for. He cheerfully puts his heart & muscle into what most other volunteers would consider "grunt work." Steve has also used countless personal vacation days from work to prepare for and attend Soldiers' Angels events, as well as to make large donation deliveries.
Thanks so much for all that you do Steve! Our troops and veterans greatly appreciate it as do we!
Want to learn more about volunteering in one of our service areas? Click here.
---