Celebrating the 2021 VA Volunteers of the Year Part 1
March 18, 2021
Soldiers' Angels is honored to announce that not one, but TWO Angel Volunteers have been named the 2021 VA Volunteer of the Year by the VA's National Advisory Council! You may remember us mentioning this prestigious award in 2018, when Soldiers' Angels volunteer Susan Cookus was honored with it for her work at the Central Arkansas Veterans Healthcare System. Or last year in 2020, when Soldiers' Angels volunteer Sandy Carter was honored for her work at the Audie L. Murphy VA here in San Antonio, Texas.
This year, the awards for female and male volunteers of the year go to:
Carol Adams, who volunteers at the Orlando VA and also coordinates the Orlando Veteran Food Distribution
Roger Hull, the Soldiers' Angels VA Representative for the Mountain Home VA in Tennessee
Carol and Roger will be honored later this year as the VA Volunteers of the Year during the VA National Advisory Council's annual meeting. We reached out to interview both of them so we could share more about the work they do for veterans at the VA Hospitals where they serve. In Part 1, we look at the amazing work of Soldiers' Angels volunteer Carol Adams.
Meet Female VA Volunteer of the Year, Carol Adams
"Soldiers' Angels has provided me with the opportunity to work with and meet some of the best people ever. Our team is a family and the people we get to give back to are incredible. I am honored to receive the VoY award but the biggest honor has been working with such a wonderful group of people and getting to know and give back to some of the brave men and women who have served our great country."

Female VA Volunteer of the Year, Carol Adams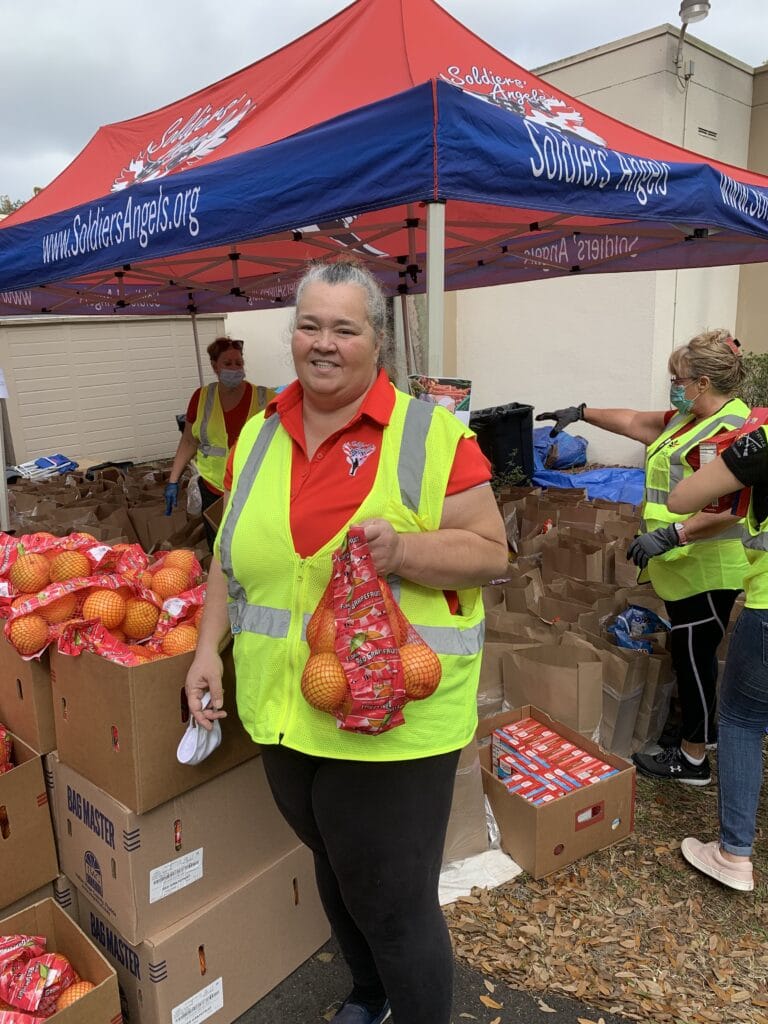 When Carol made the move to Florida three years ago, she stayed with a friend for a bit to get settled in her new town. That friend happened to be Christina Atkinson, who was our VA Representative at the time. Our VA Representatives have a knack for getting people involved, and so, in no time Christina had Carol involved in volunteer work at the Orlando VA.
"I handed out girl scout cookies and helped with some other hallway giveaway events. Soldiers' Angels was just beginning the Mobile Food Distribution (MFD). It was at Lake Baldwin in June 2018. I actually started at the very first one," says Carol.
Carol officially signed up to be an Angel in June of 2018 after doing quite a few MFDs with Christina.
"It took Christina quite a while until she finally talked me into being a Mobile Food Distribution Coordinator," she says.
As the Food Distribution Coordinator, Carol has her hands full. She works to ensure we have food for over 200 veterans each month, manages the list and waitlist, and fields calls and questions in multiple places when it comes to getting veterans registered. On registration day, her job gets pretty hectic because spots are in such high demand.
"I'm answering text messages, running duplications, making sure all the time slots are closed in a timely fashion, and trying to respond to emails being forwarded from people calling in to register. It can be stressful trying to juggle all of those things," says Carol.
Covid has also placed challenges on the MFDs.
"Our Food Bank is very dependent on donations from the companies around here. The hotels, Disney, Universal… With Covid right now, so many of those places aren't able to donate anymore. Our food cost has risen quite a bit because they have to purchase food. They still get donations from grocery stores, however so much of the tourism industry is running at a snail's pace, the donations are really down. Our biggest challenge has been making sure we have enough quality food to feed our veterans and try to maintain a reasonable budget while doing it," Carol explains.
"We have so many veterans who are in need here. When I first started, it would take days to fill 200 spots. This month we filled our spots in 45 minutes," says Carol. She says this is due to the pandemic, which has hit veterans very hard.
"One of the hardest things is to tell people the event is full. It's hard to turn people away."
Prior to the pandemic, Carol was also very involved in events at the VA Hospital. When the VA was open, Carol was involved in planning multiple events. They had a Coffee and Donut program in the VA lobby, served monthly dinners at the VA's Domiciliary, hosted women's events, and handed out goodies like the candy from Treats for Troops, Blankets, socks, Mary Kay products, etc. Each one of these activities requires a great deal of planning and logistics!
Why she volunteers with Soldiers' Angels and veterans
"My father was a Navy veteran and I have many nieces and nephews in the Army and Marines. We've had a pretty big military presence in the family for quite a while. If you've got to give back, give back to someone who has done so much. I just thought Soldiers' Angels was a really good fit."
What's one memory that sticks out to you?
"I've had so many great experiences since I started volunteering with Soldiers' Angels. One of my favorites was at the December 2019 MFD. A veteran checked in with me at our registration desk, she had caught the bus to the MFD. When we set up her food she was so excited she started bouncing up and down and crying. I asked if she was alright and she reached over the table and grabbed me in a hug. She pulled me around the table and told me that she didn't think she would be able to have Christmas dinner but with the turkey and ham she received now she could do it. She was very grateful to Soldiers' Angels for "blessing her" with this gift. I think we stood there hugging and crying for 15 minutes."
Watch Carol as she learns she has been selected for the award
Soldiers' Angels leadership team and VA Voluntary Services Staff at Orlando VA surprised Carol with the announcement.
We are so proud to have Carol on our team! Stay tuned for Part 2 to learn all about the amazing work of VA Volunteer of the Year, Roger Hull.
---