VA's Volunteer of the Year
June 9, 2020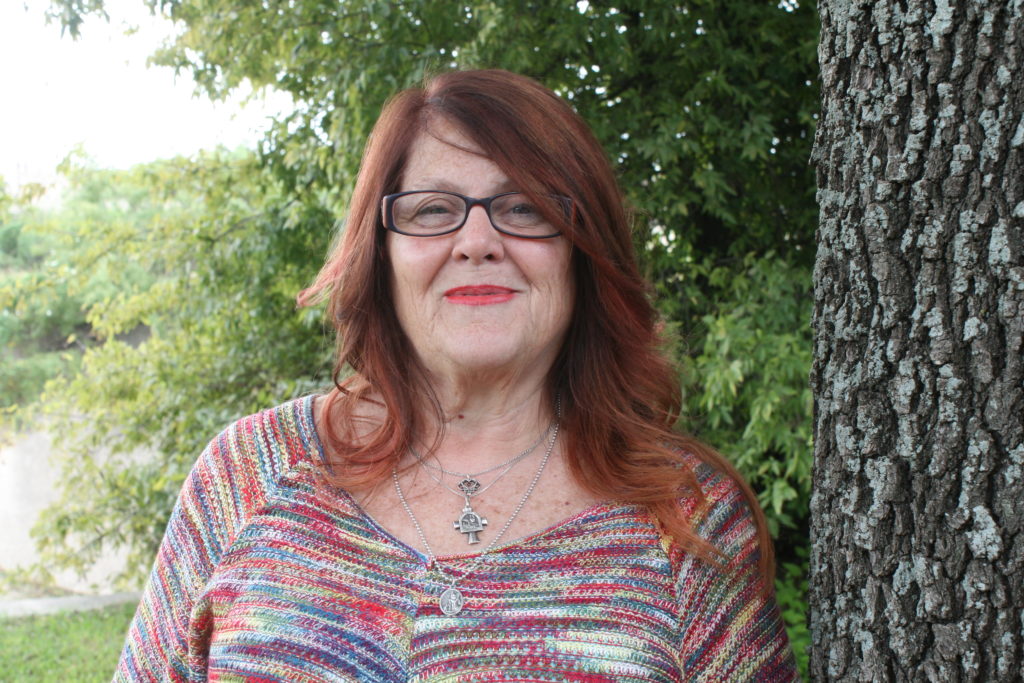 Here at Soldiers' Angels, we are a team composed of many different personalities from different backgrounds, all with a common goal – to support our nation's military, veterans, and their families. Sandy Carter is one of our remarkable volunteers who recently won the Volunteer of the Year Award from the VA's National Advisory Council. Get to know her and what she does at Soldiers' Angels.
Although Sandy Carter has been self-quarantining for the past few weeks due to underlying health conditions that deem her "high-risk" to COVID-19, the work she's done with Soldiers' Angels didn't go unnoticed, as she recently received the Female Volunteer of the Year Award from the VA's National Advisory Council for her work at the VA Hospital in 2019.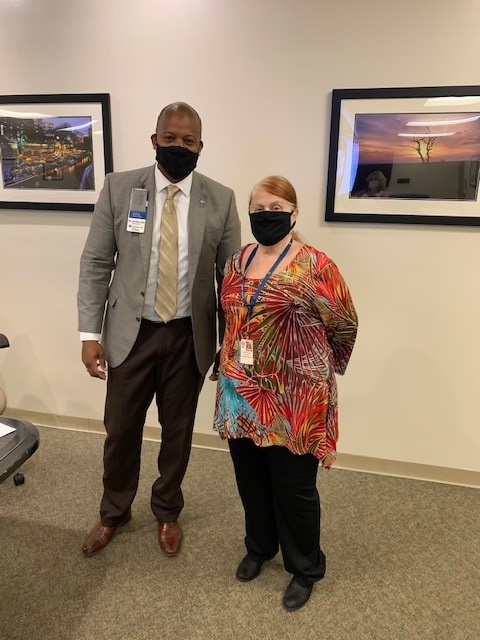 (Left): Sandy Carter and the Director of the VA, Christopher R Sandles
Typically, both winners (male and female) are acknowledged and celebrated at the annual VA Voluntary Service National Advisory Committee Meeting and Conference, however, due to being cautious and safe during the COVID-19 crisis, travel restrictions were put in place for the Department of Veterans Affairs. As a result, the 74th Annual VAVS National Advisory Committee Meeting & Conference in San Antonio was canceled, but Carter will receive her award soon and was also acknowledged and interviewed by Audie Murphy VA hospital in San Antonio regarding her volunteer work.
Carter won her award after receiving a nomination from a Soldiers' Angels employee who then went to the VA hospital where Carter volunteers and gathered letters of recommendation from the VA staff. While sharing her excitement in being recognized for her commendable volunteer work, she still finds a way to take the spotlight off of herself and shines it on Soldiers' Angels instead.
"It's cool, I love it," Carter says. "I mean, I love Soldiers' Angels, I've been with them for several years and I haven't looked back since."
Carter has been working with Soldiers' Angels for roughly five years after meeting Soldiers' Angels CEO Amy Palmer at church. Originally, Carter began her journey with Soldiers' Angels creating packages for deployed service members before becoming an office assistant at our headquarters in San Antonio. However, the office position kept Sandy from many of the volunteer opportunities where she would have the opportunity to directly interact with veterans, so she transitioned into becoming a volunteer who helps to organize and run luncheons at the VA for veteran patients.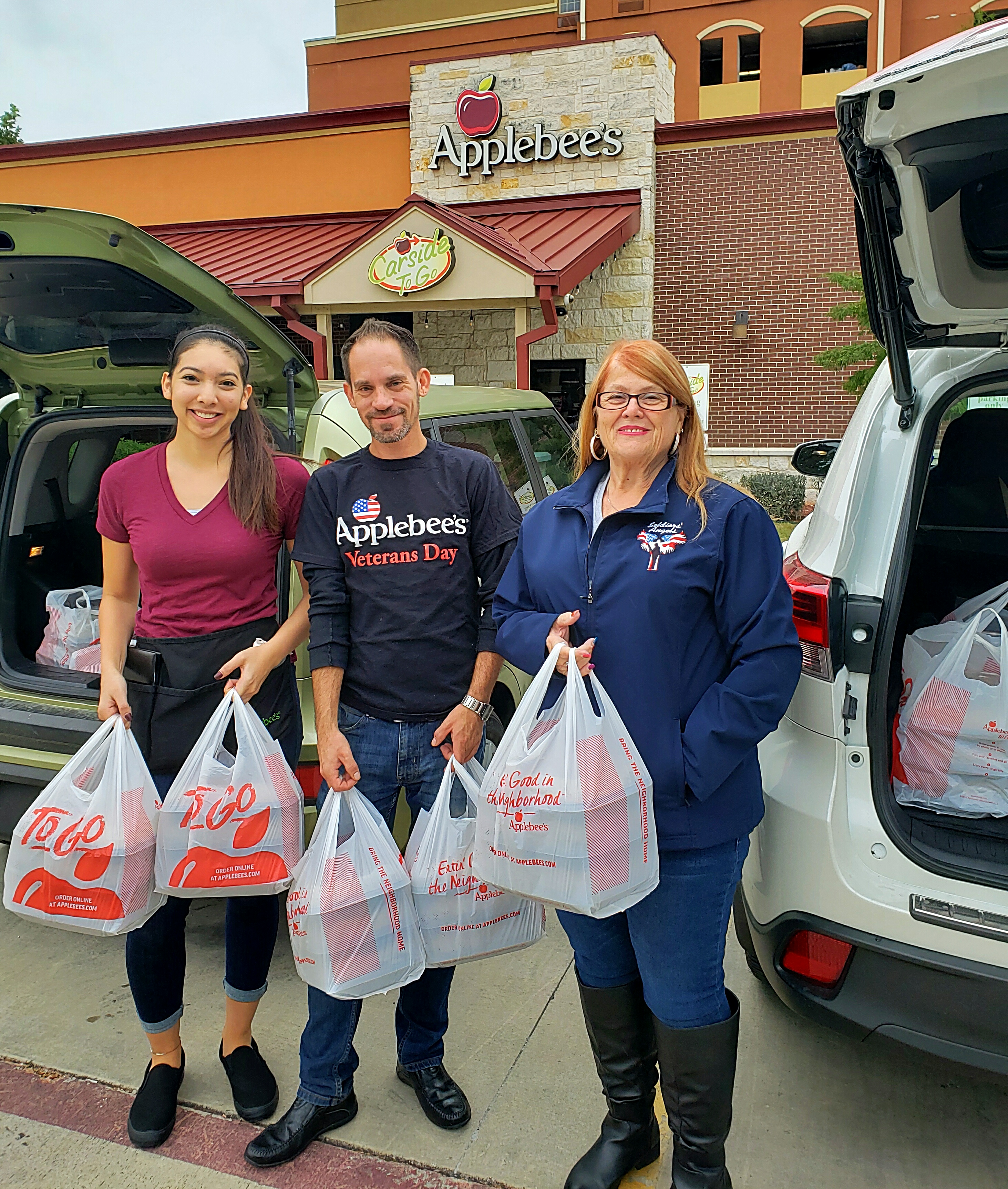 "I love doing things with veterans," says Carter. "I wanted to go out and be with the veterans and travel and doing luncheons and I love doing that."
(Right): Sandy picking up food for a luncheon for veteran patients at the VA
As the daughter of a 30-year marine who grew up living on different military bases across the country, Carter's love for the military extends all the way back to her childhood.
"I love the military and I always have," says Carter. "I like talking to the veterans and brightening up their days just by taking them things or taking the time to visit with them and listen to them."
While Carter's volunteer work evolved over the years, not only is she appreciative of the many different experiences she's garnered since the beginning of her Soldiers' Angels journey, but the people in which she does the work for are grateful for her as well.
She shares a time when she went to Walmart wearing her Soldiers' Angels shirt and met a couple who saw her shirt and began to tell her how Soldiers' Angels helped them with their baby through the Soldiers' Angels Baby Brigade Program. Not only did Carter share in an emotional moment with the couple, but she also got to meet the baby as well.
"It's really a great experience," says Carter. "It's always nice to be recognized for the work that you do, especially when you're just a volunteer."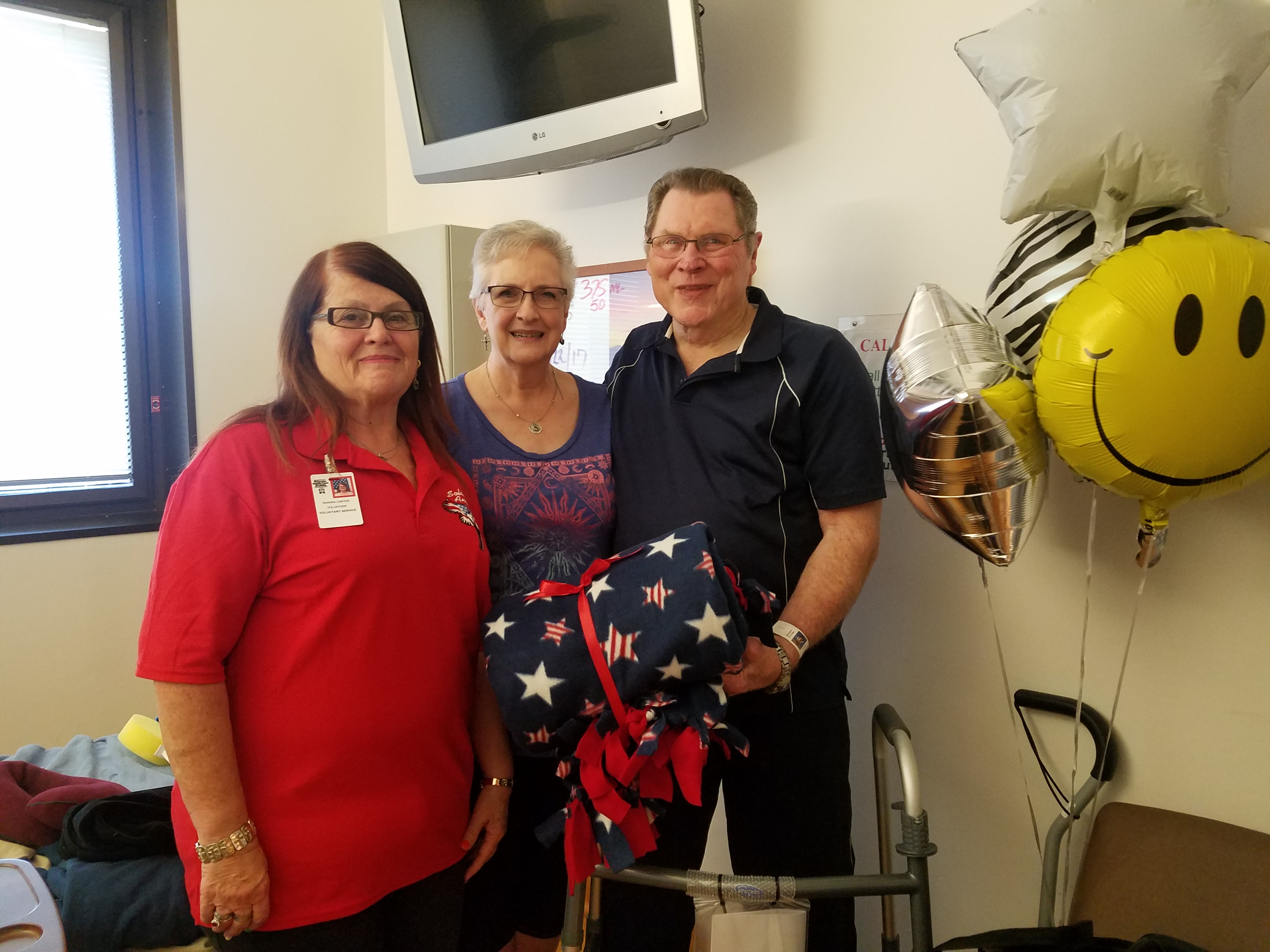 While Carter is taking the necessary steps to healing and getting better, she can't wait to get back to doing what she loves at Soldiers' Angels. "I can't wait to get back to my luncheons and see my veterans." says Carter. "I love doing things for people that don't expect it because it gives me pleasure and makes me shine."
(Left): Sandy presenting a veteran patient with a handmade blanket donated to the annual Soldiers' Angels Blanket Drive.
While Carter remains humble about her award and volunteer work with Soldiers' Angels, her willingness to occasionally sit in traffic for an hour while making her daily commute to Soldiers' Angels headquarters is appreciated. Her dedication to serve those who serve our country is commendable by service members around the world who have received care packages carefully assembled by her with love and care, veteran patients who share in spirit-lifting conversation with her at the VA hospital in which she volunteers, and every noble service in between.
---