Celebrating the 2021 VA Volunteers of the Year Part 2
March 23, 2021
Soldiers' Angels is honored to announce that not one, but TWO Angel Volunteers have been named the 2021 VA Volunteer of the Year by the VA's National Advisory Council!
Carol Adams, who volunteers at the Orlando VA and also coordinates the Orlando Veteran Food Distribution
Roger Hull, the Soldiers' Angels VA Representative for the Mountain Home VA in Tennessee
In Part 1 we highlighted the work of Female VA Volunteer of the Year Carol Adams. In Part 2, we'll tell you about the Male VA Volunteer of the Year: Roger Hull. As we mentioned before, Carol and Roger will be honored later this year as the VA Volunteers of the Year during the VA National Advisory Council's annual meeting.
Meet Male VA Volunteer of the Year, Roger Hull
"It's nice to be appreciated and I feel very honored just to be nominated. But really, it's our team. I couldn't do it without my wife or the team at the VA and Soldiers' Angels."

Male VA Volunteer of the Year, Roger Hull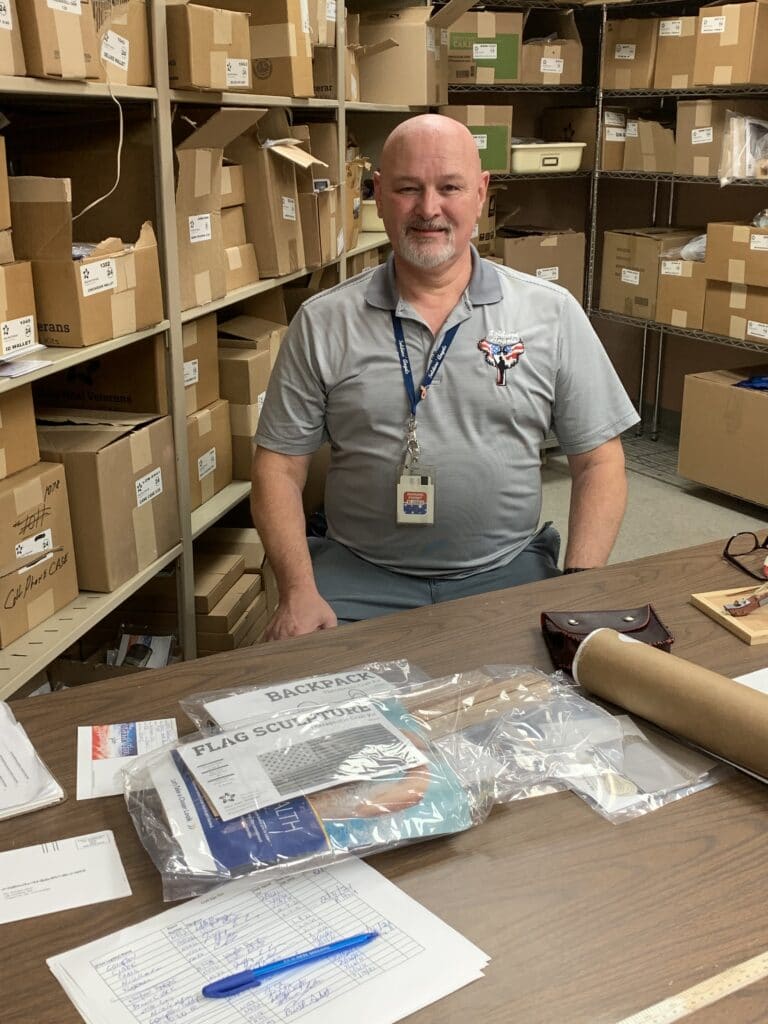 Roger Hull is a Marine Corp Veteran who has been a volunteer at the Mountain Home VA Healthcare System near Johnson City, Tennessee for about five years and has worked with Soldiers' Angels for three years.
"I started off at the information desk and then was asked by the VAVS (Veterans Affairs Voluntary Service) chief, Mike Kromoff, to take over Soldiers' Angels. I didn't know a lot about them but I have learned a lot since then. They are such a quality organization. They are one of the most efficient organizations I've ever worked for and everyone I work with is caring and really dedicated," Roger says.
Nowadays, Roger runs the craft room for veterans where he spends time talking to the veterans and has lots of activities for them to do since they can't leave the VA. The craft room is currently for homeless veterans who have nowhere else to go. His wife, Lucy, opens the clothing room, which serves homeless veterans as well, and is right next to his room. She sees about 25-30 patients a day.
"My wife is a big part of my life and we both share our love of veterans. We both go in and open our rooms right next to each other. She does a marvelous job. She has to go through the clothing donations and really goes above and beyond by washing and drying the clothes before putting them out," Roger says.
"I've seen vets come in with nothing but socks on in February. It's heart wrenching sometimes," he adds.
Roger and his wife have been deemed essential volunteers and so are allowed to continue their work volunteering, however their duties are a little different due to Covid safety measures. Before Covid, Roger would do patient visits to take hygiene kits, candy, popcorn, and other items to veteran patients and also distributed things in the hallways to vets as well. He was also a "Red Coat Ambassador," which was suspended due to COVID. Now, he runs the craft room and, sits in volunteer services to do whatever they need (working the phones, sitting at the information desk, escorting patients to appointments, etc.), and hands distributes items in hallways.
"He comes in fairly regularly 2-3 times a week with his wife. When we get the popcorn or cookies he's in here 4 or 5 times a week distributing those items. Super to work with! The warehouse even works directly with him, which is great for us. When something comes in and they know it's his, they'll call him direct. He connects with our local VAV, VFWs to distribute those to those organizations as well," says Mike Kromoff, Chief, Voluntary Service at Department of Veterans Affairs.
Roger and Lucy did contract the virus in December 2020 and had to quarantine over Christmas. They are both back at it volunteering while still dealing with the side effects.
"We still continue to open up the clothing room and the craft room and give out that popcorn!" exclaims Roger
Why he volunteers with Soldiers' Angels and veterans
"I was a Marine Corp veterans and have always had a love for our country and our veterans. They've contributed so much."
What's one memory that sticks out to you?
"Almost 3 years ago after I took over the craft room, I met this guy who was working the info desk. His name was Mark Hamlin. He was a veteran from the Air Force and was volunteering. His wife was one of the chiefs in audiology. We turned out to be best friends. He was diagnosed with a second round of cancer last year. I take him to his appointments. My son and I built him a wheelchair ramp to get in and out of his house. I take him lunch 2 or 3 days a week while his wife is working. We watch Netflix together at lunch and really enjoy each other. His cancer is in remission and is doing well. He can't get out because of his immune system so our families get together often."
"We chose Roger for his dedication and devotion. His spouse comes with him and they work hand in hand. He is just super to work with and we can call him anytime. He calls us… It's just a great working relationship. The things he does to help not only us but the veterans – he's pretty standout-ish."

Mike Kromoff, Chief, Voluntary Service at Department of Veterans Affairs
Watch Roger as he learns he has been selected for the award
Soldiers' Angels leadership team and VA Voluntary Services Staff at Mountain Home VA surprised Roger with the announcement.
Soldiers' Angels is incredibly proud of both of these amazing volunteers. Their hard work and dedication have directly impacted countless Veterans in their respective cities. On top of that, they did everything they could to continue supporting veterans throughout the COVID Pandemic— often putting themselves at risk in order to ensure Veterans were supported. A huge "Thank You" to both of these passionate individuals for all they do!
---