2018 By The Numbers
We had an impactful year as an organization! We're so grateful to everyone who helps support our mission. Here's a look at the impact you helped make in 2018.
February 7, 2019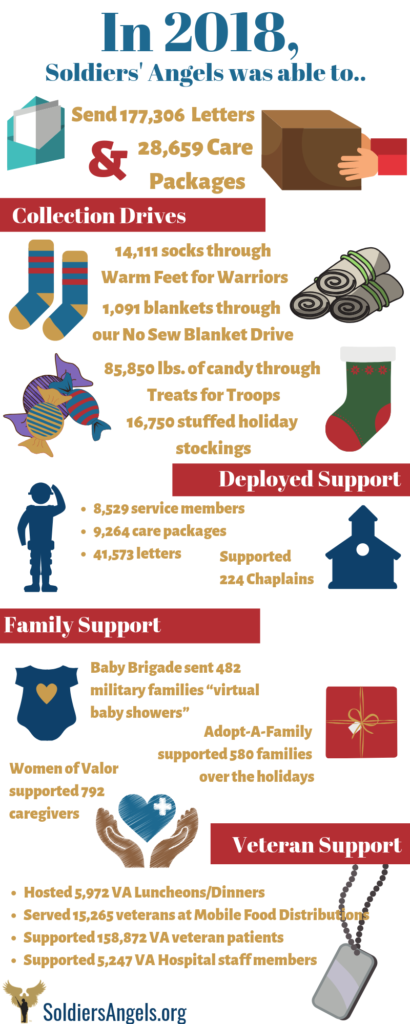 2018 was quite the year! We celebrated 15 Years of supporting service members and veterans and saw growth in every single campaign we run over the course of the year. We are truly blessed by the generosity of our angels, donors, and random supporters looking to give back. But what does all of this look like when it comes down to brass tacks? Well, here are some stats we're excited to share.
Overall Numbers

This year, our organization was able to support a large number of service members, veterans, and military families. Overall, our organization sent:
177,306 Letters.

62,004 cards of support, congratulations, and condolences from our Cards Plus Team.

28,659 Care Packages.

14,029 handmade items from our Sewing & Crafting Team.

2,205 care packages stuffed full of homemade and store-bought goodies from our Angel Baker team.
Seasonal Campaigns/Drives
Throughout the year, Soldiers' Angels hosts collection drives for supplies. These are seasonal opportunities in which anyone can participate. Items collected go to both service members and veterans.
Warm Feet For Warriors: 14,111 socks (vs. 8,730 in 2017)

Treats for Troops: 85,850 pounds of candy (vs. 15,467 lbs of candy in 2017)

Holiday Stocking Drive: 16,750 stuffed holiday stockings (vs. 14,767 stockings in 2017)

Blanket Drive: 1,091
Deployed Support
Our Deployed Support Teams send care packages and letters to service members who are deployed overseas. In 2018, the team supported 8,529 service members with 9,264 care packages, and 41,573 letters. They also supported…
224 Chaplains

505 Special Forces service members (with 2,978 care packages and 6,339 letters)

1,629 Ladies of Liberty (with 2,319 care packages)

Helped 2,332 troops celebrate their birthdays
Family Support
Our family support teams work hard to help support military families who are expecting, who need a little holiday help, who are caring for a wounded service member, or who just lost their loved one. In 2018, we were able to support military families in the following ways.
Adopt-A-Family supported 1,006 families over the holidays with gifts for their children and gift cards to help with their holiday meal.

Baby Brigade sent 482 military families "virtual baby showers" with items for the newest members of their families.

Women of Valor supported 792 caregivers with letters of support and care packages.

Living Legends send 167 letters of condolences to comfort the spouses of our fallen heroes.
Veteran Support
We worked hard to expand our veteran support programs this year. Our veterans are a growing population who need all of the support we can give. Here's how we supported veterans in 2018.
Hosted 5,972 VA Luncheons/Dinners

Hosted 935 VA Activities

Served 15,265 veterans at Mobile Food Distributions

Distributed 3,006 box lunches to veterans at stand downs

Distributed 3,290 Box Lunches to Case Workers within the VA Hospital to distribute to patients

Supported 5,914 veterans over the holidays

Provided bedside support to 39,995 veteran patients at VA Hospitals across the country

Supported 158,872 veterans at VA Hospitals across the country
As you can see, we had an impactful year as an organization! We are so grateful to everyone who helps support our mission. We hope to grow these numbers in 2019. Want to help? Learn more about our programs and how to get involved here.
---