Zurich 'Insures' Our Troops and Veterans Have Socks!
May 16, 2018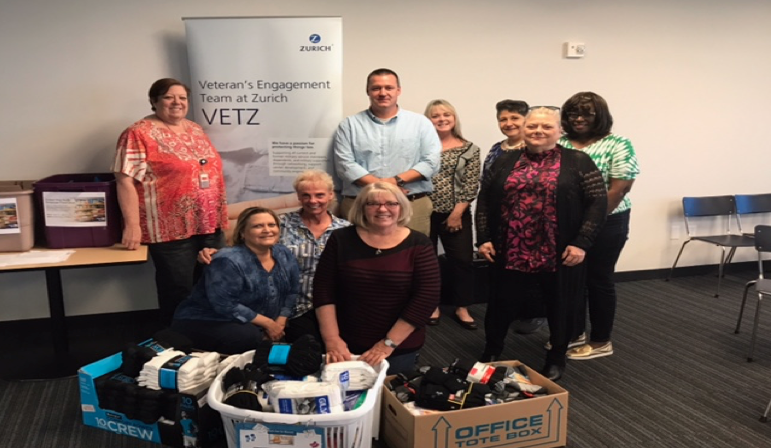 We love to see companies rally employees for good causes – especially when it has to do with our troops! One company who has helped us in a big way is Zurich North America, thanks to Joanie Perez, the Learning & Recruiting Services Manager at Zurich. She says that Zurich is "always looking for ways to find someone with a passion for something and connect them with a charity."
Zurich encourages employees to form teams and bond over commonalities. They have several active employee veterans groups and have been named a Military Times Best for Vets employer for three consecutive years, so when Joanie saw our Warm Feet for Warriors campaign last year, she thought, "What a great way for our vet group and company to connect with Soldiers' Angels!"
Joanie got a hold of Zurich's veterans team leader, and they put a call out for help to collect socks. According to Joanie, they have lots of veteran chapters at Zurich. The teams set up collection bins in different offices across the country and let any employee participate.
"It was so easy. We asked, and they just did it," Joanie said.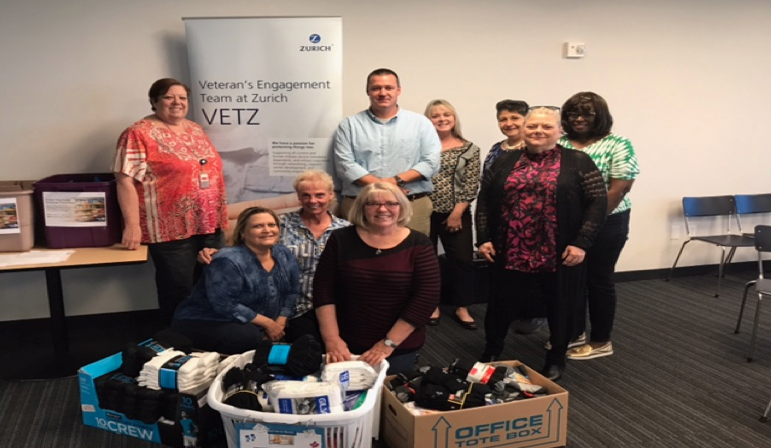 Thanks to engaged employees, the company collected 3,097 pairs of socks from six different locations.
According to Joanie, they did the same for our Treats for Troops candy drive and collected more than we could handle.
How Joanie Got Involved with Soldiers' Angels
Joanie learned about Soldiers' Angels around 2010 through a friend who was a participant. At the time, Zurich was celebrating 100 years of being in the United States and was seeking to complete 100 different community impact projects. One of those projects was a No Sew Blanket Drive for hospitalized veterans and troops.
It was that campaign that sparked an interest in working with Soldiers' Angels. Joanie looked into being involved herself and was drawn to our Deployed Adoptions Team. She has been on the team for about 6 years.
"It's the personal satisfaction of knowing that I could be making a difference," Joanie said. "I always tell them they don't have to write back. They aren't deployed to write letters, they have a job to do."
We love seeing companies get involved. It's always a good feeling when you know your employer cares about giving back, and as an employer it's a great way to engage employees and bring some positive vibes to the office.
We've wrapped up our sock drive for this year but we do accept socks all year long. After all, they are one of our most requested items! If you're interested in getting involved, check out our Blanket Drive going on through the summer. Get the details here.
---