Why Our Work Is Important
April 30, 2015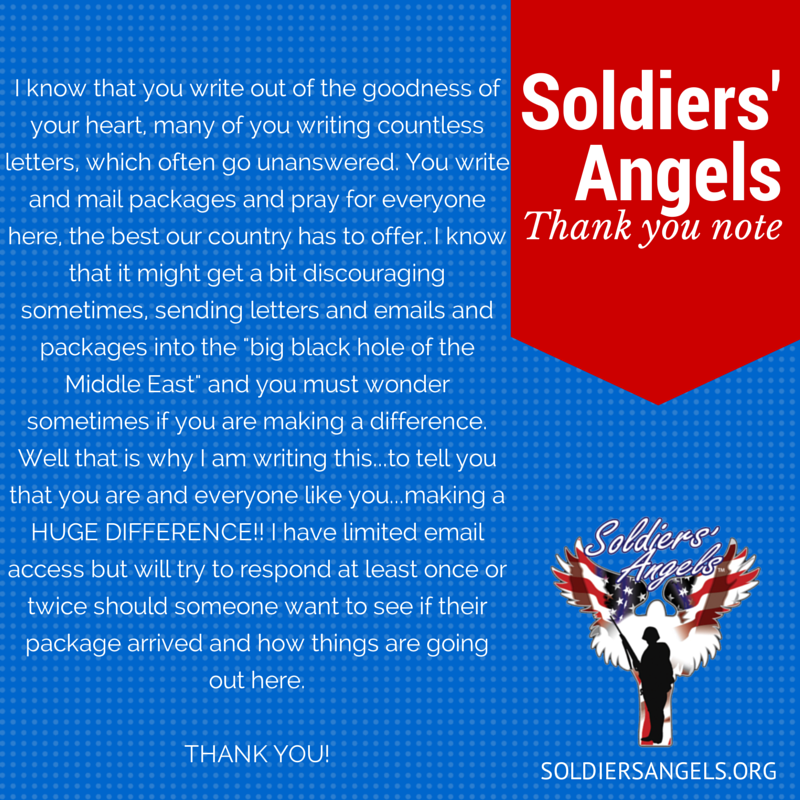 Imagine being deployed and having no contact with the world in which you once lived.
No letters, no phone calls, no emails.
While deployed soldiers have the support of each other while on deployment, contact with people back home is very important. If you're familiar with Soldiers' Angels you likely know that we send letters and care packages to deployed soldiers.
Our work is so much more than that though. Here is why what we do is so important.
We Express Gratitude
If you've ever purchased coffee, lunch, or just thanked a soldier in uniform, you've felt the power of expressing gratitude. Think of how much more powerful that expression of gratitude is for a soldier who is currently deployed?
Deployment can be lonely, hard and stressful. It can sometimes feel like the world that awaits you back home doesn't care that you are protecting them. Receiving letters and care packages from perfect strangers reminds our troops that they are loved and appreciated while they are away from their loved ones.
For VA Hospital patients, gratitude comes in many ways. Luncheons, movie nights, gifts like handmade blankets or catheter bags, cards, and visits to their rooms by Soldiers' Angels volunteers.
"Our service members, Veterans and their families expect to hear and receive encouragement from those closest to them, but it's also crucial for them to hear those same things from those outside that inner circle. They sacrifice for EVERYONE, not just those closest to them so it really re-enforces to them that the hardships are worth it to hear it from an un-expected source." – Leslie Scott, VA Program Manager, Soldiers' Angels
We Improve Quality of Life
There are so many comforts and little things you miss (and need) while deployed. Food and snacks that are not MREs, games to pass the time by, clean socks, paper and pens to write home, personal care items like sunscreen, chapstick, lotion, pain relievers and things like blankets or batteries.
For wounded warriors who are medevaced to Landstuhl Regional Medical Center (a level II military treatment facility), our support includes providing blankets, pillowcases, snacks, hygiene items, clothing and other items requested by the wounded patients. We can't tell you how many letters we received from troops who were treated in Lanstuhl who deeply appreciated the items sent – especially the handmade blankets, which many of them cherish long after deployment.
For patients in VA Hospitals we serve across the country, there are so many ways we help lift their spirits. For many veterans and wounded warriors, stays at the VA can be weary and lonely. Our luncheons, visits, and special gifts help lift their spirits and show that we care.
"Many people don't realize that we are losing service members to suicide at an alarming rate, and we are also losing "The Greatest Generation" to age. That's why what we do at Soldiers' Angels is so important. We provide aid and comfort to every member of the military! It could be a care package when they don't have anyone to send them something or letter to a currently serving military member, or a warm blanket or toiletry kit to a Veteran, or a special gift to a caregiver or a new baby! I love that about Soldiers' Angels! You can't help but feel a strong connection to our motto "May No Soldier Go Unloved". – Cathy Miller, Admin at Soldiers' Angels
It Helps the Transition
Coming home after deployment is very hard. Many soldiers suffer from PTSD that goes untreated once back home. The effects PTSD can have on a soldier's life are vast and in some cases lead to suicide.
There is a strong correlation between the level of support a soldier receives while they are deployed and their ability to properly transition once they come home. The more support, the easier the transition becomes. Support can come from anywhere. Our letters and care packages, and all that we do for deployed troops really does make a difference.
"Our work shows and proves to our Armed Forces that the sacrifices that they are making don't go unnoticed. With the support our 'Angels' are able to provide to our Armed Forces we are sending a piece of home. Some of the heroes that have been in touch have expressed that Soldiers' Angels makes deployments somewhat easier." – Amy Krome, Ebay Giving Works Manager, Soldiers' Angels
Families Need Support Too
We don't just support our heroes – we support their families as well. Having a loved one who has been deployed, is wounded or has passed away is hard on a family. Soldiers' Angels helps by providing the same type of support to families as we provide to deployed soldiers.
We send cards, we arrange virtual baby showers, we send gifts, and at Christmas time we do family adoptions. We have four different teams that serve our military family members:
"Far too often our veterans become dashes in history. Their stories are lost and unspoken for many reasons. The sacrifices of our service members, veterans and their families go unacknowledged or mentioned. Small tokens, being able to express gratitude and listening ears goes a long way."
It is for these reasons and many more why the support we provide is so very important.
---