When Our Veterans Programs Inspire Poetry
November 14, 2019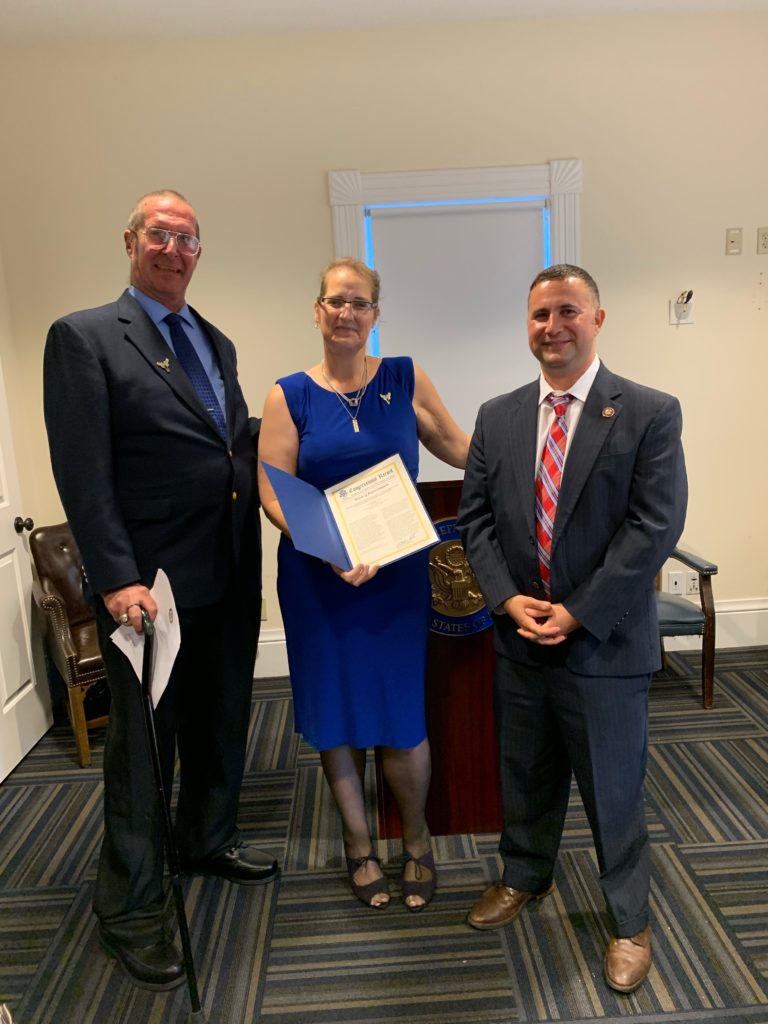 We recently received a poem from the husband of our Regional Director of Field Operations, Christina Atkinson. Christina works within the VA Hospital system through our Veteran Support program and her husband Jeff, who is a disabled combat vet, helps out with many of the Mobile Food Distributions where they live.
Soldiers' Angels veteran support programs are not only a great way to show support for veterans who come and go within the VA Hospital System, but also a great way for veterans to get involved. Jeff, who according to Christina NEVER writes poetry, has been so inspired by our Mobile Food Distributions that he wrote the poem below. Here's the poem and interviews we did with the two of them.
"Tried putting my thoughts into words that could demonstrate how much each of your efforts mean to the warriors lost, and especially to those who remain. You all have been an inspiration unlike any other, and for that, I give thanks each day for each of you, for never forgetting what's important and demonstrating it through your actions." – Jeff
SOLDIERS' ANGELS
For here I lie on hallowed ground, so peaceful and quite the site,
With all my brothers and sisters true, who fought with all their might.
While many do remember us each day with thanks for our sacrifices so few
A special few remember us, with all they say and do.
A special group of strangers who share a common cause,
Who love their country as we who remember what's been lost.
Our lives are not in vain, you see- they mean so much to few
Soldiers' Angels are among the best who have never forgotten the view….
My efforts to sustain freedom for all those proud and free,
Yet a silent voice in the background speaks in action, for those like you and me.
A group so full of promise, to keep the vows alive we made,
Believing through their actions that thanks are due for those who lay silently where we laid.
A soldiers' life cannot be replaced for the efforts- they've made a mark
A mark in people's lives who remain, so very valiantly stark.
This group keeps alive the hope of Soldiers' efforts true
And I thank God for people just like this, who don't forget the efforts of me and you.
Soldiers' Angels will hold a special place in family's lives shared with us
Their efforts are true and real, their hearts so full of love
So beautiful are these Angels, their efforts remain foremost,
In giving thanks so full for those who now proudly serve Above.
A Little More About Jeff
Jeff served in the US Air Force as a security specialist, a D Force protection manager for operations. He joined in October of 1981 and retired Feb 2003.
Tell us about your work with the Mobile Food Distributions.
"I love working MFD and seeing the many grateful veterans we serve each month. The looks on their faces are simply priceless, and that speaks volumes. It also allows me the chance to get out and be sociable with other vets who I share many things in common with. I normally pass out water to volunteers and work as a gate attendant as needed, greeting and thanking each veteran as they enter the line for receiving food – truly a humbling experience that always allows me to experience first hand how fortunate and blessed we truly are, in many respects."
What does it mean to you to give back to other veterans?
"One of the main reasons I started this was giving something back to our community and the military support network I am a part of, and that has blessed me beyond measure. As a combat vet with PTSD from previous experiences in Bosnia, and a disabled vet, the connection and communications I can exchange with others of like experiences are invaluable and priceless in both my, and hopefully their, efforts to fully recover. I firmly believe this and the more I can see the positive outcomes of our efforts, the more encouraged I am through serving others to establish that bond. I cannot tell you how many times we've experienced moving gestures that really let me know I'm in the right place, doing the right thing. It's hard to say where I'd be now if not for this opportunity, but certainly wouldn't be with the warmth I experience through this wonderful organization. Yes, it is a huge game-changer and for that, thanks just aren't sufficient enough. You guys truly area class act that i owe far more to than you could ever know- in this season of thanks, that's extremely important!"
Meet Christina Atkinson
Christina, Jeff's wife, is our Regional Director of Field Operations. She has been with Soldiers' Angels for two year this January.
Tell us what you do at Soldiers' Angels
"I am currently the Regional Director for Soldiers' Angels SE Region. I currently help oversee a number of volunteer VA programs in a number of states. Prior to August of this year and before joining the staff with this great organization, I was the Orlando VA Representative for 18 months as a full time volunteer.
I have always jumped in and done a number of things with the VA including patient visits, distributing items for veterans, serving a monthly dinner to our veterans, overseeing the monthly Mobile Food Distribution where we provide 200 low-income veterans a minimum of 75 pounds of food, serving coffee and donuts or supporting other veteran/VA events."
What does your work look like on a normal day or week?
"I spend my time supporting veterans, volunteers and the VA's to ensure we are always providing the best and most positive experience to our military veterans and their families. They signed their names on the bottom line offering to give their lives to support and defend our great country; therefore it is the least I can do to spend my days giving back to them or teaching other Soldiers' Angels volunteers how to give back as well."
Why did you choose this work? What do you like about it?
"I have always had a strong love and association with the military. Not only am I married to a Retired Disabled Air Force Veteran, but my brother is a retired Navy Veteran and my son-in-law is active duty Army. I never served in the Armed Forces and I am humbled by the great service and sacrifice the men & women I meet every day have given."
Can you share a story that sticks out to you?
"One of my new favorite stories, actually occurred while I was visiting the VA in Columbia, South Carolina this week. While distributing Socks (Warm Feet for Warriors) and coffee (donate by Books-A-Million) a veteran came up to me and was so happy to see Soldiers' Angels. He gave me a big hug and as he was getting emotionally choked up he kept saying Thank You. He then started telling me stories about how he has always wanted to meet someone from Soldiers' Angels because when he was stationed in Afghanistan between 2007-2008 he and his platoon received tons of care packages from Soldiers' Angels. He told me that we do not know how Special we were to him and how 12-13 years later he still remembers us and how much we meant to him. He took a photo with me but kept giving me hugs and thanking me (even though I was not part of the organization while he was deployed). Our virtual volunteers never get to meet these brave hero's but when they see the t-shirt, sign or logo those wonderful memories of love and support come flooding back. While I thanked him again for his service on behalf of Soldiers' Angels he made me proud to belong to a great organization that has/had such a significant impact on a soldiers life 12 years later. Thank you for giving me the opportunity to get the hugs and hear the heartfelt stories."
We love that we are able to support so many veterans across the country through our Veteran Support Program. Meet some of our dedicated VA Representatives here, follow our Veteran Support Facebook page for updates and volunteer opportunities, and check out our latest blog about exciting new Veteran Support Programs we introduced in 2019.
---