VA Health Care Systems organize "Stand Downs" to bring VA services to homeless Veterans in the community.
Stand Downs are typically one to three-day events providing services to homeless Veterans such as food, shelter, clothing, health screenings, VA & Social Security benefits counseling, and referrals to a variety of other necessary services, such as housing, employment, and substance abuse treatment.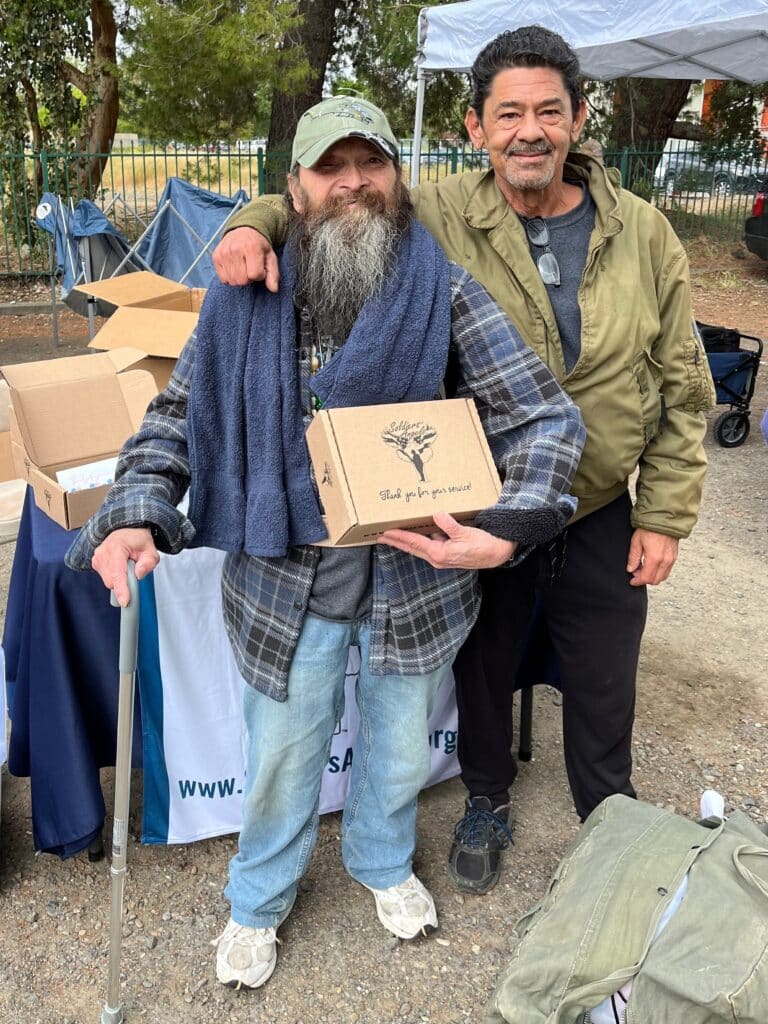 Soldiers' Angels participates in Stand Downs across the country providing thousands of homeless Veterans with supplies, comfort items, meals, and more. Soldiers' Angels volunteers are vital to our participation in these critical events. Volunteers attend the events, which often take place over multiple days, to hand out supplies and engage with attending homeless Veterans.
With the assistance of our generous donors, Soldiers' Angels is able to provide a variety of items at Stand Downs across the country. Most frequently, Soldiers' Angels provides Box Lunches and Hygiene Kits.
Box Lunches
Soldiers' Angels Box Lunches vary based on availability of products, but include the following:
A bottle of water with a cold drink mix packet
A ready-to-eat tuna or chicken salad kit
A granola or cereal bar
A fruit cup or squeeze-fruit packet
A pack of cheese or peanut butter crackers
A miscellaneous snack, such as trail mix, raisins, fruit snacks, or a nutritious variety of cookie (such as oatmeal or Fig Newton)
A paper plate
A pre-packaged utensil kit (plastic fork, knife, spoon, napkin, salt & pepper)
An anti-bacterial moist wipe
Hygiene Kits
Soldiers' Angels Hygiene Kits vary based on availability of products, but include the following:
Shampoo & conditioner
Body Wash
Razors
Deodorant
Lotion
Toothpaste
Baby Powder
Hand Sanitizer/Anti-Bacterial Wipes
Dental Floss
Lip Balm/Chapstick
Toothbrush
Combs
How You Can Help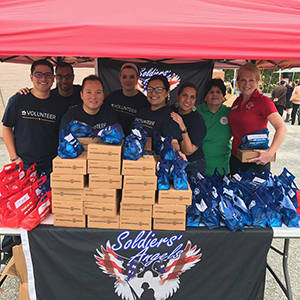 You can become an Angel and volunteer with Soldiers' Angels to participate in Stand Down events and many other events supporting Veterans in local communities. Visit the In-Person Volunteer Opportunities page to learn more and find a location near you.
Not close to a VA facility we support and still want to help? Consider making a cash donation or donating in-kind items that can be handed out to Veteran patients. Check out our calendar of Special Campaigns here. These campaigns are designed to collect much-needed items that may be used to support patient visits, be sent in deployed care packages, and more.
Looking for a corporate activity? Many of our Box Lunches and Hygiene Kits are packed by our amazing corporate partners at packing events that can accommodate groups of all sizes. Click here to learn more about all of the Corporate Engagement Opportunities we offer.
We're Here to Help!
Visit our Contact Us page and reach out via phone or submit a contact form if you have more questions about how you can help support Veterans. We'd be happy to get you the information you need in order to make the decision to become an Angel and show your support for America's heroes.