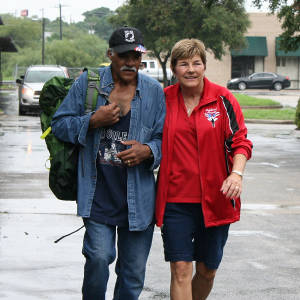 Who We Are and What We Do
Soldiers' Angels has designed a range of services that directly support homeless, low-income, and at-risk veterans and their families. While there are many organizations and government-funded programs that provide services to veterans, the Soldiers' Angels services were specifically created to fill the gaps where services did not previously exist. In addition to providing these much-needed services to this population, our goal is to also help connect veterans with VA services that could help them, many of which they may not yet know about or utilize.
Soldiers' Angels relies on funding from donors and corporate partners in order to keep these services running in their current markets and expand the services to additional markets. If you or your business/organization are interested in sponsoring any of the below services, please email us here for more information.
SOLDIERS' ANGELS SERVICES INCLUDE:
Mobile Food Distributions
Soldiers' Angels provides food assistance to homeless and low-income veterans and their families through monthly Veteran Mobile Food Distribution events. Currently held in six cities across the country, these events provide veterans with over 75 pounds of groceries at no cost to the veteran. Learn more about Soldiers' Angels Veteran Mobile Food Distributions here.
Box Lunches
Soldiers' Angels provides box lunches to VA Hospital caseworkers to hand out to their patients as needed. Often caseworkers meet with veterans who may not know how or when they will eat their next meal. Box lunches offer caseworkers the opportunity to provide quick and easy food support to those veterans. In addition, Soldiers' Angels Box Lunches are handed out to homeless veterans at VA Stand Downs.
Hygiene Kits
Unlike public hospitals, veteran patients at a VA Hospital are not provided with their own hygiene items. Instead, the hospitals rely on donations of hygiene items which they then divvy out to patients. Soldiers' Angels Hygiene Kits provide a solution to this problem for veteran patients that may not have family to bring them hygiene items or homeless veterans who may enter the hospital with no personal belongings at all. These kits include travel-size hygiene items, such as: shampoo/conditioner, body wash, toothpaste/toothbrush, and other hygiene necessities. Hygiene kits are also handed out to homeless veterans at VA Stand Downs.
Transportation Services
Many veterans across the country are dependent on public transportation— but often the expense of using public transportation will keep veterans from attending their medical appointments. Soldiers' Angels provides bus passes/tokens/tickets to veterans that cannot afford to pay for public transportation so they can travel to and from medical appointments.
Canteen Gift Cards
Veterans often try to schedule multiple VA appointments in one day to save on transportation costs. However, with very limited income, eating a meal in the VA Cafeteria (or Canteen) is typically not an option. Soldiers' Angels provides Canteen Gift Cards to veterans who cannot afford to eat in the VA Cafeteria who will be at the VA for at least 6 consecutive hours.
Homeless Veteran Housing Pack
As chronically homeless veterans are approved and accepted into HUD-Veterans Affairs Supportive Housing program (HUD-VASH), they move into housing with little to no basic supplies. Soldiers' Angels Homeless Veteran Housing Packs provide the essentials to the veteran for their new home, such as: pots, pans, dishes, sheets, blankets, pillows, bathroom supplies, and more.
How You Can Help
You can become an Angel and volunteer with Soldiers' Angels at a facility near you! Please use the contact form on this page for more information on getting involved in this unique opportunity. Volunteers will be required to complete a formal application and complete a background check. A screening process is in place for your safety and the safety of our veterans.
If you aren't close to a facility and still want to help, consider a cash contribution or inkind donations of items such as blankets, snacks, hygiene items, socks, t-shirts and sweat pants. To ship items to support our veterans, please contact us so we may direct your contribution to the best possible site.
If you need more information, please use the contact form on this page.
Contact Us About This Team