The Operation Top Knot Team Loves Babies!
August 31, 2017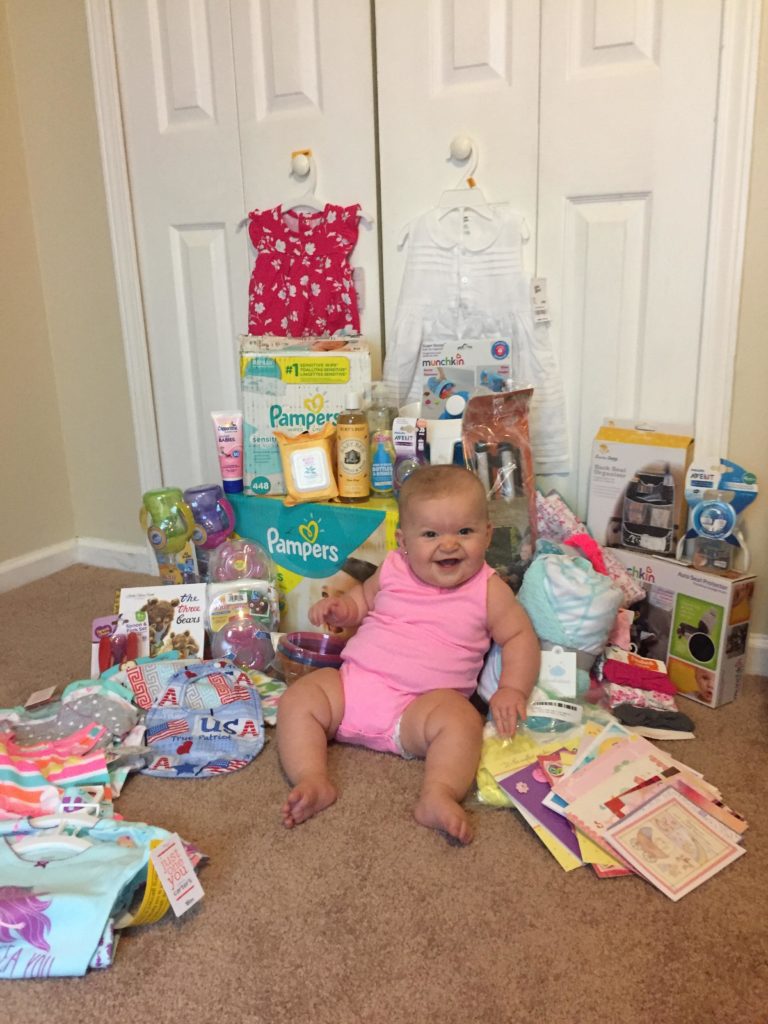 Did you know that August is one of the most popular months to give birth? It makes the summertime a busy time for our Operation Top Knot Team! This team works tirelessly to throw virtual baby showers to help ease the emotional and financial stresses of military life.
Deployment can be extremely stressful for military families when it coincides with the birth of a child. This team primarily focuses on supporting families at home while they are separated from their deployed family member. They do this by shopping for (and making) baby items for their expecting family.
Each new or expectant mother receives a virtual shower from angels across the country. Much of what is sent is actually handmade by our talented angels!
Meet Melissa
Melissa is the Operation Top Knot Team Leader. She is in charge of contacting every family who applies for OTK support. She helps the families eligible for support through the application process and often asks them questions to gather more information for the Angels to use when supporting each family. She also checks in with every family to make sure they are receiving items they can use and items that will fit. She also helps the OTK Angels if they have any questions or need help with a family.
How long have you been the OTK Team Leader?
Since September 2015
What do you love most about your work with Soldiers' Angels?
Working with Soldiers' Angels gives me the opportunity to help families who need encouragement and support by assisting them through the application process and posting their information for the Angels. I am able to connect families in need of support with Angels who are eager to send that support; I love having the ability to make that connection for them. I also love that I'm able to make a difference in the lives of our OTK families while still taking care of my own family. All my work for Soldiers' Angels is done from my home.
What are some things people should know about military families?
I think people should know how much our military families appreciate the support…..everything from the cards they receive to the gifts… all of it. They appreciate that someone they don't personally know took the time to send a gift or card. Many times I've received emails stating how a gift or card was received on a tough day, and it made a huge difference. Some OTK moms have said they save gifts or cards to open on the tough days, especially when they have children. They save those special notes and gifts for the days they're needed most.
What's one of the most memorable experiences you've had volunteering with Soldiers' Angels?
One of my most memorable experiences started with a deployed dad who had found OTK and was applying for support for his wife and family as a surprise. There was an added element of excitement as he tried to keep the secret while gathering the needed information. He wanted to do something special to support his family while he wasn't able to physically be there. When the first gifts started arriving, I received an awesome email expressing how much our team had made a difference, not only for his wife and family but also for him because we had relieved some of his worry and stress concerning his family.
What are some of the most requested or needed items?
Diapers are probably the most commonly requested and needed item. Many families also request clothing since babies grow so much during their first year.
Do you know a military family Operation Top Knot should help? To receive Top Knot support, a family must: 1) Have a deployed parent or be an active duty female service member AND 2) be expecting a child OR have a child under the age of one.
If you know of a family that meets the above criteria, please click here to submit them for support!
Want to join the Operation Top Knot Team? Find out more here.
---