The Care Package Journey
July 12, 2018
Ever wonder what it takes to get a care package of goodies overseas to a military service member? It takes a lot, actually. From collecting supplies, fundraising for shipping costs, packing the box, and shipping it overseas, a lot of work goes into supporting the deployed with care packages.
Care Packages for Deployed

Did you know?
The idea behind Soldiers' Angels started with some shoe boxes. In 2003, Brandon Varn, the son of Soldiers' Angels founder, Patti Patton-Bader, was deployed to Iraq. Wrought with fear over her son's deployment, Patti asked her Veteran father what she should do… He told her to send care packages. He told her that, not only will Brandon need supplies, but that he will need to know that his family loves and supports him. He told her how important it was for troops to hear their name called during mail call. He told her how much hope can come from opening a package or a letter from home… a beacon of light amid the dark and desperate hours of war that those young men and women were facing.
Patti and her husband went out and bought enough supplies to make 40 shoe-box sized care packages and then shipped one care package every day for 6 weeks. Unbeknownst to Patti, those 40 shoe boxes would shape the next 15 years and beyond.
Today, the reason we continue to send care packages is very much the same. Although it can be easy to forget, the war is not over. There are still tens of thousands of men and women that are deployed to combat zones. They willingly face dangerous, often life-threatening situations daily. Sending care packages to these men and women may seem insignificant, but just listen to how much those original care packages meant to Brandon Varn with this behind-the-scenes look at some footage recorded for an upcoming film about Soldiers' Angels.
Soldiers' Angels sends care packages to combat deployed service members very frequently throughout the year. We ship care packages stuffed with a single item that may come from one of our many partners– such as Cookies from Girl Scout Troops or bags of coffee from the Books-A-Million Coffee for the Troops program. We also ship care packages stuffed with an array of items, such as hygiene products, comfort items and more.
But that's not all… We also have an incredible team of Angel volunteers that are a part of one of our Deployed Support Teams. Angels on these teams also send care packages to deployed service members! Angels on the Deployed Adoptions Team and Ladies of Liberty Team "adopt" service members for the length of their deployment and support them with at least one care package per month. Angels on the Chaplain Support Team help Chaplains by providing large quantities of supplies for the Chaplains to support the many service members in their unit. Lastly, an elite group of veteran Angels on the Special Operations Forces Team support Special Operations Forces service members who are often located in the most remote areas and have access to the least amount of comfort items.
Collection
The first step in sending care packages is gathering the supplies. Our team starts by reaching out to partners and individuals to collect the items needed for each box. Items include: snacks, hygiene products, games, comfort items (socks, hats, etc.), puzzle books, etc.
Shipping Costs
We also take monetary donations to cover the cost of shipping boxes overseas. We use USPS Large Flat Rate Mailing Boxes, which means that no matter what's packed, the cost is the same. It costs about $18 per box. That $18 adds up! We are always grateful to donors who pitch in to help us get the boxes to our heroes.
Packing
It takes a great deal of organization and hands to sort items and pack boxes! As items come to our office in San Antonio, our staff and local volunteers sort the items to get them ready for a packing event. We gather staff and volunteers to help pack, tape up, and label boxes.
Shipping
Once we have all of the boxes packed and labeled, we call the Post Office to come pick our boxes up and mail them to our heroes. As you can imagine, when we have a large packing event like this, it requires orchestrating help from our local Post Office as well!
Last year during the holidays, the Post Office sent two of their large step vans along with extra staff every day for nearly a week to collect all of the flat rate boxes filled with stockings for deployed service members!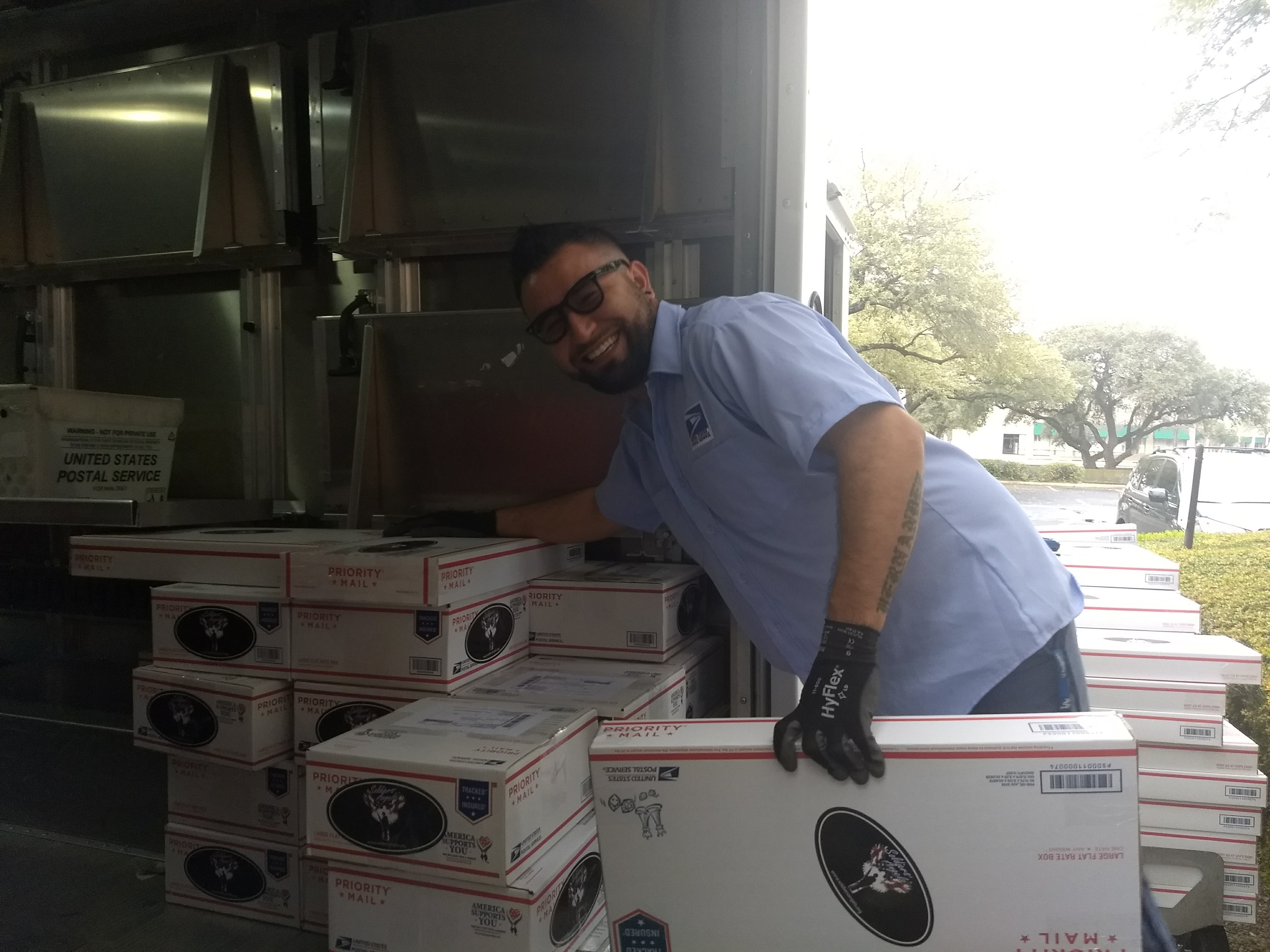 The Boxes Arrive
It takes two weeks for the boxes to arrive to our heroes. Once they arrive, the boxes will be handed out during Mail Call– which has been compared to Christmas morning. Everyone arrives to hear if their name is called during mail call… and if it is, the excitement alone of receiving mail is an incredible morale booster… not to mention all of the much-needed goodies and comfort items that are included inside the box!
As you can see, it's a quite a process to send supplies to our heroes. But they love getting care packages and the items within are desperately needed.
---