Our Waitlist of Adoptees is Full!
August 18, 2016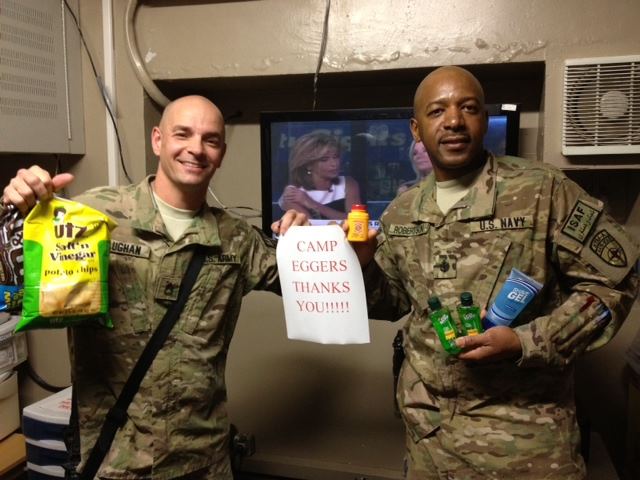 Have you heard of the Soldiers' Angels Deployed Adoptions Team? The Deployed Adoptions Team (DAT) is a team of dedicated Angels who support male and female service members deployed overseas in support of combat or humanitarian missions. The DAT goal is to ensure that no service member feels alone throughout their deployment.
Deployed service members register with the Soldiers' Angels organization and then await selection by a DAT Angel. The DAT Angel will then send their service member at least one letter per week and one care package per month until the service member returns home. The Deployed Adoptions Team is composed of thousands of dedicated Angels who invest their own time and funds to support thousands of our valued service members annually.
Right now we've got a pretty high wait list for soldiers who have requested to receive care packages. In fact, we've got 285 soldiers awaiting adoption. In order to encourage more people to sign-up, we thought we would tell you about a few of the troops we've got on the waitlist so that you get to know more about our troops serving overseas.
Without further ado, meet some of the brave men and women who would love to receive letters and care packages from home!
Michelle S.
Michelle is stationed on the USS Ronald Reagan. She grew up in Newport News, Virginia. She joined the military to follow in her father's footsteps, and she would someday like to open a non profit organization to benefit troubled youth. Michelle likes Hello Kitty, animals, and non fiction novels.
Julian J.
Julian is a soldier on his second deployment. Originally from American Samoa, Julian became a soldier because he wanted to serve his country and be a role model to his siblings. He enjoys spending time with his three year old son, watching comedy movies and tv shows, and cooking.
Dade B.
Dade is a soldier on his first deployment. Dade is originally from Chicago, and his friends call him Woody. He follows his family's tradition of serving in the military. Every generation of Dade's family has served since they arrived in America. Dade enjoys reading and working out.
Jonathan H.
Jonathan from Meridian, Mississippi, is a soldier on his first deployment. Jonathan is engaged and serves in the military following in his brother's footsteps. Jonathan loves soccer and his two dog 'children'.
Amanda W.
Originally from Cape Cod, Massachusetts, Amanda "Woolly" is on her second deployment with the Air Force. Amanda follows in the footsteps of her father, who served in the army. Amanda enjoys working out, playing volleyball, watching movies, and most of all, spending time with her two beloved fur babies, Bella and Ellie.
Mark D.
Mark has served for almost thirty years, as active duty military as well as guard and reserve. Mark is originally from the small town of Chester, Illinois. He's married to "an amazing woman named Alicia", and has four kids, Alex, Brianna, Kirstin, and Markayla. Mark serves because he wants to help the country and to learn a great trade. Mark's favorite things to do are anything involving his family, cars, and woodworking. Mark hopes to one day own his own shop.
Justin D.
Nicknamed "Delchamp", Justin is on his fifth deployment with the Navy. Justin is originally from Renton, Washington, and is happily married to his beautiful wife, Nadine, who is in the Airforce. Justin and Nadine have a four month old daughter named Isabella. Justin enjoys traveling, playing the guitar, golfing, and fishing.
Kenya G.
Kenya is a soldier on her second deployment. She is originally from Hopkinsville, Kentucky. She joined the military to better herself, gain leadership skills, and travel the world. Her favorite activity is going out with her girlfriends.
Thomas N.
Originally from Olney, Maryland, Thomas is on his first deployment with the Navy. Thomas follows in the footsteps of his grandfather, who was an aircrewman and an officer before he retired. Thomas' favorite things to do are skiing and playing soccer. If adopted, Thomas promises to share any care packages he receives with his division.
Jared L.
Jared is on his first overseas deployment, and is originally from Idaho. He is ecstatically married for almost five years with two children, a crazy three year old girl and a stubborn nine month old boy. Jared follows in the footsteps of his father, who was a career officer in the army. Jared enjoys spending time with his family, skiing, reading, and running.
Want to sign-up? Click to find out more.
---