TCC Gives Big through Adopt-A-Family
February 16, 2022
After the dust settled from the craziness of our holiday programs (good crazy) we started looking through our family thank yous. This one from the family of a recently deployed service member about donor TCC Gives really spoke to us.
"This was our first year without daddy home for Christmas and the girls are at the age where they don't really understand why he's not coming back from work. My husband wanted to sign us up for this so the girls would be excited on Christmas and not so sad he wasn't there. The TCC group that sponsored us was absolutely amazing. We got the chance to meet two women who brought all these amazing gifts and they were just wonderful. They were so excited to see my girls, and my girls were so excited about all the gifts they saw. We were not expecting anything like this and TCC went above and beyond for my girls and my family. They made Christmas for the girls 1000 times better than it would have been. They also made it easier on me. I can't thank them enough for everything they did. I will never forget them. Thank you to everyone who put this together, you guys are truly amazing!"
After tracking back to this new donor, TCC, we immediately learned that they had impacted more than this family. They adopted 25 families through their foundation, TCC Gives!
"We have stores across the country and we wanted all our groups to have the opportunity to give to these amazing families. It really made an impact on our team and hopefully it will become a tradition!" explained Courtney Kibble, Program Director for TCC Gives.
Who is TCC Gives?
TCC Gives is a corporate giving initiative funded through a percentage of profits from the nationwide Verizon retailer, TCC, and additional fundraising projects. TCC Gives encompasses a private foundation that gives Community Grants to local nonprofits, a public charity More Than a Phone that supports survivors, quarterly local giving projects, and more.
"One of the biggest components to the culture of TCC is giving back to the communities where we work and live. My job is to foster those relationships. We do that a couple of different ways. We have a foundation that gives quarterly grants to nonprofits our employees are passionate about. Our public nonprofit, "More Than a Phone," partners with domestic violence shelters in the communities where we have stores. We give each one 40 phones with 4 months of unlimited talk, text, and data for them to give out to their survivors. We also have community events every quarter. The one we have in November that we partnered with Soldiers' Angels for is called Veterans Rock," says Courtney.
TCC found Soldiers' Angels through sheer internet sleuthing. The team was planning their Veterans Rock event and wanted to adopt military families for the holidays.
"We have our meetings to plan quarterly events and we were talking about something with veterans and one of our committee members brought up that it would be fun to adopt families around the holidays. We just started Googling organizations that do this. We came across Soldiers' Angels and were blown away by their story and what they do to give back to veterans," explains Courtney.
Coordinating 25 families across 25 regions
TCC stores are divided into 24 regions. The chain decided to adopt one family per region plus the home office in Indiana adopted a family. With the help of their Regional Directors and Community Leads, they got it done – 25 families adopted – all before Black Friday!
"I prepared my Community Leads ahead of time. When they would send me a family, I would try and find the closest regional lead to that area. Once we got down to the end I was just assigning them. We gave them a to-do list based on the family's wishlist. Every region had $2500 to spend," explains Courtney.
Each region was instructed to buy two meal cards (one for Thanksgiving and one for the holiday meal) totaling $200-300 each depending on the family size. Once the gift cards were secured, they were instructed to go through the wishlist their family provided to purchase gifts. If they still had money left, they could find something big the family could enjoy together.
"For example, one family told us that their two boys were saving up for an Xbox so we bought them an Xbox and games. Their preference sheet had activities they love like movies, camping, etc.," says Courtney.
Holidays cards were also a big part of the effort. TCC asked its stores to send the family they adopted a holiday card. One card from each store in the region came flooding to the family's mailbox.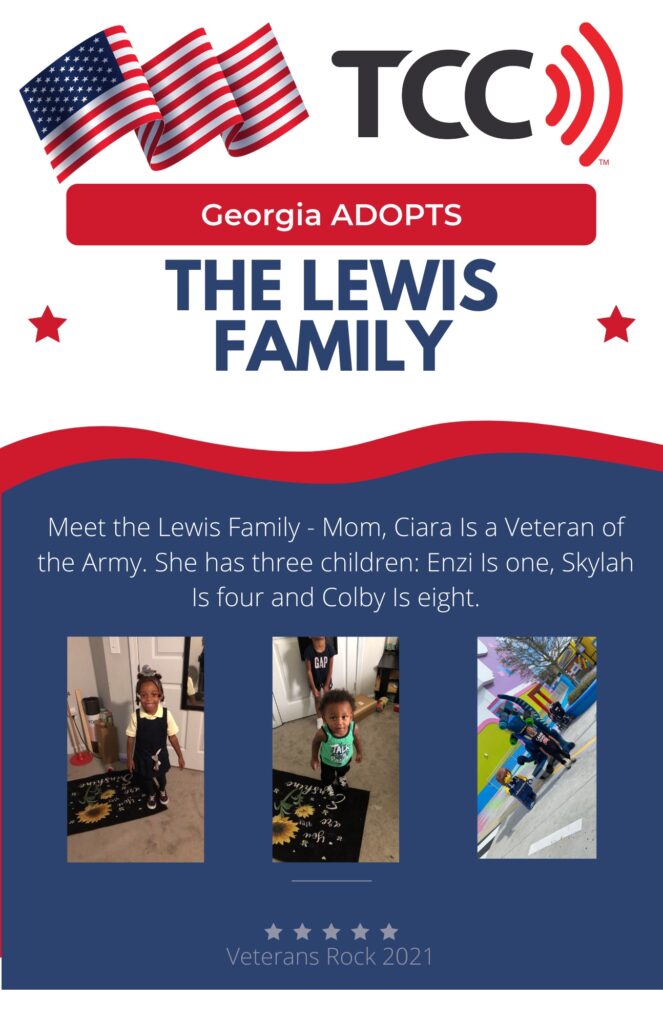 "I made a flyer for each store so they could see their family, know who they were, and then it had their address so that all the stores would send them cards. Honestly, some of the feedback we got from the families was that it was their favorite thing. They got all of these cards from stores throughout the region and it was nice to get that mail," says Courtney.
There were also opportunities in some regions to deliver the gifts in person. In Georgia, the region got together, wrapped the gifts, and the leadership delivered the gifts to the family, sat down with them and met them.
"We got a lot of thank you notes, which were all so touching. One family, it was their first Christmas without the Dad. He had been deployed. The mom was really worried about her kids having fun and making sure that it was still a meaningful day. She said that having the gifts and making their family feel special – that they were chosen to receive these gifts because the Dad was deployed – really made a huge difference in their day. Brought smiles to their faces," says Courtney.
This family is the same family we shared a quote and photos from at the beginning of this blog.
"The coolest part for me was being able to show our employees that what they did made an impact on these families. I think sometimes there are companies and corporations that can write big checks and do those types of things but it really makes a difference when you can show your employees the impact that the company's donation is making. So when they got those thank you notes or were able to deliver the presents they really were able to see that firsthand."
We are so grateful for the immense support from TCC Gives for our Adopt-A-Family! It just goes to show the sheer impact we can have when companies and corporations give back.
"Soldiers' Angels was super easy to work with and we hope to do it again."
Thank you for giving BIG, TCC!
---