Summer Care Packages for Deployed
If you're getting ready to send supplies to an adopted service member, here are some tips and items to consider that we know they'll love!
July 30, 2020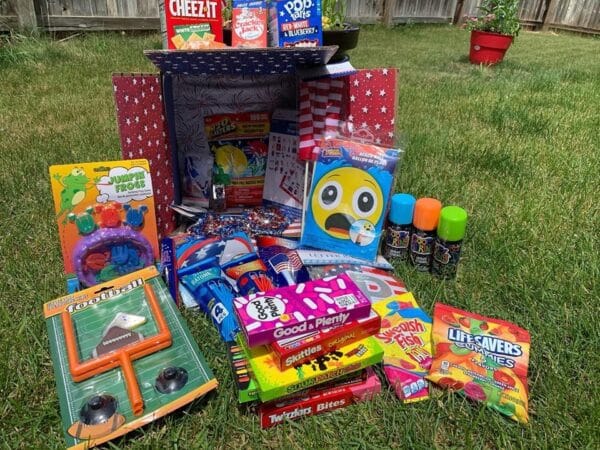 If you're getting ready to pack care packages for deployed service members, here are some tips and items to consider that we know they'll love and that will survive the long trip during hot months.
Did you know that during the summer in Afghanistan it can get as hot as 109° Fahrenheit? Summer can be a trying time for deployed service members – especially those who are deployed to the Middle East or other areas near the equator. Sending care packages to deployed service members is a great way to boost morale and let them know we are thinking of them. But sending care packages during the summer months requires some special considerations in order to beat the heat.
Want to learn more about supporting our deployed service members? Join our Email List Here
What NOT to send
First things first, your care package has to travel a long way in the summer heat. Be sure what you're sending will withstand the heat. Chocolate, gummies, or other items that can melt, warp, or get gross during shipping should be avoided. Here are some candies to consider that won't melt.
Keep them cool
Beating the heat means staying cool in multiple ways. Items like cooling bandanas and cooling towels are a great way to cool off after a shift in the heat. Here's a great testimonial from a service member who was sent a MiraCool Cooling Bandana from one of our angels.
"I highly recommend them. It was 117 here today. We worked all day in the sun. I shared one with my buddy. It really made a difference. Lasts a long time too."
Other cooling items our angels send include water squirters, water balloons, mini fans, and metal water bottles to keep cold water cold.
Freezer pops are also a great treat to send! Our Chaplain Support Team Leader Kaleena recently discovered that a couple of our Chaplains had a deep freezer. She rallied her team to send freezer pops and they loved it! Here's one of the units enjoying their delicious frosty treats.
Summer Essentials
Beating heat also means having the proper supplies. Sunscreen, after-sun lotion (aloe), SPF chapstick, and cooling wipes are always appreciated. Baby powder or other anti-chafing supplies are necessities. Also foot powder, moleskin, anti-itch cream, lubricating eye drops, and Emergen-C are big hits no matter what the season. For all hygiene products, be sure to send travel sizes.
Be sure to send some fun items in your care packages for deployed service members too like foam footballs, frisbees, activity books or other games they can play during off time. It can get pretty boring over there.
Snacks
Service members love snacks! Some items to consider that stand up to the heat and are frequently requested include: beef jerky, powdered drink mix, popcorn, freeze-dried ice cream, and pringles (the can keeps the chips protected). Angel Maggie, who blogs about her care packages, has a great blog post with ideas for summer-themed care packages. Check it out on The Monday Box.
Decorate your box
Want to go above and beyond for your service member? Consider decorating the inside of your care package with something fun and festive. Our angels do a wonderful job creating fun experiences with their themed boxes. Here are a few from angels Elizabeth, Wendy, and Maggie.
Packing Tips
A few packing tips to consider to ensure your package and its contents are intact once they reach their final destination.
Seal everything individually in plastic bags with zip locks to protect items in the event of leaking. Plastic bags also help service members keep the sand out so send extras if you can.
Consider vacuum sealing any baked goods to keep them fresh.
Use sturdy packaging. The Military Care Kit from the U.S. Postal Service is a great option.
Don't have a service member to send supplies to? Want to support one? Learn more about our Deployed Adoptions team here.
---