Spots are Open to Brew Your Support in 2023
February 9, 2023
The clock is ticking away at 2023 and our Hops for Heroes team is READY! This year, we're opening up 50 spots for breweries to join the Hops for Heroes program. We received a ton of interest after a successful Craft Brewers Conference last year. As we began recruiting for 2023, we decided that— due to our limited staff size at Soldier' Angels — we also need to limit the number of participating breweries. Operating a national nonprofit with a staff size of less than 30 is quite a feat in itself! Limiting the number of breweries will allow us to ensure that we are able to fully support each and every brewery that participates in this unique and patriotic experience. Who will be a part of the 50 American breweries to brew their support for our military? We couldn't be more excited to find out!
As the applications roll in, here are some new things to get excited about ahead of this year's Hops for Heroes campaign.
Limited edition Hops for Heroes tap handle
We're starting a new Hops for Heroes tradition: a custom-designed military-themed tap handle! Every year we will reveal a unique new design making this the ultimate collector's item for participating breweries and beer enthusiasts alike. Here's this year's design.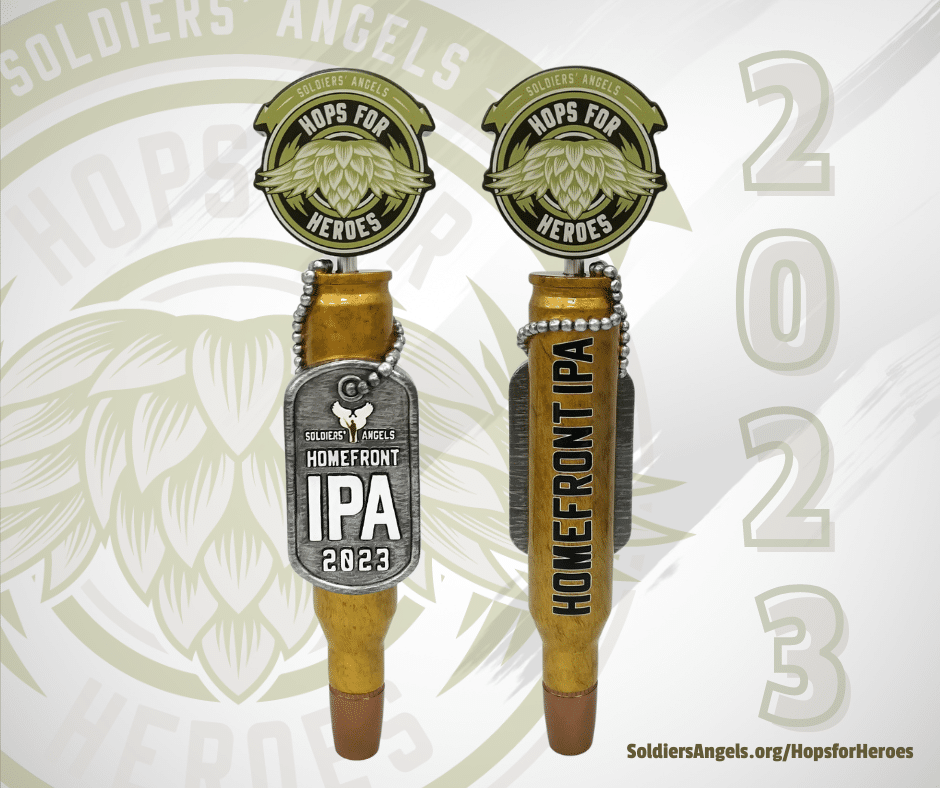 There are two ways to get your hands on one of these unique tap handles:
1) Register to brew your support as a participating brewery in this year's campaign and meet a fundraising goal. Register at http://bit.ly/HopsForHeroes
2) Attend one of the Hops for Heroes release events at a participating brewery. The breweries will receive a tap handle that they can auction off to their patrons!
Non-alcoholic Homefront IPA
We're working with some breweries behind the scenes to get a non-alcoholic version of Homefront IPA out into the market this year! NA beers have exploded over the last year and we want in on the action so that more people can support the troops while enjoying a delicious Homefront IPA. Stay tuned!
How to join the ranks
Hops for Heroes is limited to 50 breweries and we've already been in communication with lots of interested brewers. Want to be one of the 50 to brew your support of service members and veterans? Get registered before April 15 for the full marketing package – the sooner you register, the more we get to promote your brewery!
---