Show Your Appreciation to Deployed Soldiers Through Letter Writing
December 8, 2014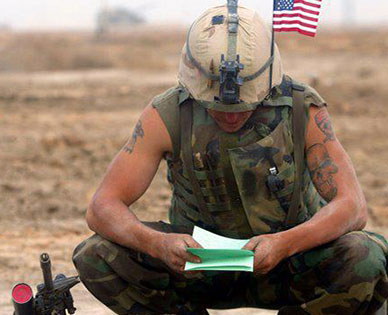 Letter Writing is not a lost art here at Soldiers' Angels. Our letter writing team takes pride in sending letters to deployed soldiers as a way to brighten their day. It's just one of the many ways we try to ensure that our troops feel appreciated. It's nice to let our service members know that there are complete strangers who are grateful for what they do for our country.
If you're looking to give back in some way and show you're appreciation, joining our Letter Writing Team may be right up your alley!
How it works
When you sign up to become a verified angel, you are joining a team of angels who work together to support our cause of ensuring no soldier goes unloved. The first step is to become verified. For the safety and security of our troops, we do not release addresses for deployed soldiers or units to anyone who has not been verified through us and joined a team.
Step 1: Become a verified angel
Step 2: Once you have been verified, log in to approvedangels.com and join the Letter Writing Team
Step 3: Once you've joined, you can indicate how many letters you would like to write per week.
Step 4: Start writing!
Send as many letters as you want
The number of letters you send is up to you. You can send as many letters per week as you want but you must meet the minimum of one name per week. We have some letter writers who write as many as 21 letters per week!
"You just don't know how much we appreciate how much you do for us. Days like today my head was down, until I got your postcards. A lot of us have families that don't even take the time out to write, whether it's on Facebook or paper. It's a special feeling just to get mail, just to know you're being thought about is a blessing…We love you all and thank you for your appreciation." – Specialist Harris
Get creative
You don't have to send hand-written or typed letters – get creative! Here are some ideas:
Christmas cards
Post cards
Greeting cards
Get your kids involved and send drawings or artwork
Write poems
Your letters do not have to be long. They can be as simple as a thank you note or more in-depth with why you're writing and a little background about yourself.
More on what to write here: How to Write Your First Letter
What not to expect
While the soldiers who receive letters have signed up to receive them, they are not required to write back. Sometimes soldiers don't want to write back, sometimes they are unable to write back, and sometimes they just want to read letters and don't feel like writing. Don't get your hopes up when sending letters but know that they mean a great deal to the recipients.
If you are looking for a "pen pal", you should know that the soldiers you write to may not write back. If they do, do not expect any soldier to give you personal information or details about their family. Leave it up to the soldier to write what he or she feels comfortable writing and please be respectful of their privacy.
If you are looking for some sort of friendship or relationship with a soldier over seas, please know that this is not what our efforts are for. Our mission is to ensure that every soldier feels appreciated in some way. Many soldiers either do not hear from their families while they are deployed or don't have families to send them letters. It's not about playing matchmaker, it's about showing respect and appreciation for their sacrifices and service to our country. If this is your expectation, please do not sign up to be a Letter Writer through Soldiers' Angels.
We get lots of letters and emails from soldiers once they come home thanking us for the support and letters they received while they were deployed! Receiving letters means so much to them. If you're looking for a way to show appreciation to our troops, consider joining our Letter Writing Team.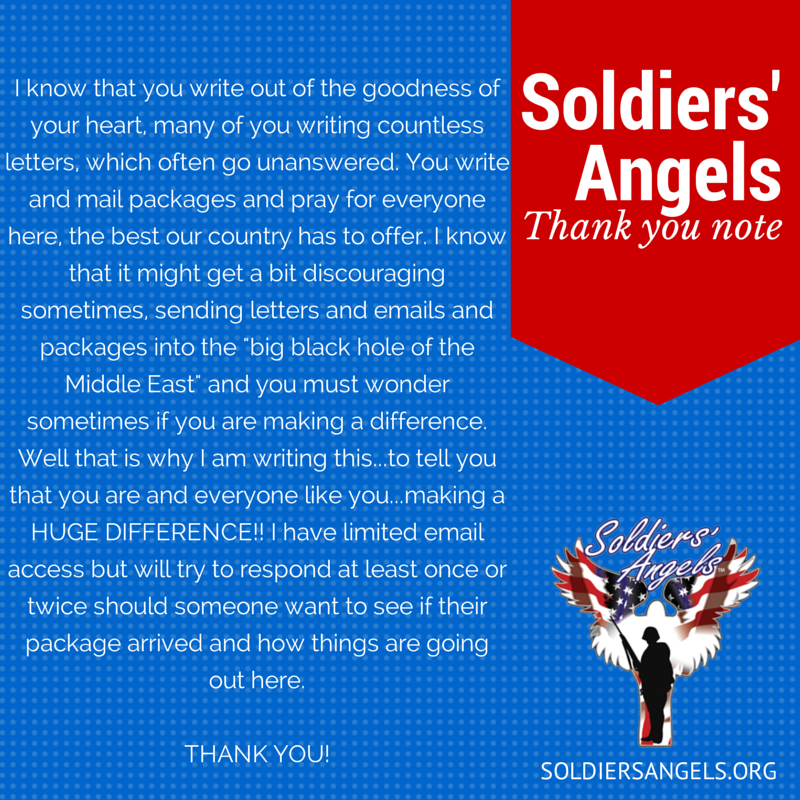 ---