Providing Essentials For Our Veterans Through Hygiene Kits
July 27, 2018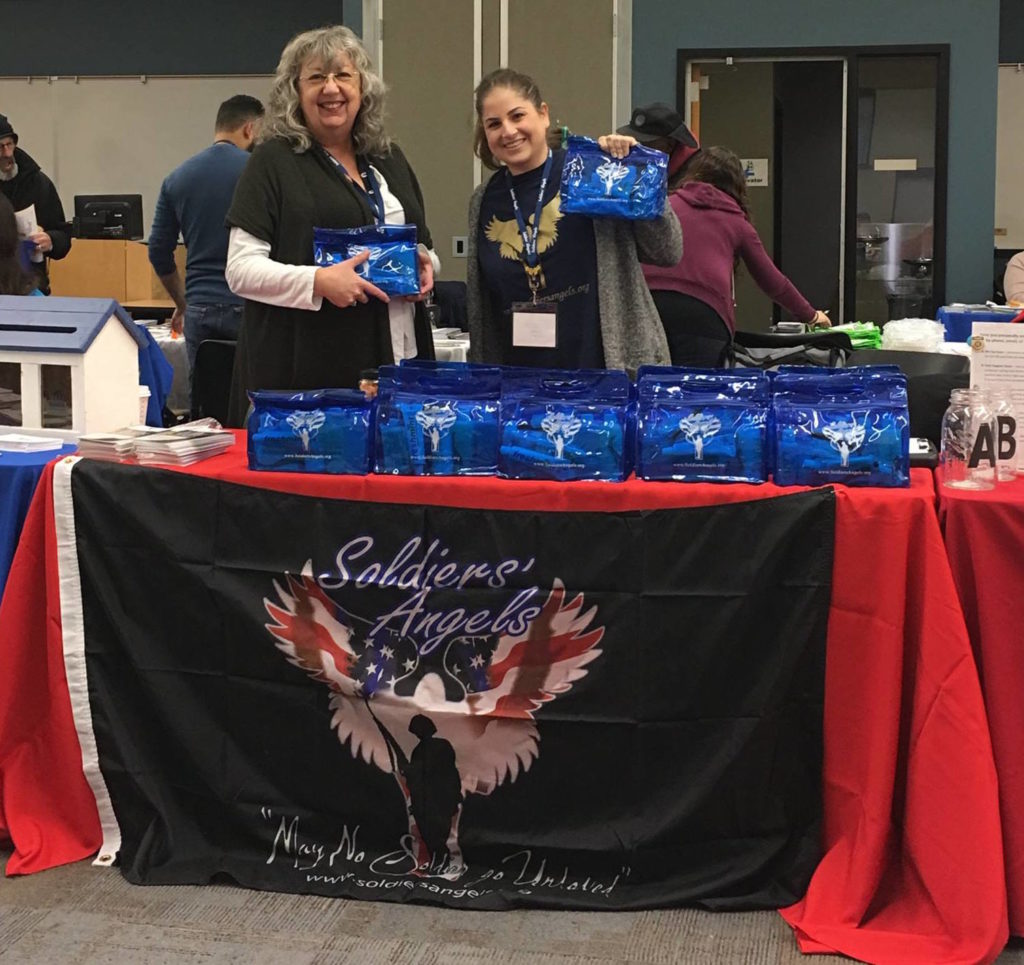 When people hear the name Soldiers' Angels, they think "troops". While our organization does a lot for our deployed heroes, we also provide support to veterans throughout the United States. Soldiers' Angels volunteers are authorized to work in over 30 VA Hospitals across the country providing support in a variety of ways. One of those ways is by distributing Hygiene Kits.
Did you know?
Soldiers' Angels is one of the few nonprofit agencies with a voting seat on the VA National Advisory Council and approval to work within VA Hospitals. As deployments continue to draw down, our focus has been shifted to support a growing veteran population. We support veterans of all generations in a variety of ways. From box lunches to hospital visits and special events, we make sure veterans know how much we appreciate their service and sacrifices.
Why Hygiene Kits?
Being a patient at a VA Hospital is not the same as being a patient in a public hospital. VA Hospitals do not provide any VA funded toiletry items to patients. They only provide items that are donated. As you can image, hygiene kits are a big deal to patients that may not have family or friends who can bring them items easily!
We also give our hygiene kits to at-risk or homeless veterans during Stand Downs. Stand Downs are events organized by the VA Health Care Systems to bring VA services to homeless veterans in the community. These large, one to three day events provide needed items and services like food, shelter, clothing, health screenings, VA & Social Security benefits counseling, and referrals to a variety of necessary services to homeless or at risk veterans.
Collecting Supplies
We have a number of volunteers who work within the VA Hospital System who visit with patients. Hygiene kits are one item our volunteers love to bring to patients they visit.
Hygiene kits include: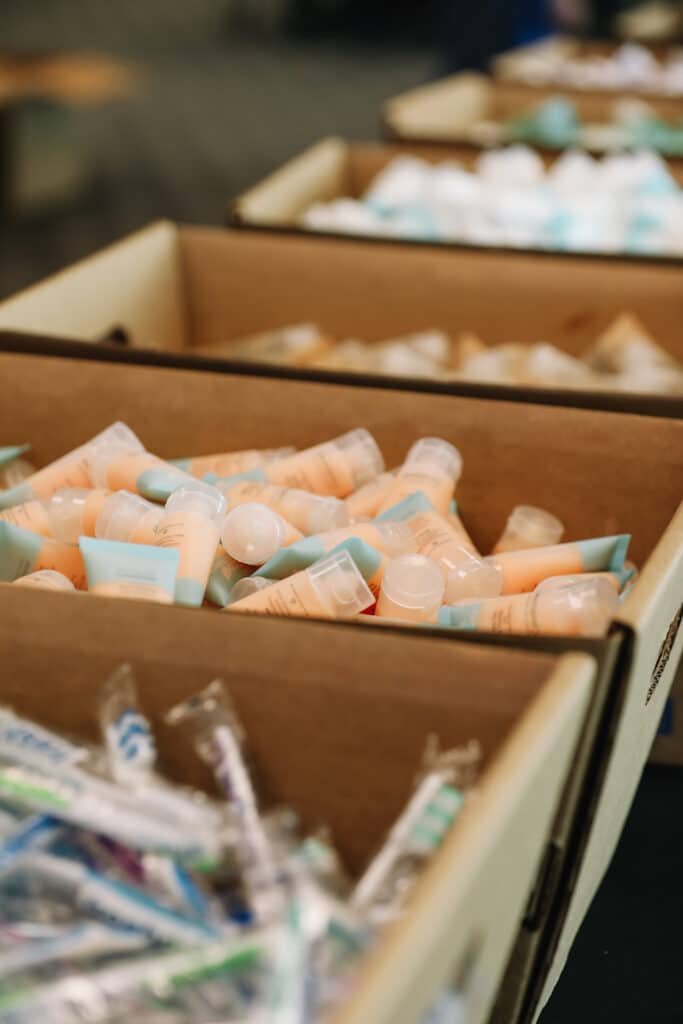 Shampoo
Conditioner
Razors
Body wash
Deodorant
Lotion
Hand sanitizer
Tissues
Anti-bacterial wipes
Floss
Lip balm
Toothbrush
Toothpaste
Comb
Hygiene Kit items are packaged in a reusable zippered bag with our logo on the front. These items are either collected through a collection drive or purchased after raising enough funds. Or, if a partner is sponsoring the event, we will coordinate with the partner for them to purchase or cover the cost of the items. The total cost of one hygiene kit is $15.
Assembly
Once all of the supplies are collected, it's time to assemble. We have had groups and businesses of all sizes and ages that have assembled hygiene kits for Soldiers' Angels— from grade school class projects that packed a couple dozen to huge business team building events that packed a couple thousand!
Assembly includes unwrapping each bag, packing all of the items into the bag, and then packing them into 1 big master box for transport or shipping.
Distribution
Once the hygiene kits are packed up and ready to go, they are shipped to VA Representatives across the country. The VA Representatives will distribute the hygiene kits to patients they visit, caseworkers who will hand them out to veteran patients, or distributed directly to homeless veterans who attend Stand Down events that Soldiers' Angels supports.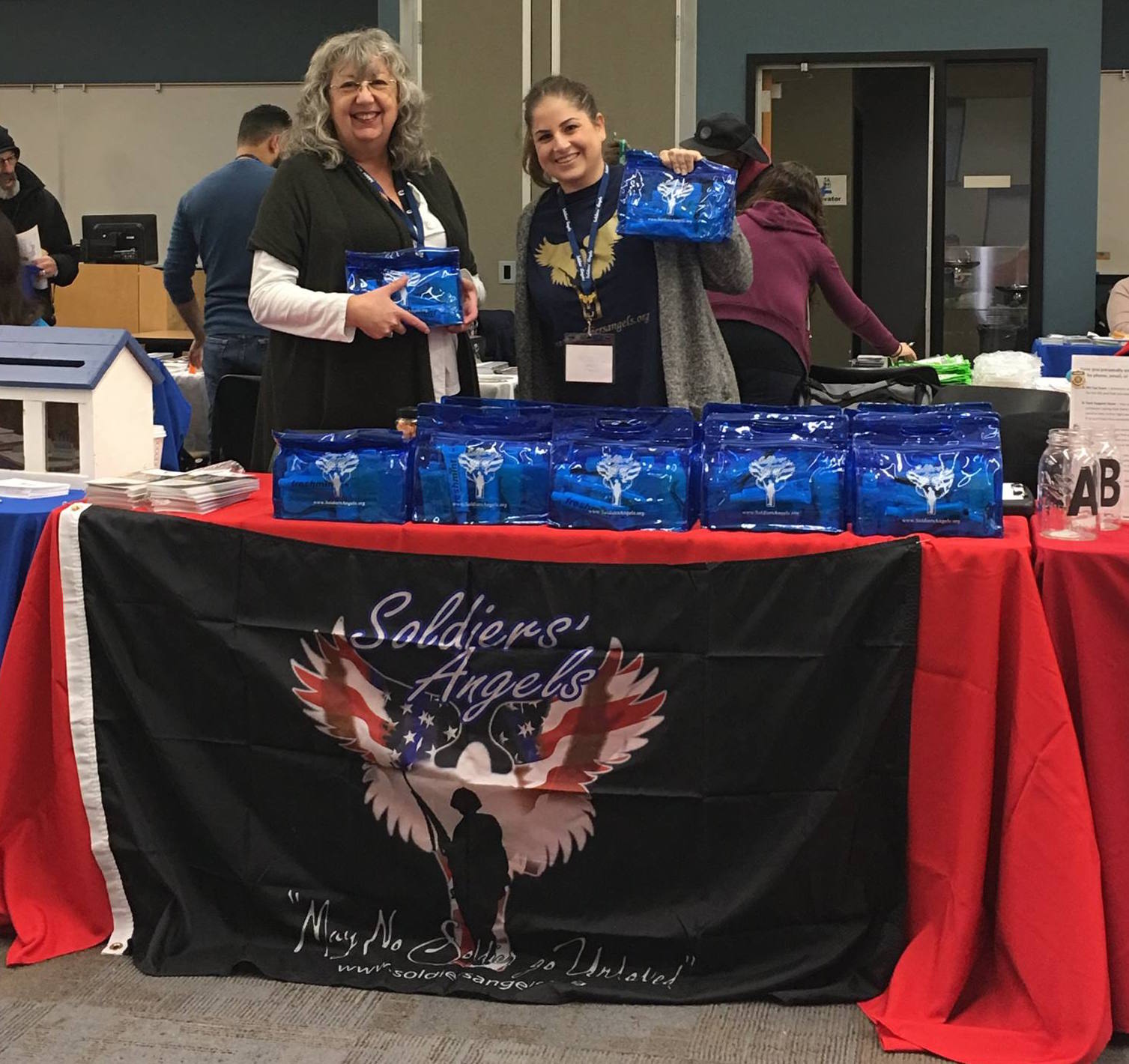 Now that you know what a hygiene kits is and how it helps veterans who may be without hygiene supplies during their hospital stay, here's our call to action for help! Our goal is to pack 5,000 of them during our 15 Year Anniversary event. Each one costs $15 so you do the math. Learn more here.
---