Our Angels Have the Best Resolutions
January 4, 2018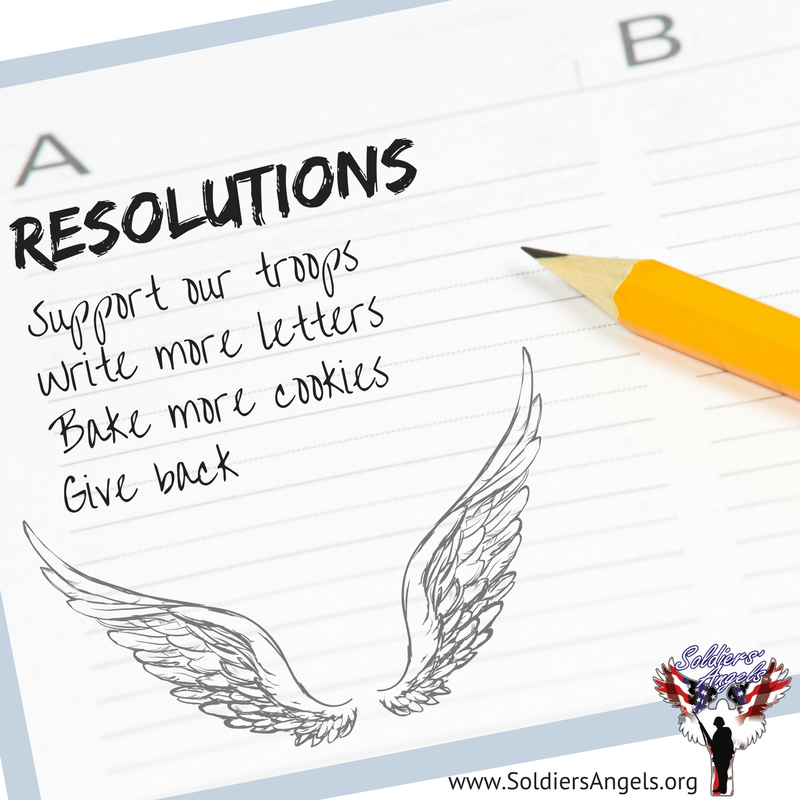 The New Year is a chance to start fresh, set goals, and dig in. Some people choose to diet, some go with a gym membership (and a promise to go), and others choose to spend more time with family and friends or learn a new skill like baking or sewing.
But what kind of resolutions do you make when you love giving back? We asked our Angels what their Soldiers' Angels resolutions were this year. Here is what they resolve to do in 2018:
Angel Erica: To support more soldiers.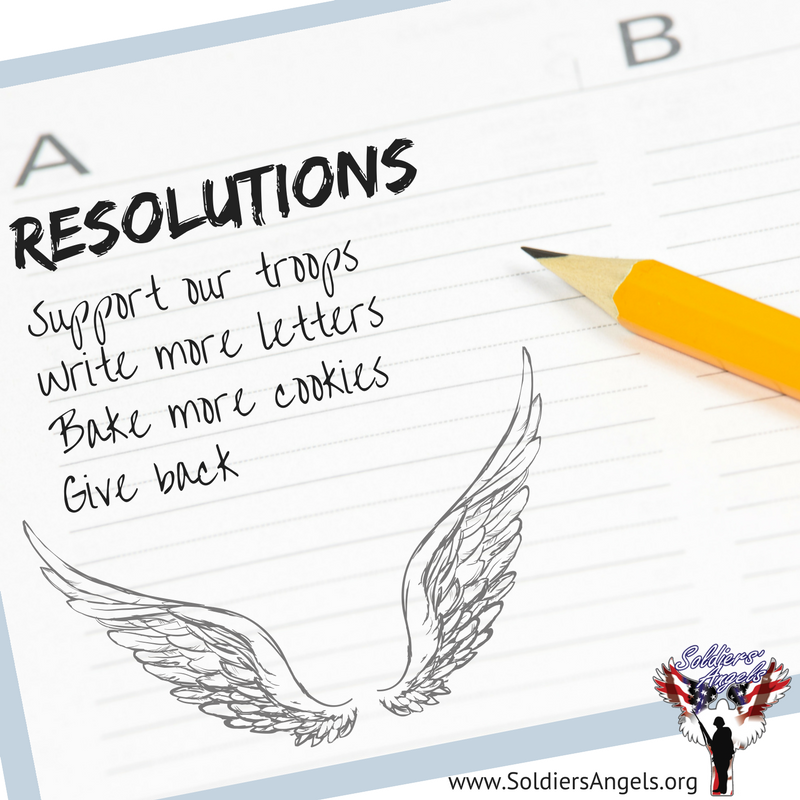 Angel Christina: To send a box of baked goods per week.
Angel Susan: To find more donors for dinner on more units at the VA.
Angel Dee: To be more supportive.
Angel Sue: To continue to love my involvement as a Soldier Angel.
Angel Danielle: To be more creative with my boxes and get them done sooner each month.
Angel Kayla: I want to forget the grind of day to day and remember that one kind act can change the day of a special soldier. Nothing must get in the way of that.
Angel Sheri: To send more of my homemade cards instead of plain paper letters. Gives them some color and fun!
Angel Selena: To do more… more cards, more letters, more support…
Angel Stella: Continue and expand my horizons as a Soldiers' Angel. I am enjoying my time with this, especially Top knot and Women of Valor.
Angel Paula: My New Year's resolution is to adopt a soldier and also to crochet scarves and hats to send to the troops and blankets to take to the VA hospitals for the veterans.
Angel Cheri: Remember to put up the vets in my life (there are a lot) for CPT barrage of well wishes.
Angel Chris: To write at least 6 letters a month, to put at least 4 hours a month sharing what SA is about and showing my support – through blogging, community events, work, FB, Twitter or instagram.
Angel Sharon: More packages and more letter writing and alot more Birthday cards, cards sent out on ALL holidays… And be there with an open ear for All veterans past and present.
Angel Linda: To continue through the New Year of 2018 to reach as many of our Heroes as I can through letters of encouragement and support.
Angel Susan: To get as many teens as I know working with SA. I have two kids 19 and 17 – they have been my sidekicks since I started with SA about 15 years ago but they want to do more and I will work on that- They want to do more with homeless and any veteran that needs a hand – maybe home repairs or brighten up a VA hospital, mobile food pantry, or get hands dirty type of work.
Angel Abigail: I want to be more consistent in getting out my packages early in the month and writing at least twice a week.
Angel Vilma: To do at least one kindness to someone each day.
Angel Jean: To increase the number of chemo hats that I knit for the the MA vets.
Angel Kaleena: My Angel Resolution is to write more letters in 2018.
Angel Janette: 1) To encourage more soldiers to sign up for our services and to get others to sign up. 2) To Mail a minimum of 60 articles of mail each month. 3) To configure our budget to allow me to return to adopting at least one soldier.
Angel Belinda: Encourage others to sign up to be an Angel.
Angel Kara: Just to be the best I can be…and maybe put away a little each month so I can help more families at the end of 2018.
Angel Paula: I am re-evaluating my resources (both financially and in terms of time and talent) to make sure I am making the most of what I have.
Angel Beth: Finding ways to encourage veterans and military with the resources that I have. My husband retired two years ago. Have been supporting veterans. There will be many positive opportunities in the future to support veterans in the Chicago Region.
Angel Rhonda: Working with Soldiers' Angels closer to get more of a base in the Pittsburgh, PA area.
Angel Mindy: To try and write more letters for LWT. Keep On Writing As Many Kids Birthdays & Start Writing Cards Of Congratulations To New Moms and Honor Flights that come Into CPT.
Angel Betsi: Write two letters per week (LWT).
Angel Caroline: To try and write more letters and to put all my efforts toward the programs I am working.
Angel Cathy: To remember the positives and let go of the negatives, and never forget the people we serve!!
Angel Larisa: Get more people to volunteer!!!
Angel Audrey: Write more letters!
Angel Lynne: Cj wants to continue spreading the word of his favorite thing to do Angel! He's been making and stock piing little thank you cards he's made.
Angel Martina: Whether it be 1 or 100 letters/packages sent I want to make a difference in a soldiers day/week/month/year.
Angel Sonja: Getting my fabric and yarn stash down to a reasonable level by making items for the Top Knot team.
Angel Missye: To bake real goodies for my soldiers I'm writing to.
Angel Amanda: To write all my letters by hand! May sound silly…but I had a bit of a crazy year and typed too many letters. Even though I know our service members just enjoy getting a letter, I like to write by hand…feels more personal.
Angel Gina: I am planning on making one homemade card per week and sending it to a soldier (CPT, LWT, DAT, or SOFT). I normally buy cards, or write letters on plain paper, so hopefully this adds a little extra cheer – I started already!
Angel Tammie: Do more… more cards, more letters, find more interesting things online for my SOFT packages.
Angel Carol: As an Angel Baker (new in December) I am planning to send more than 1 package along with nice note included each month.
Angel Colleen: To get my boxes out earlier in each month!
We even heard from some of our team leaders!
Special Operation Forces Team (SOFT) Leader Pat: My Angel resolution will be to keep up communication with my Team, come up with ideas so we can all support the increasing number of SFGs, to initiate SOPs that will enable smooth and effective resolutions to issues that we are effected by in our support. Importantly, is to finally get out the SOFT Team Angels go to info packet.
Deployed Adoption Team Leader Vanessa: To be the best Team Leader I can be while spreading the word of how wonderful this organization is and all the support we can offer.
Veteran Intern and Angel David: To spread the word of our great organization and help the growth on the volunteer aspect of Soldiers' Angels.
Director of Volunteers Susie: I want to communicate more with our amazing Angels, and help them in anyway that I can.
Thanks to Angels like these, we had a great 2017 and will have an even better 2018!
---