Operation: Next Chapter and How You Can Help
September 18, 2014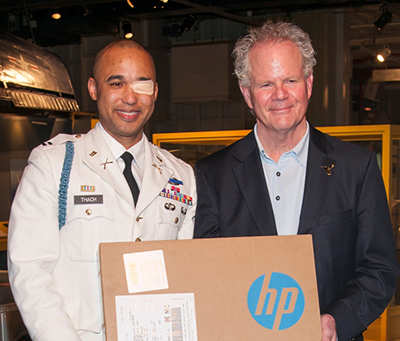 Love to read? Maybe you've heard, maybe you haven't: author Cym Lowell has pledged 100% of the proceeds for his book, Jaspar's War to Soldiers' Angels! As a Navy Vet, Lowell told the Daily News, "As a long ago veteran from Vietnam era, I have always wanted a way to give back."
Lowell is calling his efforts Operation: Next Chapter. His donations are going to help our veterans who are on the waitlist for Valour IT, which provides voice-controlled/adaptive laptop computers and other necessary technology to support wounded veterans who are blind or have low vision, suffer from cognitive impairments (memory loss, problems with orientation, distractibility, etc.), have communication disabilities (speech, hearing, stuttering, etc.), are deaf or hard of hearing, or who suffered from dexterity conditions.
Lowell says on his blog, "We all have dreams, and we all need them to be real and achievable. When dreams end, so does life. My goal is to make sure every soldier, Marine, airman and sailor on this waiting list receive a laptop. As an attorney and author, I know how essential it is to have a computer. With our support we can provide a bridge to healing for those who put their lives on the line for the freedoms we all enjoy."
The Items Soldiers' Angels Valour IT programs supplies two different technologies depending on the situation:
Voice-controlled laptops, which are operated by speaking into a microphone or using other adaptive technologies. They allow wounded service members to maintain connections with the rest of the world during recovery.
iPads & Personal GPS – Portable computers like iPads and handheld GPS devices build self-confidence and independence by compensating for short-term memory loss and organizational challenges related to severe TBI and severe PTSD.
You can pick up your copy from a book store near you, or order it on Amazon. Here is the book synopsis from Amazon.com:
Greenwich, Connecticut socialite Jaspar Moran has it all-a magnificent estate, two beautiful children and a loving husband, Trevor, serving as the Secretary of the Treasury. Protected, admired and living in the lap of luxury, Jaspar is reeling from the news that his government jet has crashed just as her children vanish without a trace. An ominous message warns her to keep silent about her husband's role in the President's economic plan. Or else. Determined to save her children, she'll go to hell and back, form alliances with assassins, traitors and Mafioso, and commit unspeakable acts-if that's what it takes. With alarms sounding around the world, hunted from all sides, and unsure of who to trust, she finds herself depending on a mysterious figure without an identity. Jaspar journeys from the Australian outback to the palazzos of Rome, the Monte Carlo Grand Prix, and to the magnificence of the Vatican, in her quest. Can she rescue her children before the plot to crash the global economy is unleashed?
---