Join the Tweet-a-Thon to Help Wouned Warriors
November 7, 2014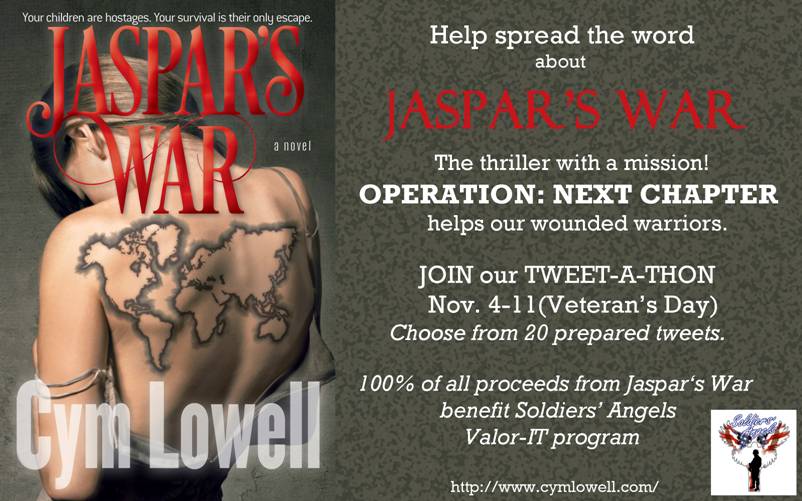 Cym Lowell, international tax attorney, and the author of Jaspar's War, has teamed up with the nonprofit (501c3) Soldiers' Angels to provide voice-controlled/adaptive laptop computers and other necessary technology to support wounded warriors who, due to war, are blind, have low vision, suffer from cognitive impairments (memory loss, problems with orientation, distractibility), have communications disabilities (speech, hearing, stuttering), are deaf, hard of hearing, or who suffer from dexterity conditions.
Through his initiative OPERATION: NEXT CHAPTER, Cym Lowell has pledged 100 percent of the proceeds from his book to go toward supporting these wounded warriors.
"We all have dreams," says Lowell, "and we all need them to be real and achievable. When dreams end, so does life. My goal is to make sure every soldier, Marine, airman and sailor on this waiting list receives a laptop. As an attorney and author, I know how essential it is to have a computer. With our support we can provide a bridge to healing for those who have put their lives on the line for the freedoms we all enjoy."
In recognition of Veteran's Day, Cym Lowell is hosting a Tweet-a-Thon, a week-long event where Twitter account holders write at least one Tweet per day about Jaspar's War and its mission to help our wounded veterans.
"I have learned that helping others, whether it is through communication equipment or life inspiration, is a joyous blessing," says Lowell. "It is inconceivable to me how blessed I have been. That blessing has taken me to another level of understanding of life, friendship, love, community, respect and simple joy."
Please join us in this Tweet-a-Thon that will take place the entire week (Nov.4-11) leading up to Veteran's Day. Below are some sample Tweets for you to use, or, you can create your own. Please include #OperationNextChapter and the website: http://www.cymlowell.com/
Sample Tweets:
#OperationNextChapter provides laptops to wounded #veterans with proceeds from @CymLowell's book JASPAR'S WAR. http://bit.ly/1DTYMcB
A political thriller with a bigger mission, @CymLowell's JASPAR'S WAR supports #veterans thru #OperationNextChapter http://bit.ly/1DTYMcB
When a peace treaty is signed, the war isn't over for #veterans #OperationNextChapter supports our wounded warriors http://bit.ly/1DTYMcB
---