Military Spouse Appreciation
May 7, 2015

What if your loved one was away from you for months at a time?
What if at times you couldn't communicate?
What if when your life partner returned, they were badly injured?
What if you had to move from base to base with no say in the matter?
What if your spouse started showing signs of PTSD?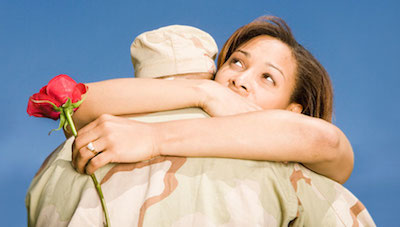 The life of a military spouse is not an easy one. It can be lonely and at times a little scary as you face so many unknowns. Military spouses are the backbone of the families who support our troops. They stand beside those who stand behind our flag and are silent heroes that should be recognized for all that they do.
We think it's important to recognize and support these brave men and women who stand behind our troops. Soldiers' Angels supports military spouses in a few different ways: through our Women of Valor, Operation Top Knot, Living Legends, and Adopt a Family teams.
Women of Valor
Our Women of Valor team provides support to female caregivers of Post 9-11 wounded, ill and injured service members with a focus on providing self-care and educational support. This comes by way of letters, care packages, phone calls, educational information, etc. Our team makes sure each woman is pampered, loved, and also given the necessary supportive materials to help them along their journey.
Our Women of Valor team is looking for more team members. Click here to read more about the team.
Operation Top Knot
Operation Top Knot provides baby showers for military families to help ease the emotional and financial stresses of military life. Our dedicated volunteers knit, crochet, sew, quilt, and design blankets, booties, hats, onesies, bibs, and many more homemade gifts. We also assemble and deliver gift baskets full of goodies such as bottles, diapers, onesies, pacifiers, washcloths, grooming kits, and more.
Living Legends
Our Living Legends Team conducts one of the most delicate and demanding missions of Soldiers' Angels: comforting the loved ones left behind when a warrior falls on the battlefield. Our goal is to make sure families and friends of America's fallen heroes know that they are supported and that their loved ones' sacrifices are honored and respected.
Adopt-A-Family
Our Adopt-A-Family program runs during Christmas time. Angels on this team are assigned a family to provide presents for the children and a grocery gift card or prepaid Visa gift card for them to purchase their holiday dinner and trimmings. Military families usually live on a very tight budget, so putting together a Christmas or other winter holiday celebration can be a real challenge for some of them.
Military Spouse Appreciation Day is May 8th. Take a moment to thank those who care for, stand behind, and raise families with our troops. If you would like to be involved in any of our family support programs, please click on the link here for more information.
---