It's Cookie Season!
December 20, 2014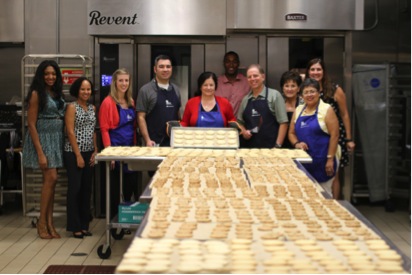 Did you know that Soldiers' Angels has an entire team of bakers that makes treats for deployed soldiers and veterans at the VA Hospitals in our service areas?
They're called the Angel Bakers! They make all sorts of homemade cookies, brownies, cakes and other delicious treats. They also supplement their packages with store-bought bakery items or healthy snacks. These goodies are just a little extra Angel love.
The Angel Baker tend to focus on sending baked goods to those who may have been through an especially difficult experience during their deployment, living in especially trying conditions, or in need of a morale boost for a job well done. Our aim is to show our heroes how much people back home appreciate and care about them.
Since it's the holiday season, we thought we'd share some of their favorite Christmas recipes! If you are interested in joining the team and baking for deployed soldiers, click here for more info: Angel Baker Team.
Peppermint Bark Rice Krispie Treats
Shared by Tracy C.
Ingredients 1 10.5 ounce bag peppermint mini marshmallows* 4 tablespoons real butter, plus extra to butter pan 5-6 cups rice krispie style cereal (I like mine a little more marshmallowy) 3 tablespoons semi-sweet or dark chocolate chips 3 tablespoons white chocolate chips 1/2 teaspoon vegetable oil, divided a few drops (about 1/8 teaspoon) peppermint extract 2-3 medium sized candycanes, crushed
*In place of the peppermint marshmallows, use regular marshmallows and add about 1/4 teaspoon peppermint extract to melted marshmallow mixture. Or more to taste, I'm guessing on the amount.
Instructions: Line a 9×13 pan with foil and lightly butter bottom and about 1 inch up sides.
Melt butter in a very large bowl in the microwave. Add marshmallows and stir to coat. Heat in 30 second intervals, stirring in between, until melted and smooth. (You can do that whole process on the stovetop as well.) Add rice krispie cereal and stir to evenly combine. With buttered hands, press mixture into prepared pan.
Place white chocolate chips and 1/4 teaspoon oil in a small bowl. Heat in microwave in 30 second intervals, stirring in between, until melted and smooth. Repeat same process with semi-sweet or dark chocolate chips and add a few drops of peppermint extract. Drizzle both chocolates on top of rice krispie treats and sprinkle candy canes on top. Let sit until chocolate is set, place pan in fridge to speed process along. Cut into squares and eat up.
Soft Snicker Doodle Cookies
Shared by Silvia R.
1 cup butter
1 1/2 cups sugar
2 large eggs
2 3/4 cups flour
2 teaspoons cream of tartar
1 teaspoon baking soda
1/4 teaspoon salt
3 tablespoons sugar
3 teaspoons cinnamon
Directions:
1) Preheat oven to 350°F.
2) Mix butter, 1 1/2 cups sugar and eggs thoroughly in a large bowl.
3) Combine flour, cream of tartar, baking soda and salt in a separate bowl.
4) Blend dry ingredients into butter mixture.
5) Chill dough, and chill an ungreased cookie sheet for about 10-15 minutes in the fridge.
6 ) Meanwhile, mix 3 tablespoons sugar, and 3 teaspoons cinnamon in a small bowl.
7) Scoop 1 inch globs of dough into the sugar/ cinnamon mixture.
8)Coat by gently rolling balls of dough in the sugar mixture.
9) Place on chilled ungreased cookie sheet, and bake 10 minutes.
10) Remove from pan immediately.
Chocolate Chip Cream Cheese Cookies
Shared by Sharon T.
1 can seamless crescent rolls
1 (8 oz) block cream cheese, room temperature
1/4 cup sugar 2 tsp vanilla
1/2 cup mini chocolate chips
How to Make
1.With your hand mixer, beat sugar, cream cheese and vanilla together until smooth in a medium sized bowl.
2.Unroll the crescent roll sheet. Stretch dough out slightly. It should be in the shape of a rectangle.
3.Spread the cream cheese mixture over the top of the crescent sheet, leaving a gap at the edge about 1/2 inch.
4.Sprinkle your chocolate chips on top of cream cheese.
5.Roll the crescent sheet up tightly and wrap in cling wrap.
6.Refrigerate for at least 2 hours, or overnight.
7.When chilled preheat oven to 350°.
8.Line a cookie sheet with parchment paper to prevent sticking.
9.Slice the crescent roll into 1/4″ slices. Bake on prepared cookie sheet for 12 -14 minutes until crescent roll appears golden brown.
10.Transfer to wire rack.
11.Eat warm or room temperature.
Enjoy the recipes!
Ready to join the team? Start here by filling our Verified Angel form.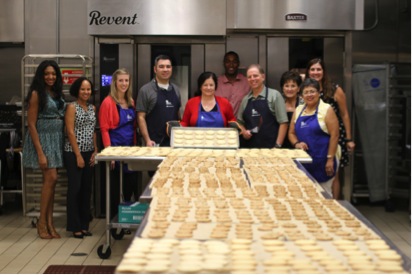 ---