International Paper Donation & Packing Event
September 24, 2015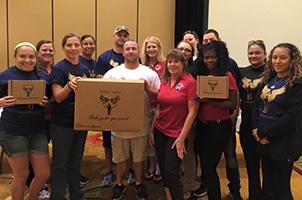 Soldiers' Angels and International Paper teamed up to pack 1,000 non perishable lunch kits for homeless veterans in the San Antonio area. International Paper donated everything needed for this event: from the boxes to the food! They designed, created, and donated a special lunch box as well as a larger box that will perfectly fit 24 of these special lunch boxes. They also provided all of the food items used to fill these lunch boxes, which was purchased from the San Antonio Food Bank! The packaging event, which took place on September 23rd at the Hyatt Regency Hill Country Resort in San Antonio, included 100 officers and spouses of the company who were in town for the International Paper company conference. It only took about 40 minutes for the 100 employees to package 1,000 lunch kits!
In addition to all of the great work International Paper did to provide these lunches to our homeless veterans, they also made a generous donation of $10,000 to Soldiers' Angels. And not only did they donate enough boxes for this packing event, but donated an additional 5,200 lunch boxes and an additional 1,045 packing boxes– valued at $6,897 of In-Kind donations!
Thanks to everyone at International Paper who took the time to give back to our veterans! Your generosity is helping us take our mission even further: "May No Soldier Go Unloved!" A big thanks as well to the Soldiers' Angels volunteers who spent the morning of the event setting up the ballroom at the Hyatt!
Check out the great photos from the event here.
---