Honoring Vicky Akers for HR Professionals day
September 28, 2022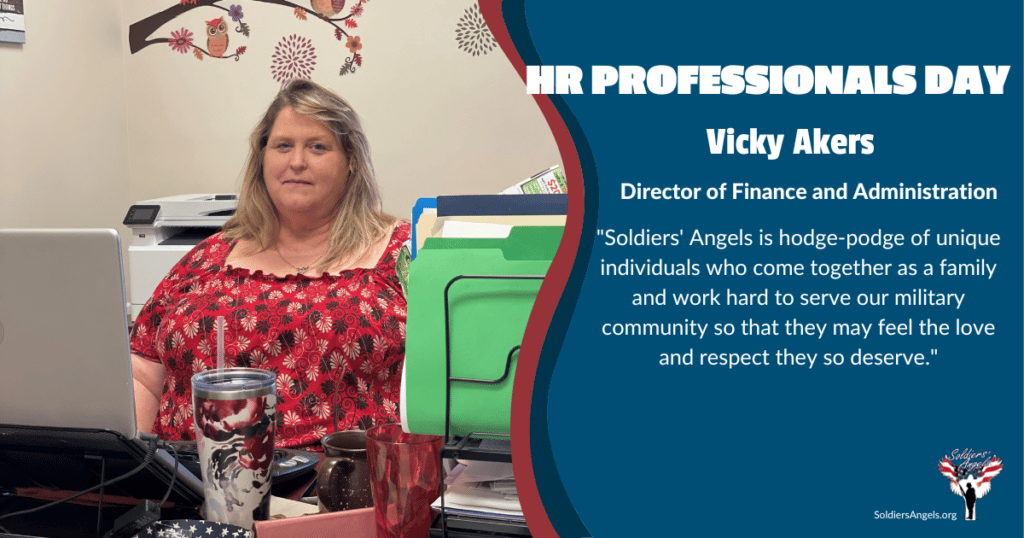 Monday was HR Professional's Day and we couldn't let that day pass without shining a light on our Director of Finance and Administrative Services, Vicky Akers (who does WAY more than HR). Vicky has always worked in finance but her love of people led her to HR. Here at Soldiers' Angels, she does both! Here's an interview we did with her about her role and what led her to HR/Soldiers' Angels.
Tell us about your role at Soldiers' Angels
"My role at Soldiers' Angels is summed up as – I do what is necessary to ensure that the staff has all the resources they need to help to succeed in our Mission. My official title is Director of Finance and Administration. Every day is a new challenge as people's needs change. Sometimes that need to understand the laws so my role is educational, sometimes that need resources so my role is more finance orientated and then sometimes they just need to have someone hear them so my role is more counselor."
What led you to become an HR Professional?
"What led me to the HR Profession was my love of people. My background is finance/accounting but as that role expanded, I found myself usually taking over human resources. Since human capital is usually 50% to 80% of any given budget it was a natural progression. When I was working with federal dollars there were so many rules and regulations on finance and human resources I found it very helpful to learn both. I have always been a 'natural' counselor in my personal life and so human resources is a natural fit for my personality."
What do you like the most about your job? The least?
"The most is helping people progress to their best possible selves and the least is having to sever ties professionally."
Do you come from a military background?
"No, I was born and raised in San Antonio, Texas and surrounded by military all my life. My husband's family (my family since I have known them for 34 years) has many military members and my nephew and a few uncles have served in different branches."
If you had to give advice to someone else thinking about pursuing a career in the HR field, what would you tell them?
"Run! No, seriously you must have a passion for people and really care to help them succeed. Each person is different, but when you can find their passion they are unstoppable."
What do you like the most about Soldiers' Angels?
"Our mission and our integrity."
---