Giving Tuesday was a HUGE Success!
November 29, 2018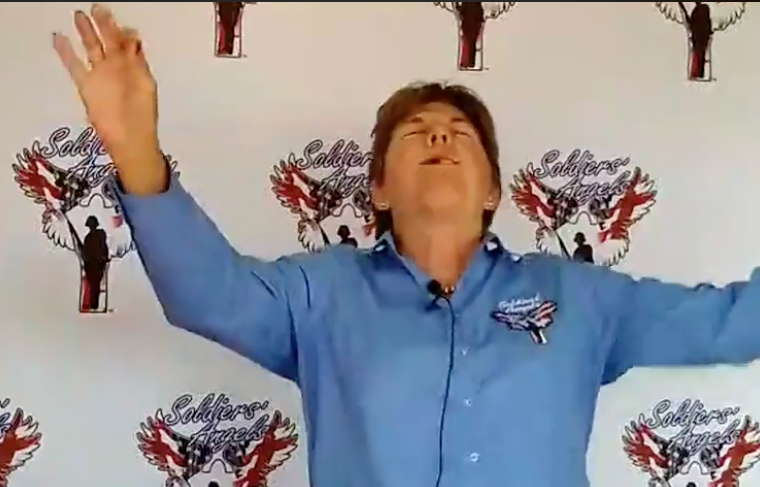 Our Director of Marketing and Communications, Michelle (MJ), is one creative cookie! This year for Giving Tuesday, instead of just asking people to donate, she set a goal of $15,000 and a number of "rewards/challenges" for meeting specific milestones throughout the day. She then convinced our V.P.s, Jennifer Cernoch and Louie Guzman to play along and convinced our CEO Amy Palmer to join in as well.
Throughout the day, as we reached certain milestones, our V.P.s had to endure a number of "challenges" that they could choose to buy out of or play. Once we reached a milestone amount on the way to our goal, our Facebook followers could vote on who would endure the challenge – Jennifer or Louie- through a Facebook Poll. We called it "Pay or Play" because they could choose to take on the challenge or buy out of it. We are happy to report that no one bought out of a challenge!
So… what were the "Pay or Play" challenges? Michelle pulled together a line-up of 5 of the most viral internet challenges for our fearless V.P.s.
The Cheeseball Challenge (fundraising milestone $8,000)
Cheeseball Challenge: Stuff as many cheeseballs in your mouth in one minute without swallowing, laughing, or spitting them out. OR donate $25 to Soldiers' Angels. Jennifer was voted to take on this challenge and was able to fit 15 cheeseballs in her mouth! Click here to watch.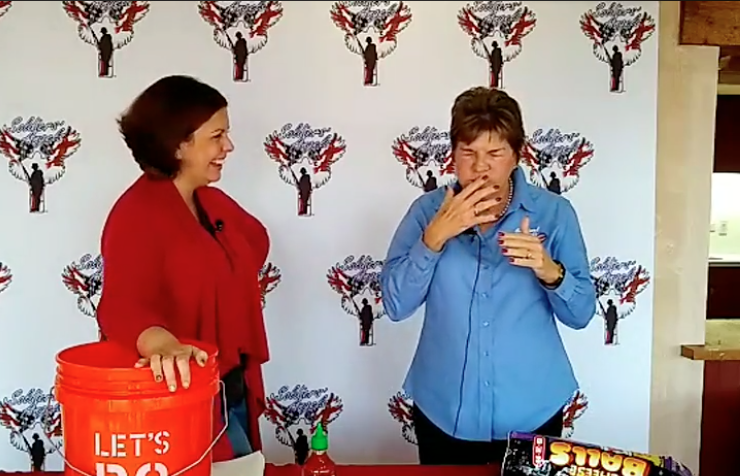 Pie in the Face Challenge (fundraising milestone $9,000)
Our second challenge: take a pie to the face. OR donate $25 to Soldiers' Angels. Louie was selected for this challenge and Jennifer got to do the pie throwing. Watch the video here.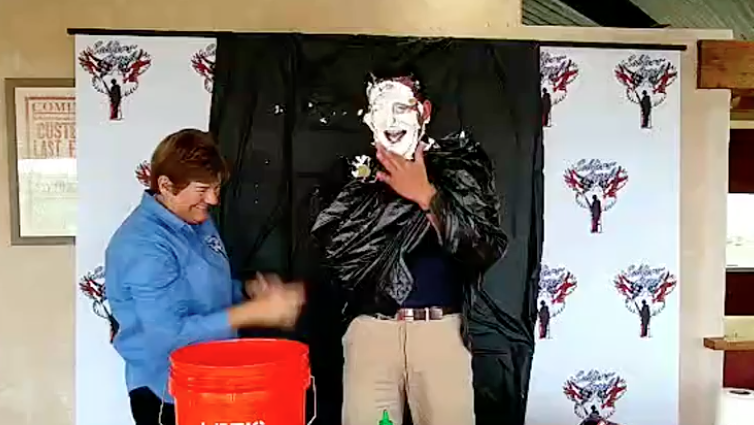 Sriracha Challenge (fundraising milestone $11,000)
The Sriracha Challenge: Eat one heaping Chinese soup spoon full of Sriracha. OR donate $25 to Soldiers' Angels. Louie was voted to do this one as well and he took it like a champ! Watch the video here.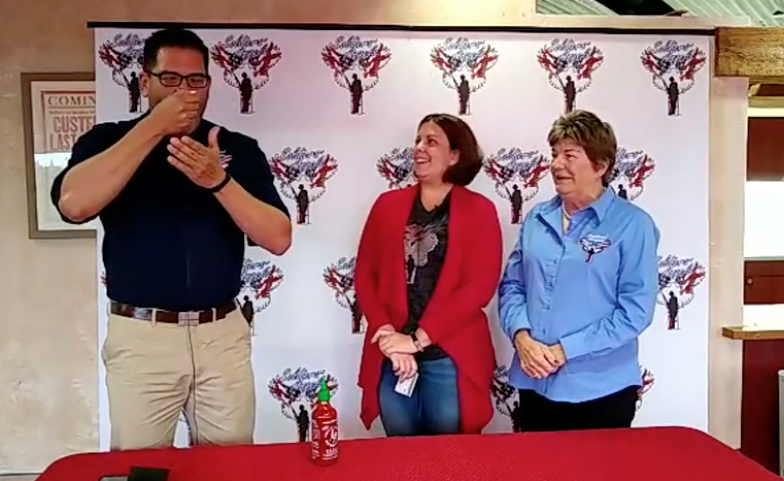 Ice Bucket Challenge + Eat Bugs
We reached our goal of $15,000 at the last minute thanks to a very generous donor, which meant our next two challenges were a go! Poor Louie was selected for both.
You've probably heard of the Ice Bucket Challenge: pour a huge bucket of icy water on yourself. The buyout for this one (on a cold day we might add) was $25. For the Eat Bugs challenge, we had some chocolate covered worms and chipotle crickets on hand for our brave competitors. The buyout was $100. Louie did these two challenges back to back. Watch the video here.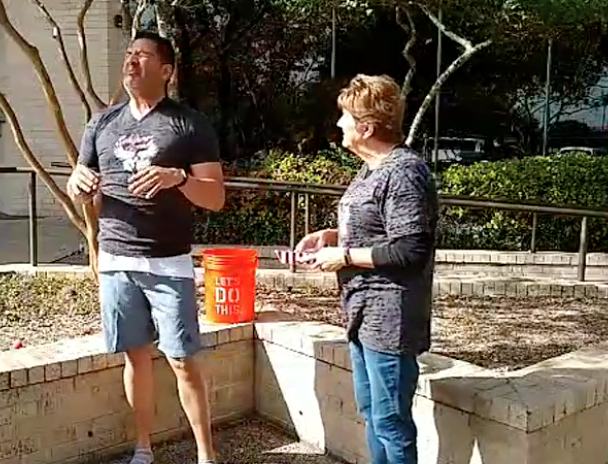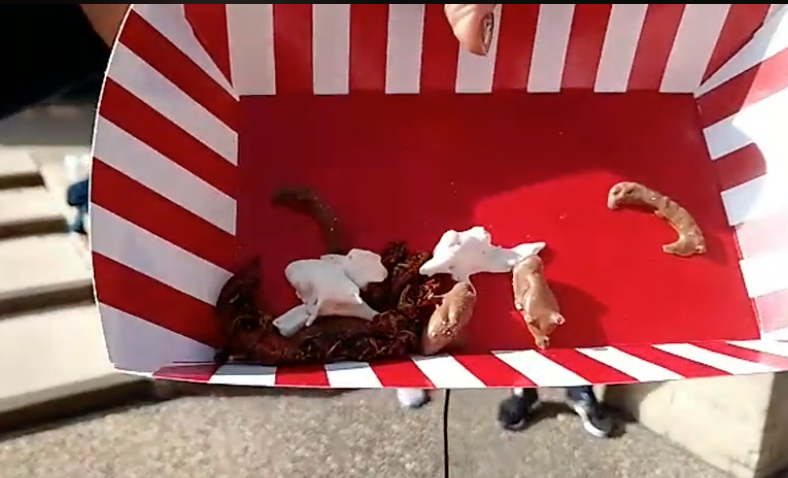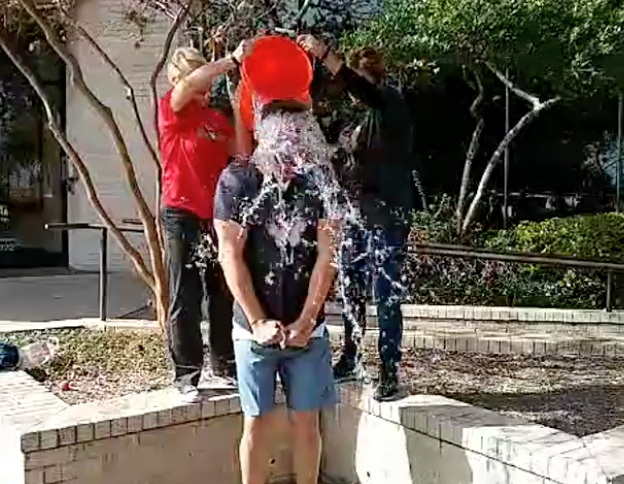 So how does our CEO, Amy Palmer fit into all of this? Well, she agreed to do ALL FIVE challenges back to back if we raised the money. And we did! We raised $15,459! You can watch the full video of Amy doing her challenges (to include conquering her worst fear – eating bugs) here.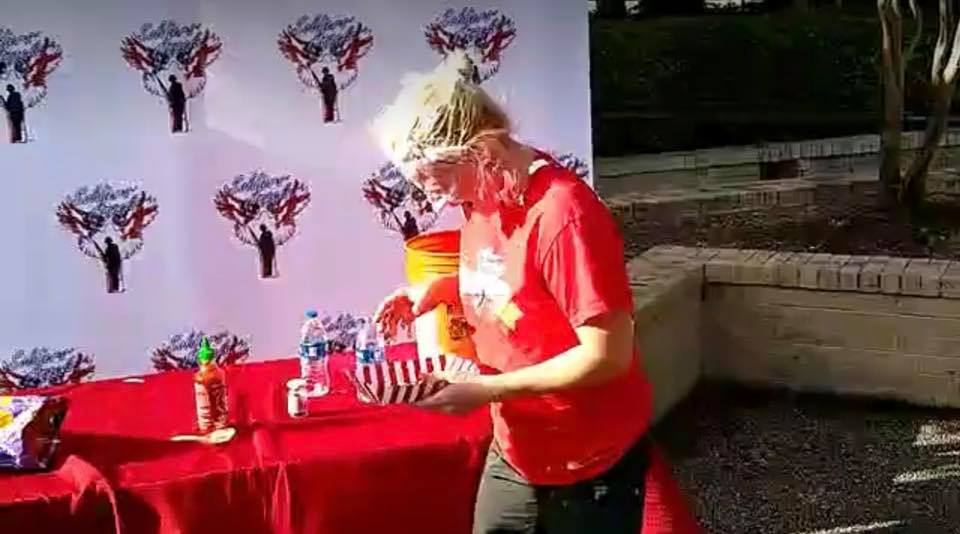 We put together this compilation of all of the challenges for your viewing pleasure.
We are blown away by the generosity of our supporters and friends! Thank you so much for your donations!
---