Giving Tuesday 2021 Recap
December 2, 2021
We had so much fun taking our supporters on a digital scavenger hunt to raise money this Giving Tuesday! We decided to shoot for the moon this year since last year on Giving Tuesday we were struggling through a global pandemic. This year we invited our social media followers, supporters and donors to play along. We created a digital scavenger hunt full of clues based on stories we've shared over the year. As we reached each fundraising level and released a new clue, one of our amazing corporate donors that was highlighted donated $1,000! Here's a recap of all of our clues, fundraising levels, and answers.
In addition, Valero Texas Open matched 7% of the donations made to Soldiers' Angels through Facebook or our website!
In addition to all of this giving, we did some giving of our own! Fans and angels who followed along and played the game won some cool prizes from Soldiers' Angels.
Clue #1: Christina McNeil won a Soldiers' Angels Red Friday T-Shirt and Baseball Cap
Clue #2: Elizabeth Pedersen won a Soldiers' Angels Under Armor Polo
Clue #3: Jennifer Gilchrist won a Soldiers' Angels Backpack
Clue #4: Christina McNeil won a Soldiers' Angels Soft Shell Jacket
Clue #5: Kathy Ehlhert won a Soldiers' Angels Charm Bracelet and Soldiers' Angels Charm Keychain
Clue #6: Jessica Seaman won a Soldiers' Angels Matching His and Hers Aprons
Clue #7: Linda Potter Stevens won a Soldiers' Angels Logo Ornament and Large Journal Book
Clue #8: Shawna Dean won a Soldiers' Angels Challenge Coin and Himalayan Tumbler
Clue #9: Larisa Vann won a Soldiers' Angels Stars & Stripes Tote and Aluminum Water Bottle
Clue #10: Claribel Torres Tejada won a Soldiers' Angels Stars and Stripes Tote and Soldiers' Angels Ceramic Mug
Thanks to all of our supporters, we raised 32,476 over Giving Tuesday and beyond as we carried our scavenger hunt over another day!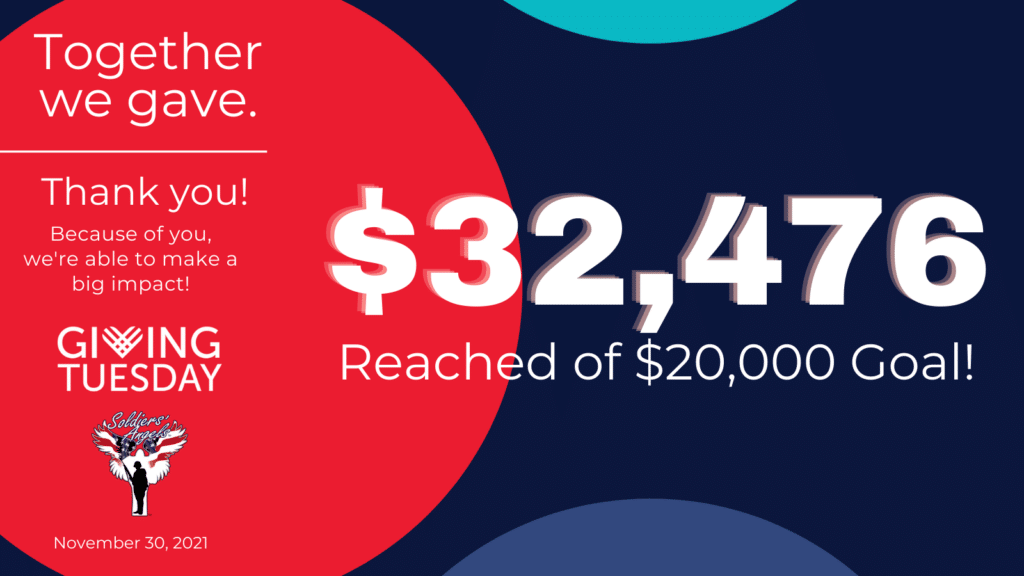 We had SO much fun this Giving Tuesday and hope you did too! Thank you to everyone who played along, donated, and joined in on the fun.
---