Giving Tuesday 2021 – Digital Scavenger Hunt
November 29, 2021
The time has come for another global day of giving during this year's #GivingTuesday campaign on November 30th, 2021! Last year… Giving Tuesday was… well, as abnormal as the rest of the year!
But this year… this year we are back! And to prove that we feel the world has leveled out to some kind of normal, we decided to shoot for the moon and make our 2021 Giving Tuesday goal the amount that we raised on Giving Tuesday 2019… way before any of us had ever imagined we would live through a global pandemic!!
And that goal is… $20,000!!
So… will you join us on Tuesday, November 30th and help us reach our goal of raising $20,000 on Facebook for #GivingTuesday?
If you've followed us for a while, you probably already know that we like to add some element of fun to our Giving Tuesday events. And this year is no different! While we won't be eating any crickets this year and with so many food items still hard to come by, throwing pies in faces just seemed too wasteful… we will be having a digital scavenger hunt and you are all invited to play!
BONUS: As we reach each fundraising level and release a new clue, one of our amazing corporate donors that was highlighted during our 12 Days of Thanks and Giving will donate $1,000!!!
DOUBLE BONUS: There is also an $8,000,000 match from Facebook that we are vying for! Donations made via Facebook fundraisers and Facebook Donate buttons will be eligible for that match starting at 8:00 am ET on Tuesday, November 30th.
TRIPLE BONUS: 100% of the donations made to Soldiers' Angels through Facebook or our website will receive a 7% match from the Valero Texas Open!
SO… Are you ready to play? Keep reading to learn about how the digital scavenger hunt will work. And be sure to bookmark this page!! After we release each clue via a Facebook live video, we will also publish that clue here.
Digital Scavenger Hunt
How It Works:
Before you get started, please note that to play, you will need to post your responses to the clues on the Soldiers' Angels Facebook page which you can find here. Clues may involve items located on other social channels or on our website, but in order to be eligible for prizes, your response to the clue must be posted on the Soldiers' Angels Facebook page. We apologize if this is inconvenient for you. We manage many social channels, but Facebook is the most widely used and the most accessible for this type of challenge.
Throughout the day on Tuesday, November 30th, 2021, Soldiers' Angels will present live videos and share social posts that will act as a "clue" for your digital scavenger hunt. You must scour our social channels or website in order to find the answer to the clue. Once you do, you will need to share your response to the clue as a comment in the clue post. Some clues may call for a screenshot while others may just ask for a typed response.
Each clue will be associated with a fundraising dollar amount or fundraising level. We will not release a clue until our #GivingTuesday Facebook Fundraiser has met that fundraising level. (ie. The second clue will be released when our fundraiser reaches $1,000).
In addition, each fundraising level will be associated with one of our donors that was featured throughout our 12 Days of Thanks and Giving campaign. Once we reach the fundraising level associated with that specific donor, they will donate $1,000 to Soldiers' Angels!! Which means if we hit our $20,000 Facebook Fundraiser goal tomorrow, we will also recieve an additional $10,000 from the 10 donors we have highlighted in the last two weeks!! How cool is that??
Please note: Since real-time fundraisers are very organic, we will be determining the fundraising levels in real-time and we may resort to using a certain time to determine the next level instead of a dollar amount should we move to the next level more quickly than anticipated. This will allow everyone time to play in the digital scavenger hunt and also allow us to keep the game moving throughout the day!
What's In It For You?
Well, if the thrill of the digital hunt is not enough for you, we also have some great prizes that we will give away to one winner who correctly answers each clue! All of the names of people who correctly answer the clue will go into a hat and we will draw one winner at the time we announce the next clue. (ie. When we announce clue #2, we will also select the winner for clue #1).
The prizes will range from a Soldiers' Angels Challenge Coin to a Soldiers' Angels jacket and maybe even some other fun surprises in between! To keep it interesting, we're not planning out our prizes. Instead, at the time we draw a winner from the name hat, we will also draw the name of a prize from the prize hat!
You are eligible to win for each clue you answer correctly AND for those die-hards that stick with us the whole day and answer at least four clues correctly, your name will go into a drawing for the grand prize!!
And no… we don't know when the grand prize will be drawn… Since the scavenger hunt clues will continue throughout Giving Tuesday, it's likely that we won't be drawing the grand prize until Wednesday.
How Can I Help The Game Keep Moving?
Since this is a social challenge, the best way you can help to keep the game moving is to share what you are doing on your social channels! Spread the word to your family, friends, and followers and get them involved. Every donation helps the game keep moving on to the next clue which will give you more chances to win! And, more importantly, every donation helps to provide much-needed services to deployed service members, wounded heroes, military families, and veterans of all eras.
So, don't be shy! Share, share, share and encourage everyone to donate what they can. Every single dollar will help!!
Okay, okay, Enough Instructions! Let's Play!
I love how eager you are to get started!! But… the first clue will not be announced until Tuesday, November 30th at 8:00 am ET. So… go get some beauty sleep and prepare for a fun day of digital scavenger hunting tomorrow!
Clue #1 – Fundraising Level $100
CLUE: In the first days of this year, a group of deployed sent us a photo holding letters that spelled something special. What did the message say that they held up? (Write the phrase in the comments or post a screenshot of the photo that was shared). Post your answers in the comments of this Facebook post.
ANSWER: On January 6th, 2021, we posted on Facebook a group of 8 deployed service members holding the letters "T-H-A-N-K-Y-O-U" spelling "Thank you!" of course! The group had received care packages from the Soldiers' Angels Deployed Support Teams.
WINNER: Christina McNeil
PRIZE: Soldiers' Angels Red Friday T-Shirt and Baseball Cap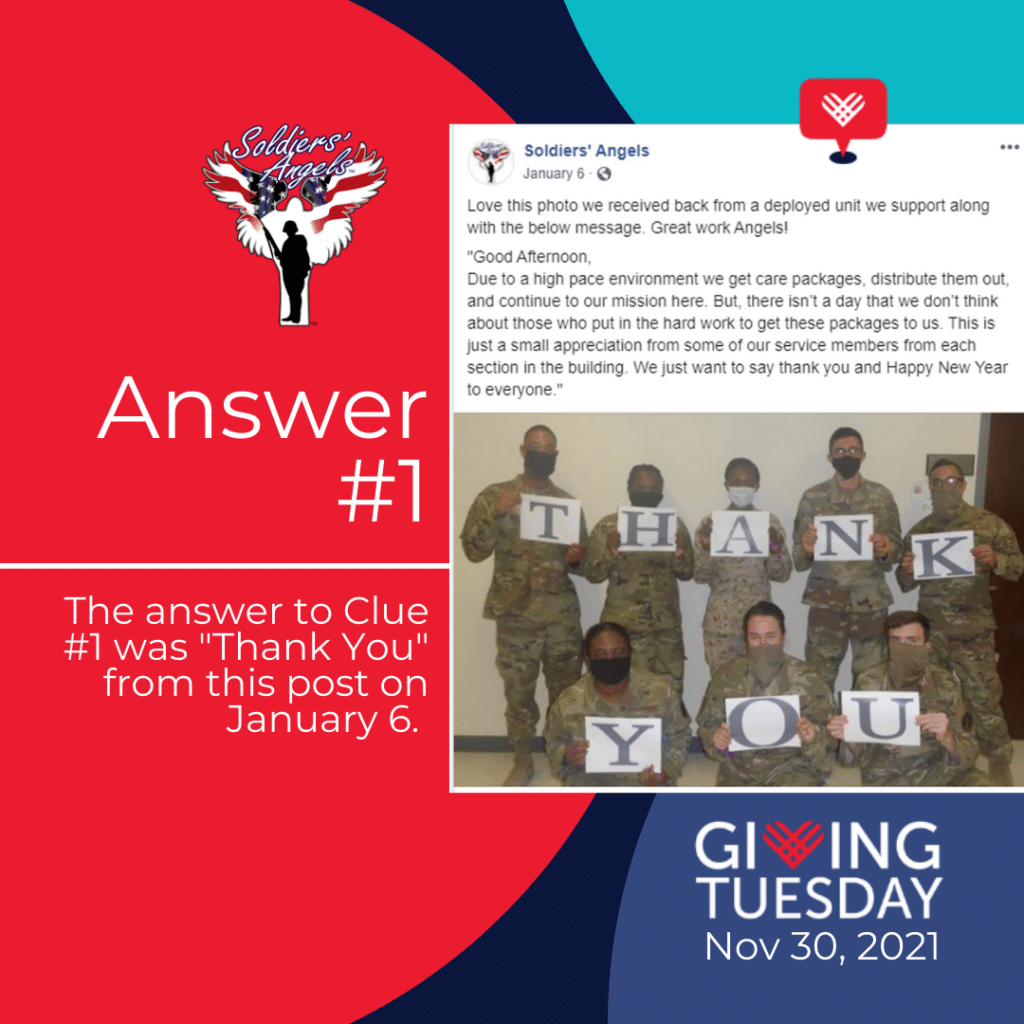 Clue #2 – Fundraising Level $400
CLUE: One of our virtual teams helped deployed troops celebrate the sweetest holiday of the year by sending them a very special batch of what item that they held in a photo outside of their tents. Please include the item and the shape—or share one of the photos from the post. Post your answers in the comments of this Facebook post.
ANSWER: The answer was tied to this post from February 12, 2021– heart-shaped cookies!
WINNER: Elizabeth Pedersen
PRIZE: Soldiers' Angels Under Armor Polo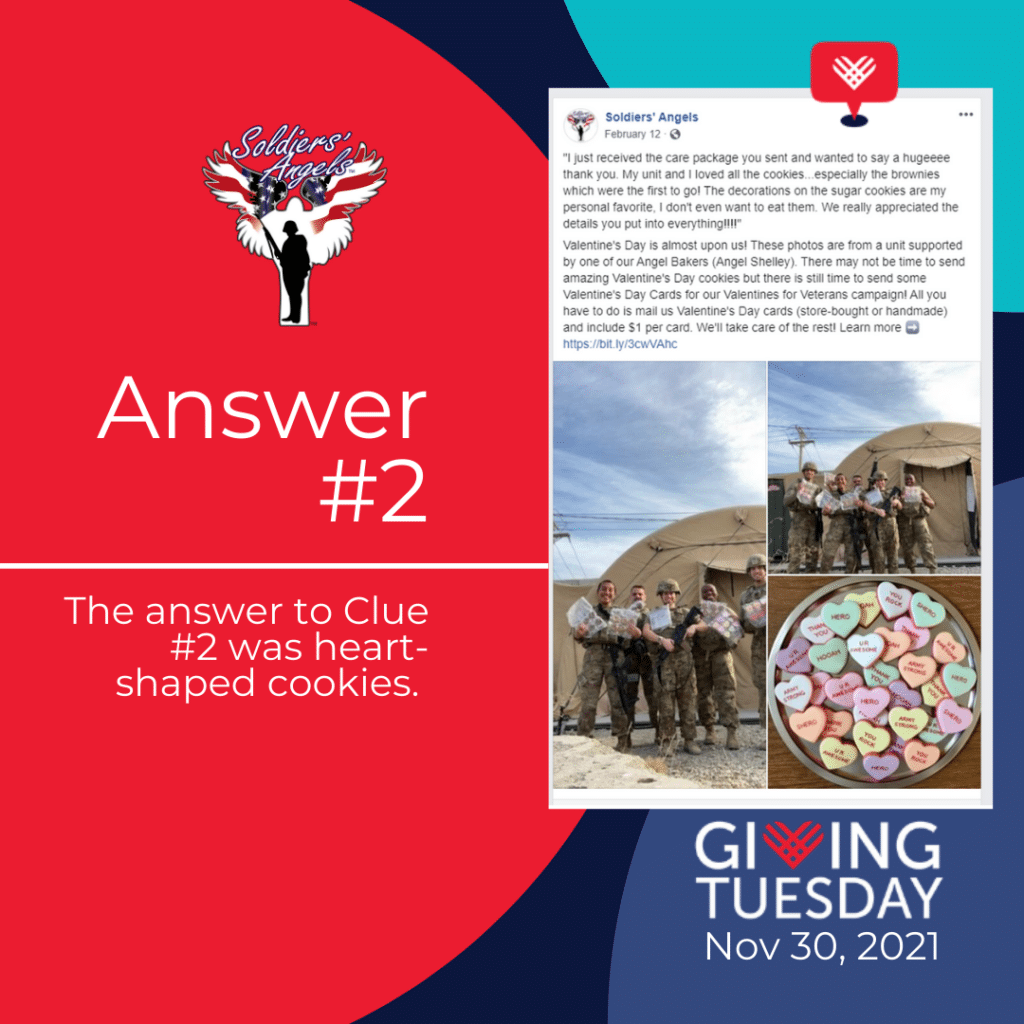 Clue #3 – Fundraising Level $1,000
CLUE: Just before the Ides of March, Soldiers' Angels was honored to be a guest on this idolized talk show. Write the name of the talk show in the comments.
ANSWER: In March, Soldiers' Angels was a guest on The Kelly Clarkson Show where we talked about the importance of writing letters to deployed through the Soldiers' Angels Letter Writing Team.
WINNER: Jennifer Gilchrist
PRIZE: Soldiers' Angels Backpack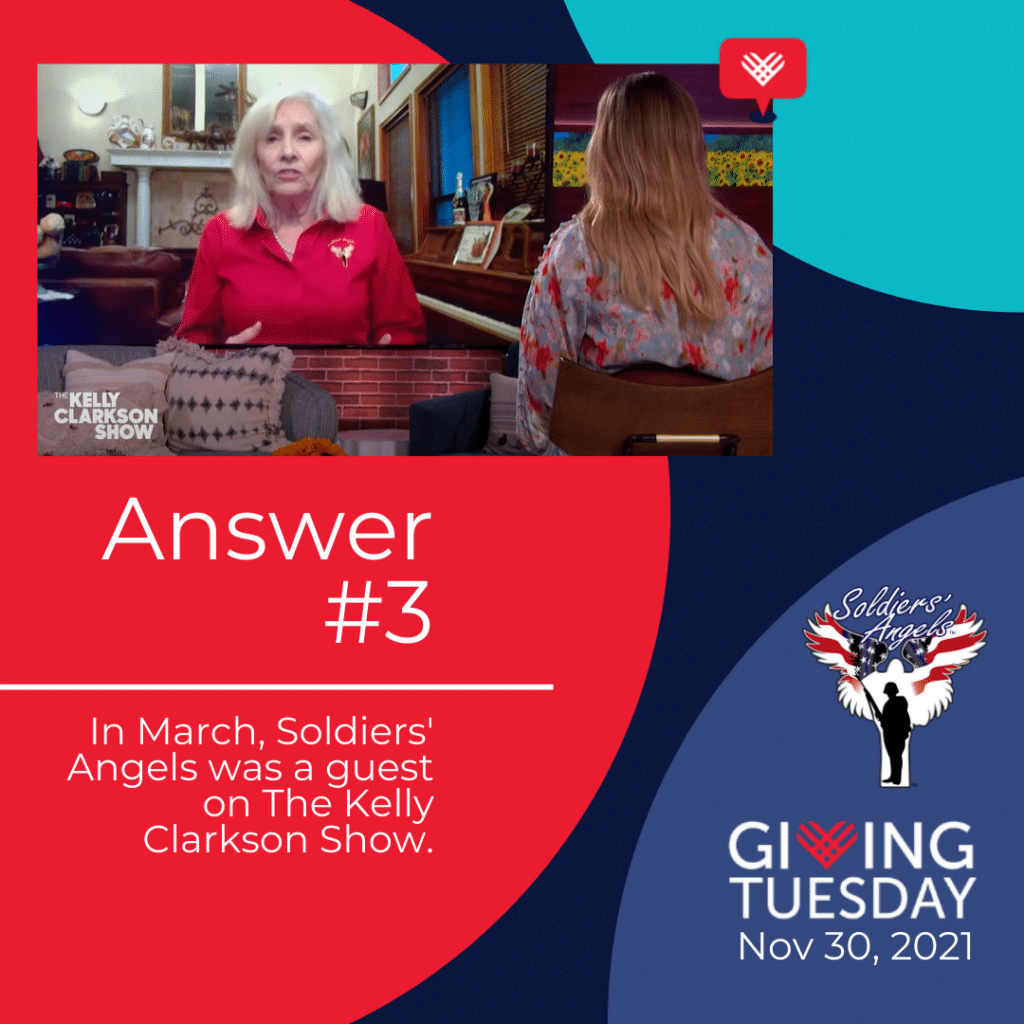 Clue #4 – Fundraising Level $2,400
CLUE: This year, Soldiers' Angels was honored to have not one, but two volunteers named the 2021 VA Volunteer of the year by the VA's National Advisory Council. What are the first names of the volunteers that were awarded this honor?
ANSWER: The first names of the awesome veteran support angels are: Carol and Roger
WINNER: Christina McNeil
PRIZE: Soldiers' Angels Soft Shell Jacket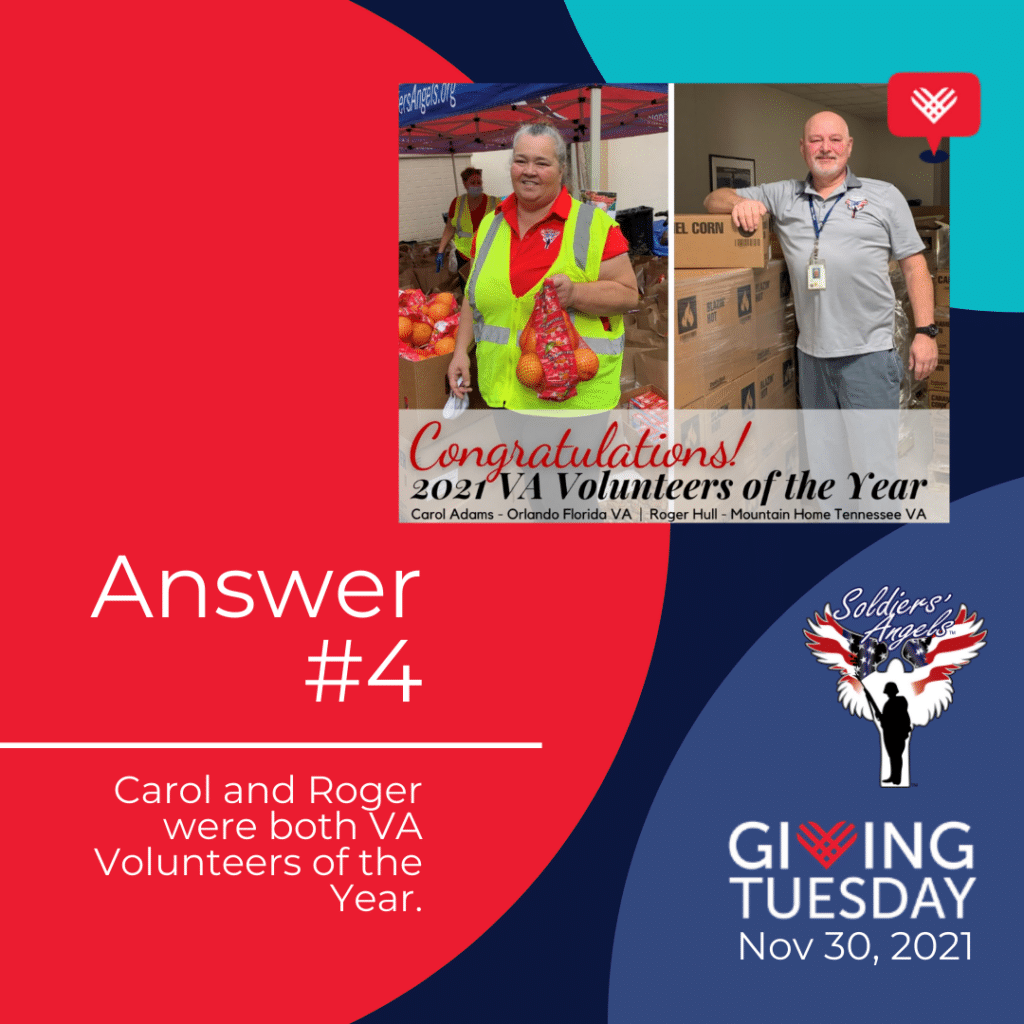 Clue #5 – Fundraising Level $5,600
CLUE: Baking is more than a hobby for this bakineer on the Soliders' Angels Angel Baker Team… In the first quarter of this year, she hit a major milestone in her volunteerism… She sent her ______ cookie to deployed! What number cookie did she send?
ANSWER: Back in March, Angel Christina, who has her own blog called The Bakineer, sent her 20,000th cookie to deployed service members!!
WINNER: Kathy Ehlhert
PRIZE: Soldiers' Angels Charm Bracelet and Soldiers' Angels Charm Keychain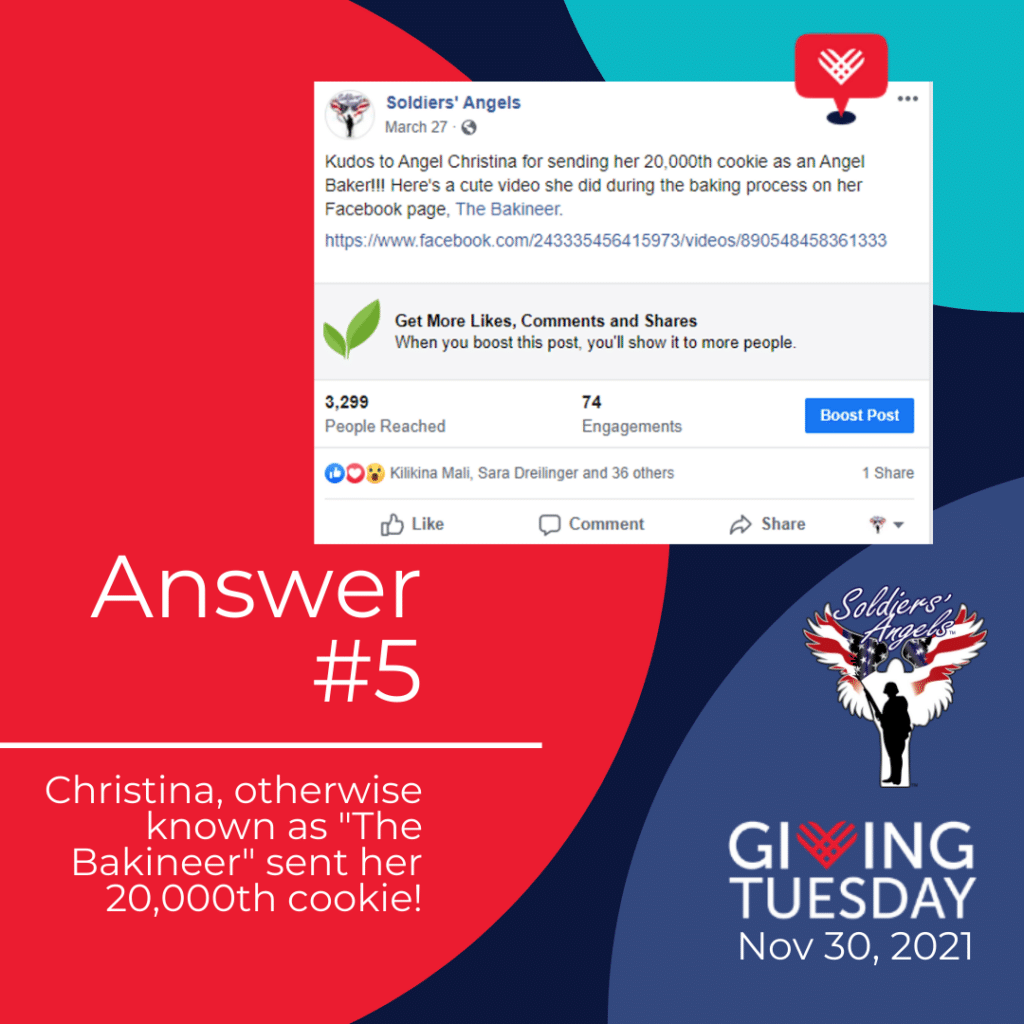 Clue #6 – Fundraising Level $7,200
CLUE: The first days of April were a really big dill around Soldiers' Angels. To celebrate the kickoff of our "new campaign" we held an eating contest for this food item. Part 1—name what food item that was— Part 2— how many of that item did the winner of the eating contest eat?
ANSWER: Our "new campaign" was all in good fun on April Fool's Day— but the eating challenge was no joke. For Pickles for Patriots, the contestants ate pickles! The winner, Cathy, ate 77 pickles!!
WINNER: Jessica Seaman
PRIZE: Soldiers' Angels Matching His and Hers Aprons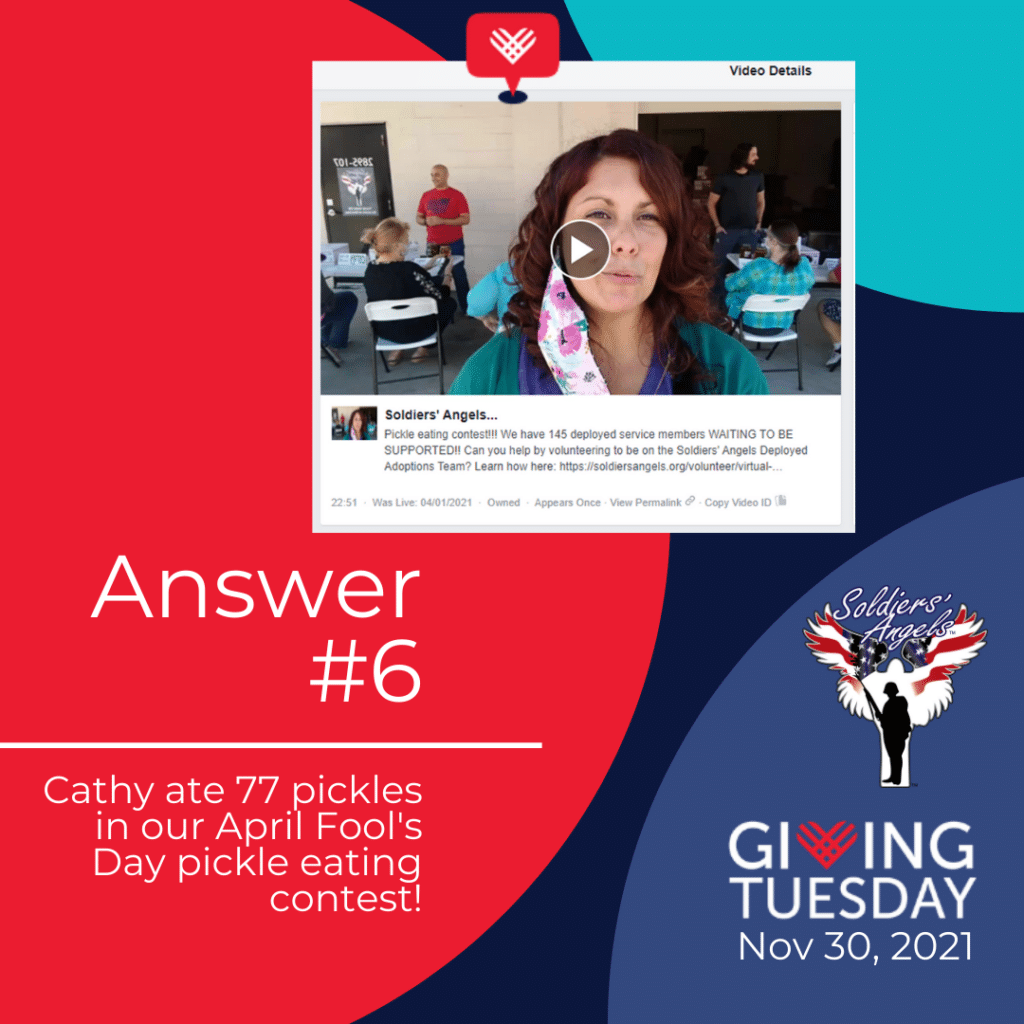 Clue #7 – Fundraising Level $8,800
CLUE: Back in April, we shared photos of deployed and veterans receiving coffee from the Books-A-Million Coffee for Our Troops Campaign. One of those photos showed 3 service members holding bags of coffee. In the distance behind them is a flag. What state is that flag from?
ANSWER: The flag in the background of the coffee photo in April is none other than the state of our national headquarters: Texas!
WINNER: Linda Potter Stevens
PRIZE: Soldiers' Angels Logo Ornament and Large Journal Book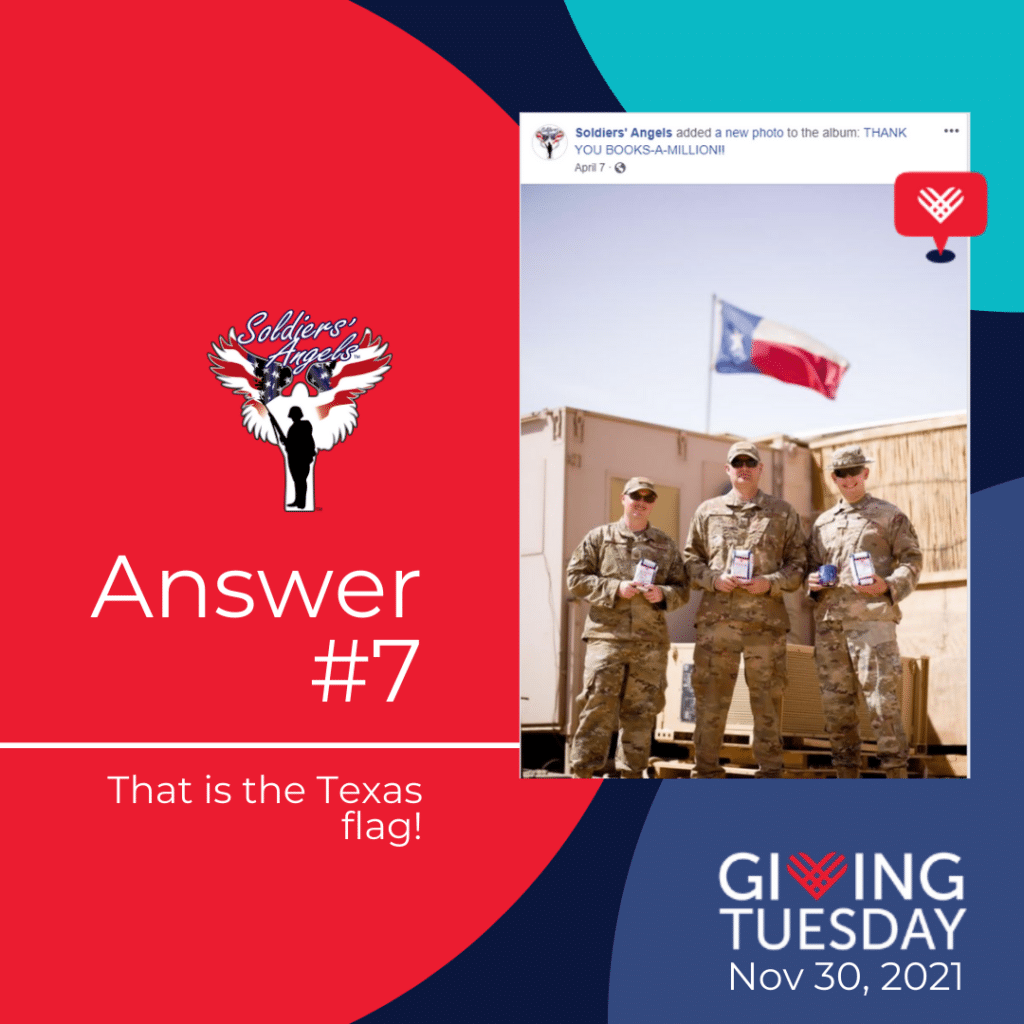 Clue #8 – Fundraising Level $10,700
CLUE: During Military Appreciation month, we shared a touching story of an Angel on the Women of Valor team who went above and beyond for a caregiver she supported. After learning that the caregiver had given up writing music to care for her wounded veteran, the Angel surprised the caregiver by sending her what musical instrument.
ANSWER: The Angel sent the caregiver a keyboard in hopes that she would go back to writing music.
WINNER: Shawna Dean
PRIZE: Soldiers' Angels Challenge Coin and Himalayan Tumbler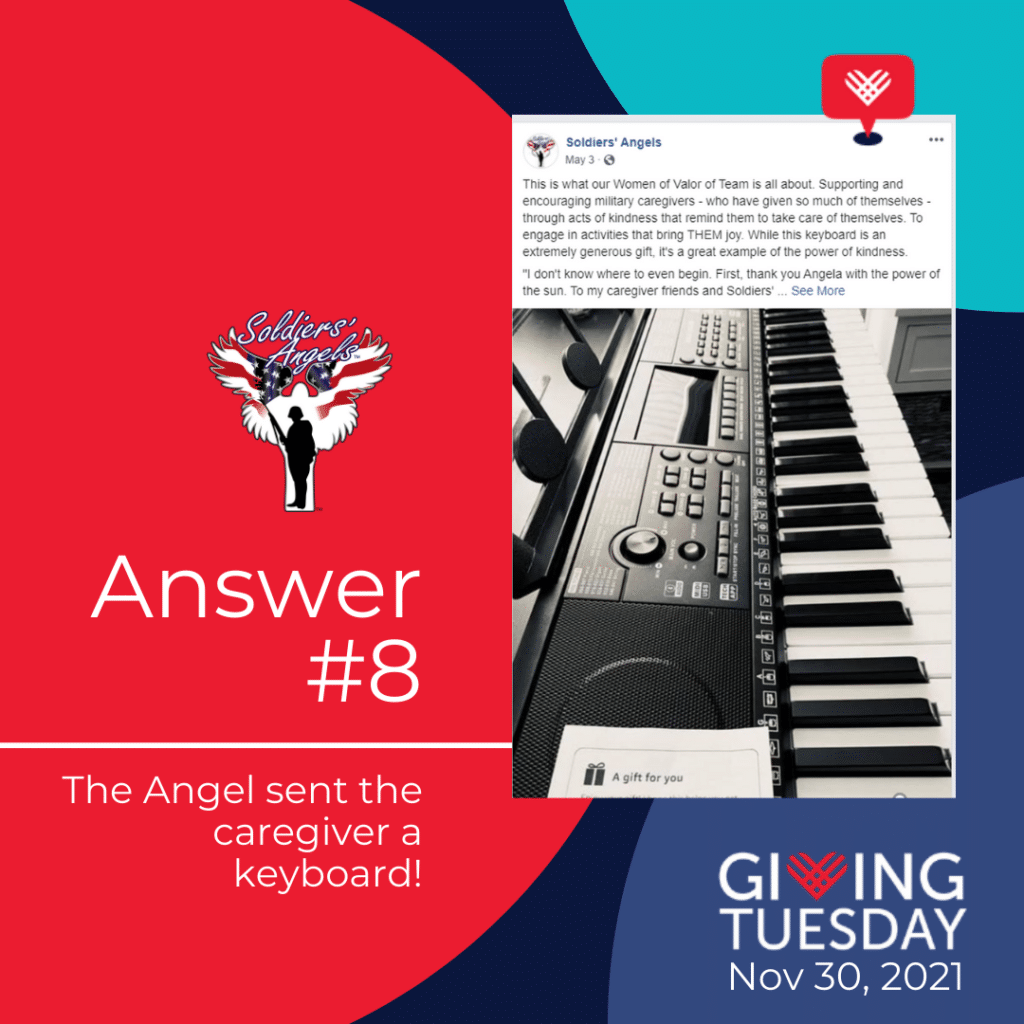 Clue #9 – Fundraising Level $18,388
CLUE: On this day of remembrance, one company remembered our veterans by hand-delivering boxes of something warm and delicious to veterans. What was the company and what did they deliver?
ANSWER: On Memorial Day, Tiff's Treats delivered warm and delicious cookies to veterans in San Antonio!
WINNER: Larisa Vann
PRIZE: Soldiers' Angels Stars & Stripes Tote and Aluminum Water Bottle
Clue #10 – Fundraising Level $20,000
CLUE: It was a record-breaking year for the Soldiers' Angels Warm Feet for Warriors sock collection campaign. How many pairs of socks did Soldiers' Angels collect and what was the original goal?
ANSWER: Soldiers' Angels collected 63,535 pairs of socks during this year's Warm Feet for Warriors campaign. And the original goal was only 10,000!!
WINNER: Claribel Torres Tejada
PRIZE: Soldiers' Angels Stars and Stripes Tote and Soldiers' Angels Ceramic Mug
---