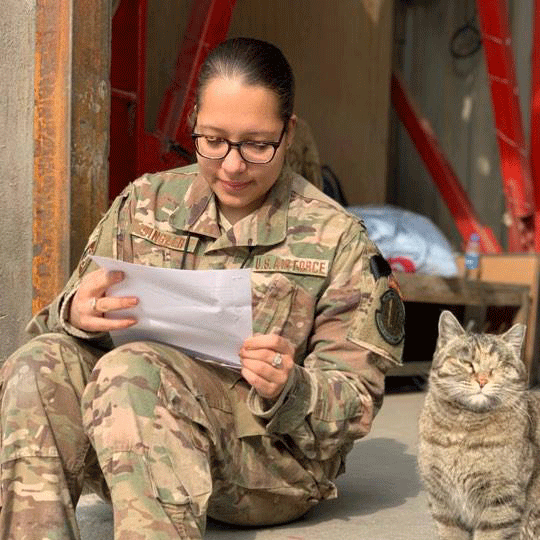 "I want to start out by telling you what a great feeling it is to open a letter from someone you have never met before and feel so loved by a complete stranger…Thank you for all that you do. Alpha troop 6/17 CAV sends their most heartfelt appreciation to all". – Tracy
Who We Are and What We Do
The Letter Writing Team (LWT) is a team of amazing Angels who enjoy writing to our heroes, and who know how important it is for the service members to hear their name called at mail call. Sadly some service members get no mail at all from back home. LWT Angels write a one-time letter to a service member who is waiting for adoption through the Deployed Adoptions Team and to those who might need additional support. Angels on this team are required to write a minimum of one letter per month, but can write many more during the month, if they choose!
How You Can Help
Please note: the minimum commitment as an LWT Writer is three months, and you must request a minimum of one name per month.
To join Soldiers' Angels and participate in the Letter Writing Team click here to get started! If you're already an Angel, log in to your Angel account and join the team.
We look forward to volunteering with you!
If you need more information, please use the contact form on this page.
Impact
"You just don't know how much we appreciate how much you do for us. Days like today my head was down, until I got your postcards. A lot of us have families that don't even take the time out to write, whether it's on Facebook or paper. It's a special feeling just to get mail, just to know you're being thought about is a blessing…We love you all and thank you for your appreciation." – Specialist Harris
"I have received a lot of letters from all over the country and I just want to let you know how much each one means to me and my family. Just knowing that each person has taken time out of the lives to write a letter and put so much care into each one does make a world of difference."– Corporal James
"Well, words can not express the gratitude that I feel knowing that I had a group of ladies that cared enough about me to send me cards and letters. I will always carry each of you in my heart and thoughts no matter where I go in this world. This deployment was very bright thanks to all of you." – Shay
"I have gotten over 15 letters already in a week. I am so shocked, I really don't know what to say. I still can't believe there are so many great Americans out there. From the bottom of my heart I love you all so much. I'm in tears writing this, 'cause the love and support just little old me is getting touches my heart… It is my pleasure to put my life on the line for all of you. Thank you so much. I love you all. Me and my wife thank you all for what you are to doing for all of us soldiers." – Sidney