Soldiers' Angels Volunteers Assist at COVID Vaccine Clinics
March 25, 2021
As the COVID-19 vaccine continues to roll out, VA Medical Centers across the country are hosting vaccine clinics focused on serving one of our country's most vulnerable populations— veterans. Although VA's have been closed to volunteers during the course of the pandemic, some locations are now opening up their doors to volunteers— specifically volunteers that will assist in the COVID Vaccine Clinics.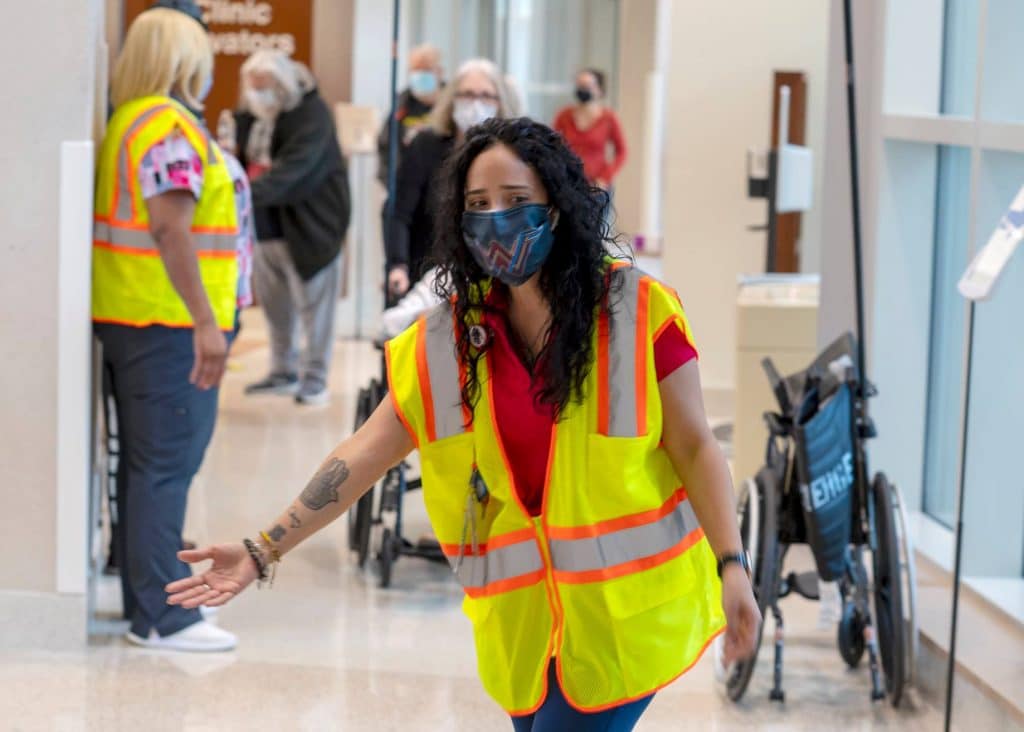 Soldiers' Angels volunteers who supported VA Hospitals pre-COVID have been eagerly awaiting their opportunity to return to the VA and support veterans once again. As you can imagine, they jumped at the opportunity to support the COVID Vaccine clinics! In addition to assisting the frontline workers, they are also handing out snacks to the veterans awaiting their vaccine… which is where we could use your help… can you donate snacks for Soldiers' Angels volunteers to hand out at vaccine clinics?
I enjoy volunteering with Soldiers Angel because I am giving back to a community of people that served our country! The thank you and appreciation from the vets, after receiving the vaccine, are memorable and make you want to come back!

Tasha G.
My overall experience has been wonderful. Amazing facility, helpful staff (nurses, doctors, other volunteers) and grateful vets that are getting protected. Many of the Veterans thanked all the workers as they were going through the process. You can tell they really appreciated all the effort put into providing the shots. The organization of getting people checked in, paperwork handed out, verbal information and shots in arms was amazing!

Kim S.
Click here to watch a news segment from Orlando about our Vaccine Clinic volunteers.
Donate Snacks
Make a donation of any of the below snack items for use at the vaccine clinics or shop the Amazon Wish List by clicking here: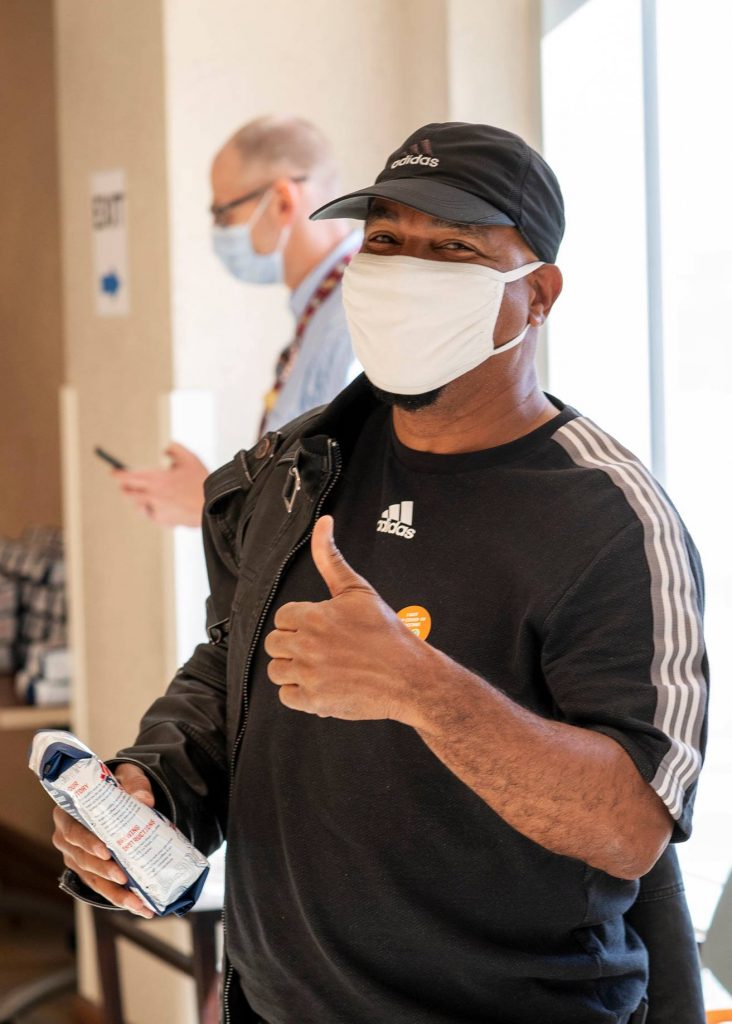 Protein Bars
Jerky or Meat Sticks
Sunflower Seeds
Freeze-Dried Fruit (Single Serve)
Single-Serve Peanut Butter or Nutella
Pop-Tarts
Nuts/Trail Mix (Single Serve Preferred)
Tuna Salad Kit with Crackers
Chicken Salad Kit with Crackers
Powdered Drink Mixes like Crystal Light or Sports Drinks (Single Serve)
Items can be shipped to the Soldiers' Angels office at:
Soldiers' Angels – COVID-19 Support
2895 NE Loop 410, Suite 107
San Antonio, Texas 78218
VA Hospital Support
Prior to COVID, Veteran Support Volunteers were active in over 40 VA Hospitals across the country distributing comfort items, visiting patients, hosting luncheons/dinners, and even providing a simple donut and cup of coffee. But once facilities started shutting their doors to keep everyone safe, the landscape of those volunteer opportunities shifted dramatically.
However, volunteers returning to VA's to support Vaccine Clinics is the first step in the right direction of VA's continuing to open their doors to volunteers. This means we need to get our VA Support Teams fully-charged and ready to go in preparation for more volunteer opportunities to come!
To get involved— or prepare to get involved— at a VA Hospital near you here's what you need to do:
Visit our VA Map here to get an idea of the current list of cities and VA's supported by Soldiers' Angels.
If we have a location near you, then register as an Angel volunteer by clicking here. (Please be sure to select "Angel" not "Team Angel").
When you are signing up, on the question "Would you like to provide additional support to Soldiers' Angels?:" please select Veteran Support and follow the prompts to choose the VA nearest you.
After you complete your Angel registration, a Soldiers' Angels representative will contact you to discuss the volunteer opportunities at that location. Please note that since each VA is opening at a different pace, not all volunteer opportunities will be immediately available and we may not know when the opportunity will start. But by making the connection now, you will be among the first to get back in that VA and continue our support of veterans!
In the Meantime…
If you're eager to start volunteering and don't want to wait for the VA near you to open up, be sure to check out our many virtual volunteer opportunities. We have many amazing virtual opportunities sending care packages, writing letters, baking, sewing, and more.
---