Celebrating LGBTQIA+ Military Heroes for Pride Month
June 30, 2022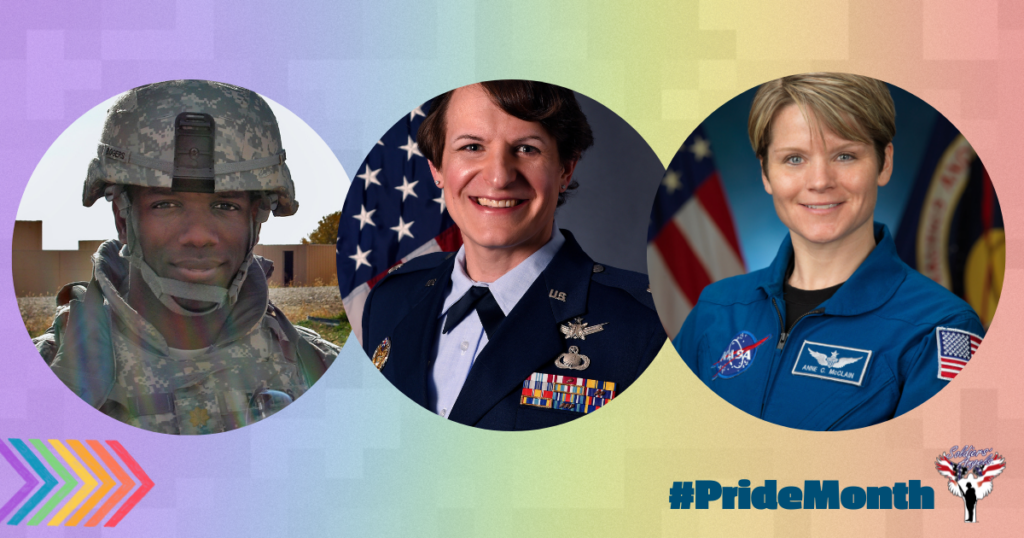 In honor of Pride Month (June), we've been highlighting some LGBTQIA+ military heroes in history who sacrificed all to serve despite the thorny history LGTBQIA+ folks have had with the U.S. Military. Coming out can be hard in the military, and for some, was not an option or meant being discharged from service. Here are just a few of the brave who achieved despite persecution.
Alan G. Rogers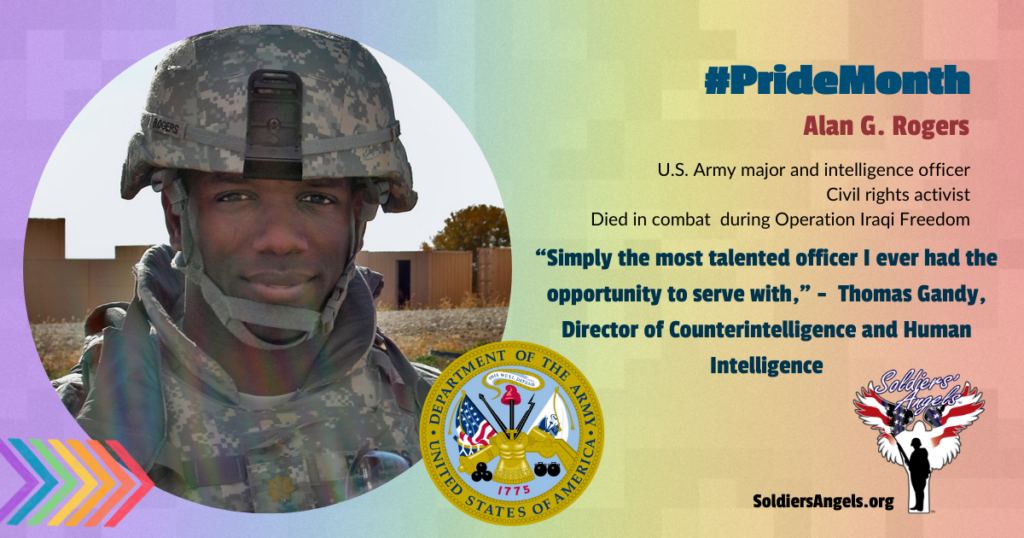 Our first Pride month highlight: Alan G. Rogers was an Army intelligence officer and Purple Heart recipient who was killed in action during Operation Iraqi Freedom. Rogers led an incredible life as a service member and activist. After earning two Kuwait Liberation medals with the 8th Battalion, 43rd Air Defense Artillery (which provided Patriot-missile support against Saddam Hussein's Soviet-made Scud), he earned his bachelor's degree and accepted a commission as an intelligence officer.
In 2001, Rogers commanded a military intelligence company based out of Waegwan, South Korea where he did two tours. In 2005, he earned a Master of Public Policy degree from Georgetown University where his thesis examined how the U.S. military's DADT policy affected recruitment and retention for military officers. Following Georgetown, he worked at the Pentagon as the lead biometrics officer in Army Intelligence. According to his supervisor, "Every biometrics staff in the Pentagon and beyond—every single one, and I'm not joking here—contacted me and asked if they could borrow Major Rogers to help them work out their biometrics problems."
Rogers also served as Treasurer of the Washington, D.C. chapter of the American Veterans for Equal Rights (AVER). In July 2007, Rogers was deployed to Iraq and on January 27, 2008, he was killed by an improvised explosive device while on foot patrol in Baghdad.
Bree Fram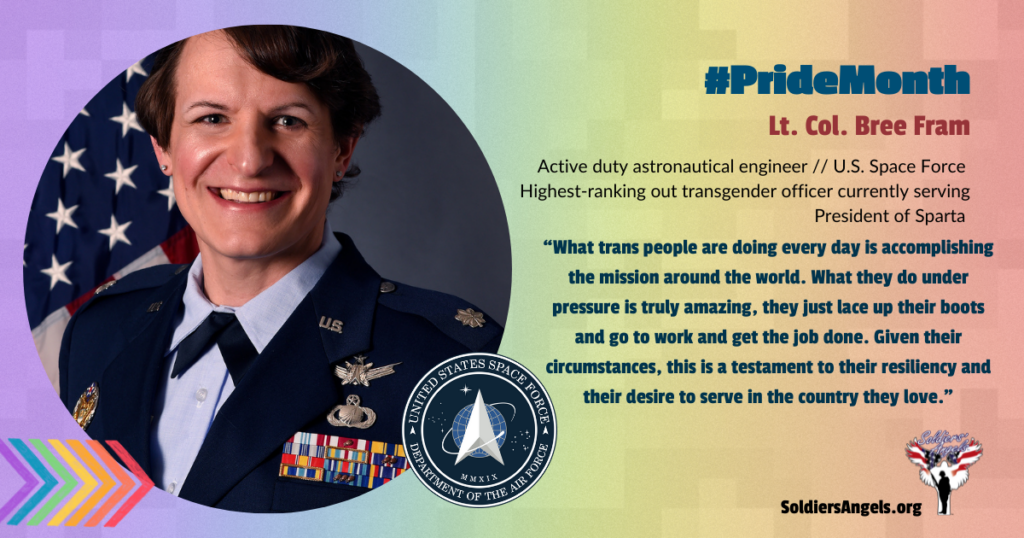 Our second Pride month highlight: Bree Fram is an active duty Lieutenant Colonel in the US Space Force and an astronautical engineer by education. She came out as transgender on the day the transgender ban in the military was dropped in 2016. She is currently one of the highest ranking out transgender officers in the U.S. military. She is also the President of SPARTA, an organization that advocates and educates about transgender military service and is dedicated to the support and professional development of over 1400 transgender service members.
Ann McClain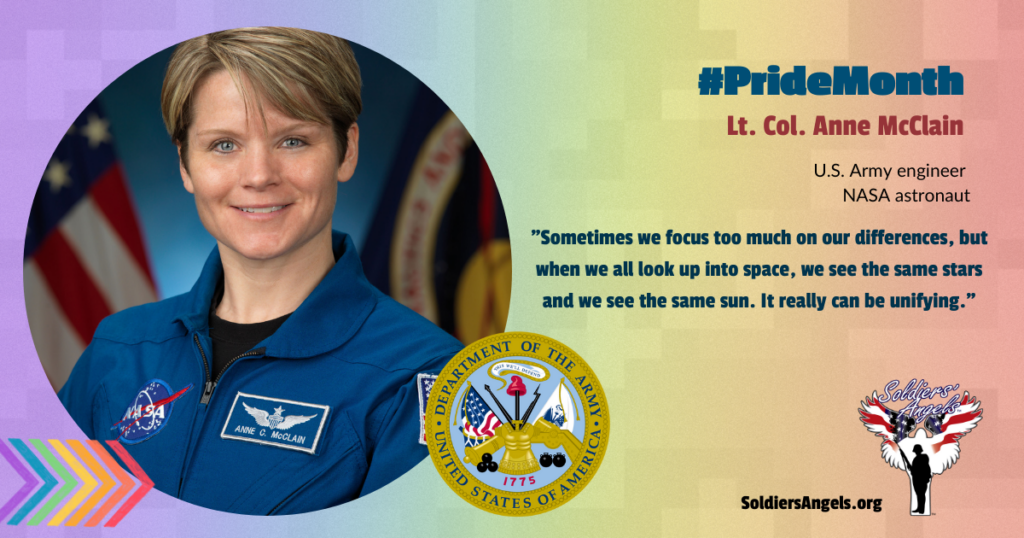 Our third Pride month highlight: Anne McClain has led an extraordinary life, contributing so much to our country. She earned her bachelor's degree in mechanical engineering at West Point and was commissioned as an army officer in 2002. She has two master's degrees: one in aerospace engineering and one in international relations.

Following her studies, she qualified as a Bell OH-58 Kiowa Warrior helicopter pilot. She was deployed to the 2nd Battalion, 6th Cavalry Regiment at Wheeler Army Airfield, Hawaii where she rose through the ranks. During her deployment to the Persian Gulf, she flew 800 hours and went on 216 combat missions during her 15 months serving as part of Operation Iraqi Freedom. In total, McClain has logged over 2,000 hours on various aircraft type during her military career.

In June 2013, the same month as her graduation as a test pilot, McClain was selected by NASA as part of Astronaut Group 21, becoming the youngest astronaut on the NASA roster. She flew to the International Space Station in December 2018 and returned to Earth in June 2019. Her work on unsteady aerodynamics and flow visualization of free-to-roll non-slender delta wings was later published through the American Institute of Aeronautics and Astronautics.
---