Angel on the Move
August 31, 2015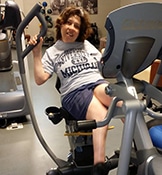 Amy Krome became a Soldiers' Angels volunteer in March of 2005. After the tragic events of 9/11, Amy wanted to do something to give back, but her disability of cerebral palsy made it difficult for her to find the best niche. She found her place at Soldiers' Angels and now, in her 10th anniversary of being an 'Angel' to our military service members and veterans, Amy is taking on another challenge to support our brave men and women in uniform and our veterans. On September 5th and 6th, Amy is going to bike a little over 8 miles through Legacy Trail in Lexington, KY to raise funds for Soldiers' Angels.
Amy's goal is to raise $3,000 during the bike ride named "Angel on the Move." Her mission is even receiving some attention in the Medical community.
To read more about Amy, take a look at our blog post: http://soldiersangels.org/angel-blog.html/2015/08/06/Angel-on-the-Move/
Thank you to this very special Angel! Amy, your hard-work and dedication to our service members, veterans and Soldiers' Angels is truly inspiring.
---