Adopt-A-Family Makes holidays brighter for family of deployed
August 15, 2022
By: Laurri L. Garcia, Community Engagement Consultant at Soldiers' Angels. Laurri is a Retired Department of the Army Civilian with 32-years of federal service, 25 of which were in Public Affairs.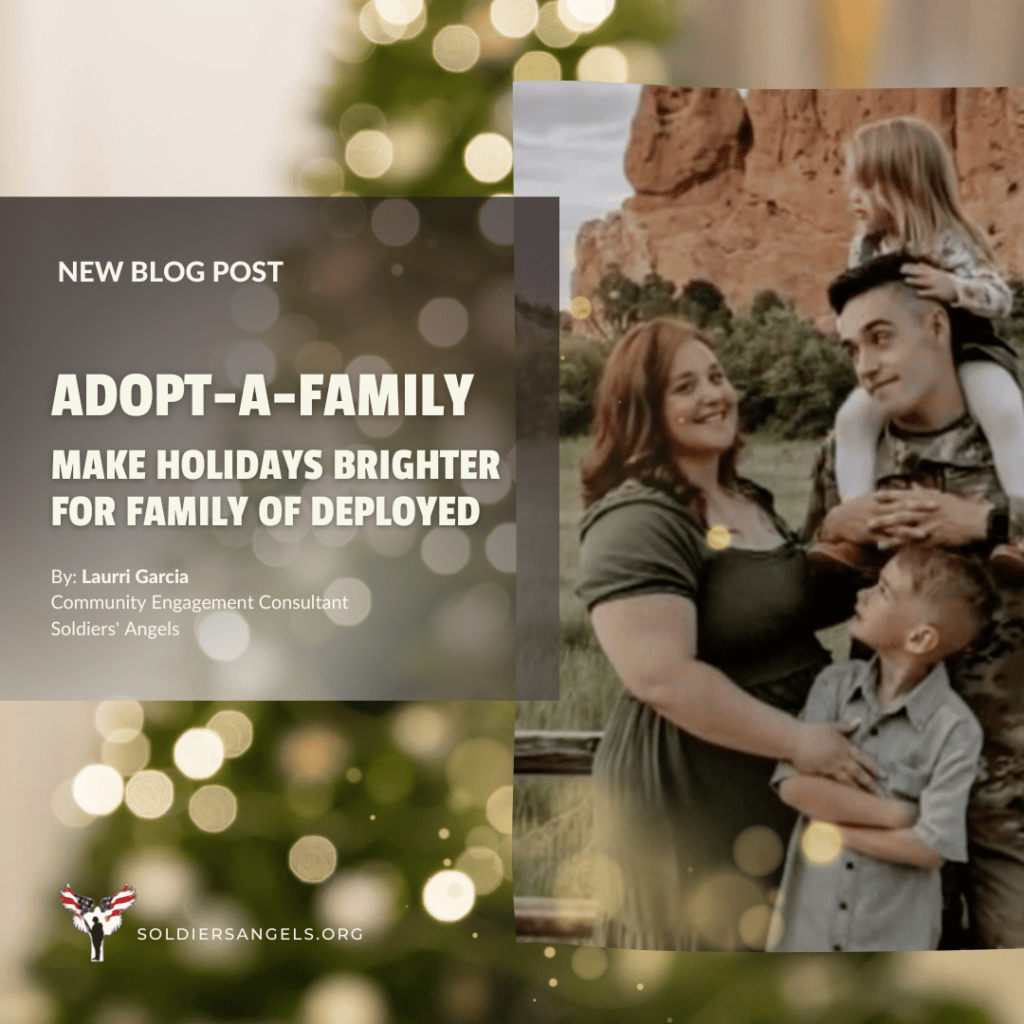 Army Specialist Cain Knight, a Medic stationed at Fort Carson, Colorado was deployed last year during the holiday season, but thanks to the Soldiers' Angels Holiday Adopt-A-Family Program this Soldier was able to sleep a bit easier. His wife, Samantha, and their two children received some special Christmas cheer due to the efforts and holiday spirit of the Soldiers' Angels Adopt-A-Family volunteers.
"This helped a lot. My kids still had a Christmas," said Mom, Samantha Knight. "With their dad deployed, it was a lot for the kids to deal with and I think it helped them kind of forget that he was deployed because they were busy opening presents."
According to Amy Palmer, Soldiers' Angels President and CEO, "Affording Christmas or winter holiday gifts for a family can be hard. Doing so on deployment and on a military or veteran family budget is even harder."
So once again this year, Soldiers' Angels is working to make this holiday season a little easier for eligible military and veteran families through its Holiday Adopt-A-Family Program. The program helps businesses, organizations, and individuals support qualified military and veteran families who could use some help providing the holiday celebration their families deserve. This unique collaboration helps America show its gratitude for the sacrifices service members and their families make to defend our great nation.
Military families who will be separated by deployment and may be in need of additional support this holiday season can visit soldiersangels.org/adopt-a-family to learn more about how the program works and who qualifies for support. Registration begins Sept. 7, 2022, for this year's program.
Knight encourages those whose loved one [spouse] will be deployed through this Christmas season to take advantage of the program. "In today's economy every little bit helps and those who are qualified should be grateful for the assistance. Knight added, "Last year our family was featured on the local news and our son thought that was so cool, I was just happy our holiday was a bit brighter, and I hope the people who adopted us know how special this was and how thankful I am for them."
Once criteria is determined and met, families are adopted by Soldiers' Angels sponsors. At a minimum, sponsors who adopt a family provide gifts for the children and a grocery gift card to offset the purchase of a holiday dinner and the trimmings.
In 2021, nearly 1,300 families were supported through the Adopt-A-Family Program. This year, Soldiers' Angels is doubling down on its outreach efforts and the 2022 goal is to increase the number of families supported by 10 percent.
"Our goal is to make the holiday season brighter for at least 1,400 families this year and get them the support they deserve," said Palmer, a U.S. Air Force Veteran. "Following two difficult years of a global pandemic, volunteers across the country showed their gratitude for our military-connected community in amazing ways. Last holiday season, we supported more than 1,250 military and veteran families and 3,601 children with 4,272 holiday gifts valued at over $555,000. It was a phenomenal effort and we're anxious to do even more this year."
The Adopt-a-Family program wants to ensure families like the Knights know that they are not alone.
"It made me feel like I had someone on my side. It felt like I'm not too alone, it felt like I could wake up and be like 'ok, I have people out there that want to be there for us,' and I've just got to let it happen," said Knight. Those interested in participating in the 2022 Adopt-A-Family program can visit SoldiersAngels.org/Adopt-A-Family for more information.
---