A Show of Force: Navy Federal Credit Union Supports Soldiers' Angels
December 22, 2022
Over 700 employees from coast to coast pitched in when it mattered most, helping create and provide paracord bracelets to deployed service members and decorating blankets for veteran patients in VA hospitals.
Navy Federal Credit Union teams from West Coast Hub, Pensacola, Winchester, and Vienna gathered to create the items, producing over 500 blankets and 1,300 paracord bracelets!
"The energy in the room was incredible," said Brandi Gomez, Corporate Social Responsibility Program Manager for Navy Federal. "Our team members showed up in full force to fulfill our mission, with every table filled and many creating space on the floor, to serve our members, connect and champion community with each other. Being able to bring these meaningful moments back to campus meant so much to our team and will leave a lasting mark on my heart."
In addition, Branch Operations teams continued efforts to support Soldiers' Angels. A team from the Centerville Branch produced 100 handmade holiday ornaments for deployed military.
​"With the holidays around the corner, we were thinking about our service members miles and miles away from home," said Lamiaa Elgawish, Assistant Manager at Centerville. "Our team participated together, decorating and crafting over 100 ornaments to be added to their stockings adding a little hand-made festive touch."
The paracord bracelets made by the group will be included in care packages that are shipped to deployed service members around the world. The blankets will be handed out to veteran patients at VA Hospitals.
"It was an absolutely incredible experience to witness so many Navy Federal employees come together and show their support for deployed service members and veterans during the recent event," said Amy Palmer, Soldiers' Angels CEO. "The paracord bracelets are small reminders that we are thinking about them here at home. We often hear that these blankets at the VA hospitals become cherished items to those that receive them. These items are both proof that taking just a moment out of our busy lives to create something meaningful for service members and veterans can have a profound impact on their mental health and well-being."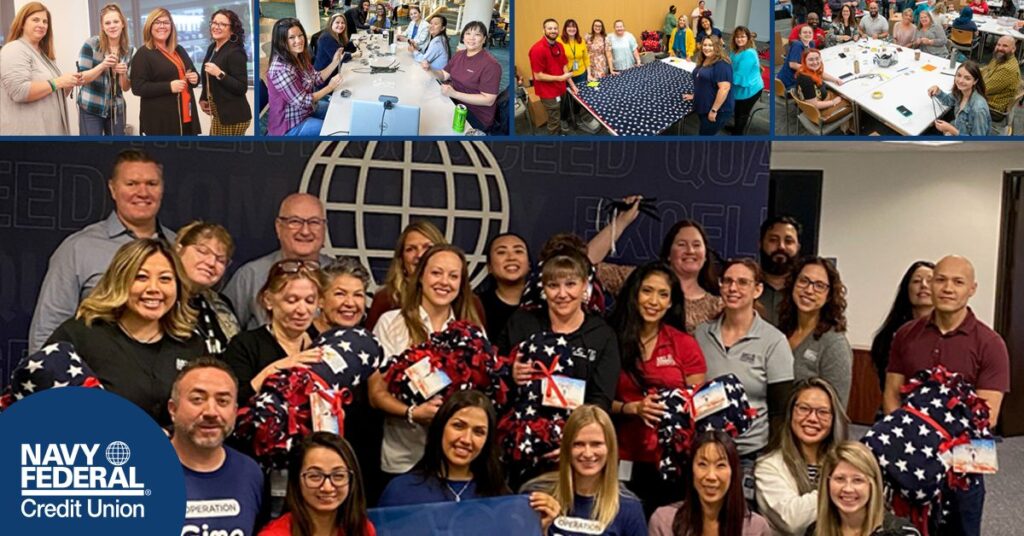 The paracord bracelets are much more than military "bling." For those deployed, the robust cords can be used for numerous applications in the field, and they can even save lives. Since the bracelets are going to deployed service members, they made them from MIL-SPEC cording in black, olive green, tan, and camo.
"I was a little nervous since this was my first time volunteering, but I'm glad that I did," said Zachary Gonzalez, Member Service Representative II, CCO. "Thanks for making it so much fun to be there. I'm so happy I could help out!"
---