5 K9 Heroes to Honor for K9 Veterans Day
Here's 5 K9 Heroes you should know about!
March 13, 2019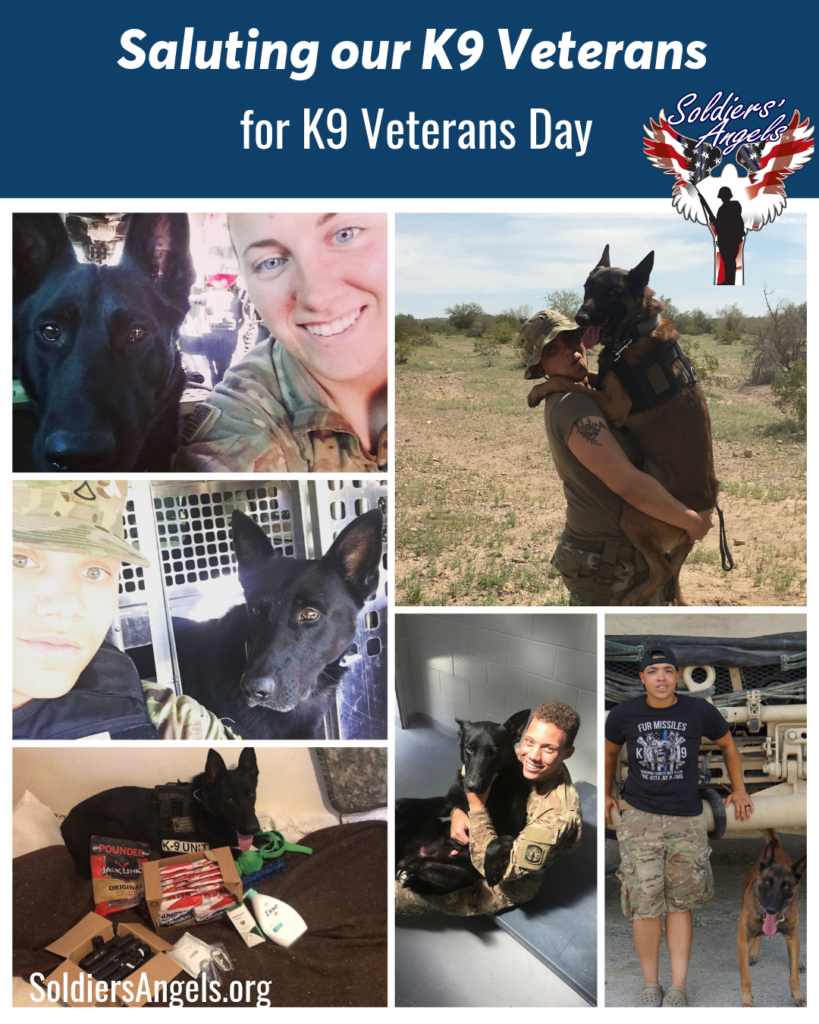 Did you know that the U.S. Military has working service dogs who serve alongside our military heroes? They too put their lives in danger to serve. These amazing four-legged veterans use their heightened senses to detect mortars, find drugs, and protect their fellow troops. They go through rigorous training just like our service members to do so, which is why they deserve a day of honor as well.
Here are five incredible military service dogs to honor on K9 Veterans Day.
Sergeant Yeager
Sergeant Yeager served as an Improvised Explosive Detective Dog in both Iraq and Afghanistan. During his two tours as a Marine, he participated in 100 combat patrols. In April of 2012 Yeager suffered wounds that caused him to lose part of an ear. This also left him with other lingering complications that caused early retirement. Unfortunately, Yeager's handler was killed in the same explosion. Today, Yeager resides with a disabled veteran.
Maiko
Maiko was brought to the US when he was 15 months old and was placed on the Army 75th Ranger Regiment's 2nd Battalion. He was seven years old when he went on his sixth deployment in Afghanistan. Maiko was killed during a raid on Al Qaeda, and ultimately saved the life of his Staff Sergeant and other rangers.
Sergeant Rambo
Sergeant Rambo served in the Marine Corps sniffing out explosives from 2011-2012. He completed 994 hours of training and 620 searches in his single year. After a medical predicament, Rambo had one of his legs removed. Regardless of his disability, Sgt. Rambo continued to serve with his handler and became the mascot of Gizmo's Gift, a non-profit that provides financial support to pay for the medical treatment of military K9s.
Lucca
Lucca has served three combat tours in Iraq and Afghanistan. She's lead more than 400 patrols in search of explosives and ammunition. No soldier has ever been injured on her watch, including her handler, Sergeant Chris Willingham of the U.S. Marine Corps, even when she lost a leg. Patsy Stuart, Sgt. Willingham's mother-in-law was so grateful for Lucca's work, that she was compelled to pay tribute to Lucca with a display case in front of the Starkville Public Library.
Jag
Jag served in Afghanistan with his handler, now retired, Sergeant Dennis Dow. Dow refers to Jag as "a hero by any definition". Jag has come under fire many times, and without Jag, Dow believes he wouldn't be alive today. Jag still plays an important role in Dow's life by helping him with his PTSD.
---