15 Year Anniversary Recap
November 1, 2018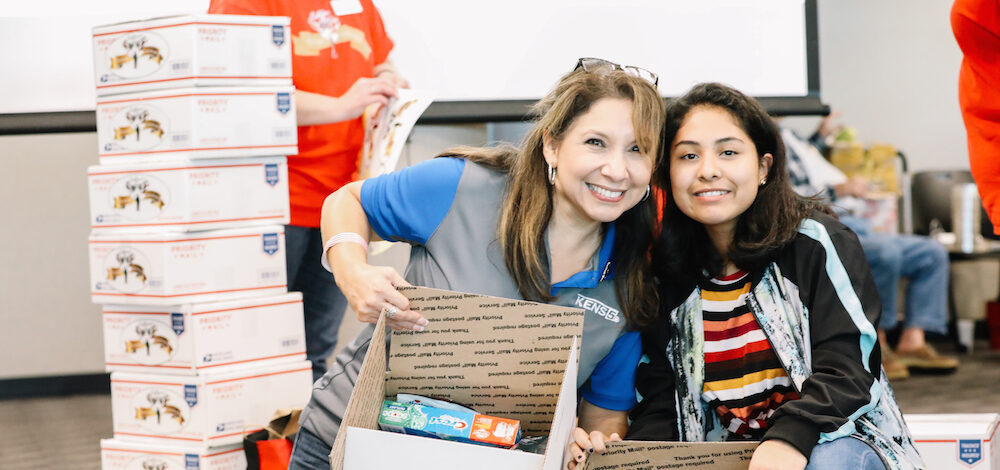 Friday, October 26, 2018 was quite a day! We were blown away by all of the volunteers who came through to help us pack care items and are so appreciative of our donors, sponsors, and staff (who spent countless hours setting up and breaking down). All in all, we reached our goal! We packed 15,000 care items in 15 hours.
5,000 hygiene kits
5,000 box lunches
5,000 care packages
In addition to all that, we also made No Sew Blankets and Paracord Bracelets throughout the day!
Photos from the 15th Anniversary Event are in!! As you can imagine, there were a LOT of photos to go through— so we did our best to sort them into smaller chunks. Take a look here!
Making New Friends
We met so many people throughout the day on Friday. From 7am-10pm we met veterans, children, parents, students, donors, angels, Gold Star Moms… they all came through to help out and some of them shared their stories with us. Like… these two best friends who flew in from different cities to be here. Watch the video here.
We also met a veteran who our VP of Programs, Louie Guzman served with. Valessa Winslow, who is now an author, received a care package from us while she was deployed and had nothing but wonderful things to say about the experience. Watch the video here.
The Texas A&M University Aggie Royals were another awesome group who joined us to celebrate and serve our deployed service members and veterans. They packed care items, wrote thank you cards, made paracord bracelets and No Sew blankets. We loved meeting these future leaders!
Reuniting with Old Friends
We couldn't celebrate our 15 Year Anniversary without founder Patti Patton-Bader! She stopped by with her husband and shared stories with some of our team leaders and board members. She also spoke at our reception about the history of our organization.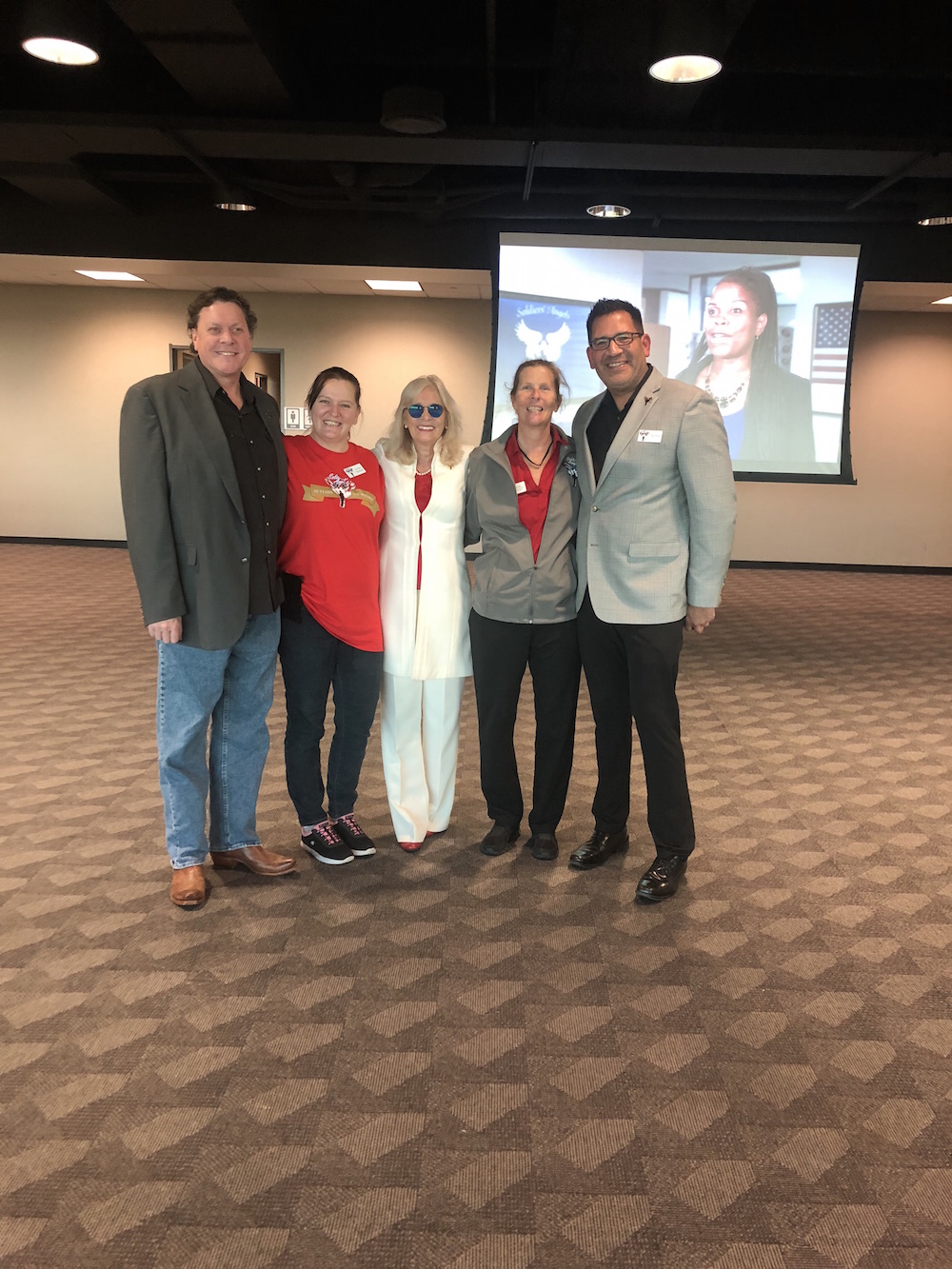 "I got online, I built a website, and I said please help. And they came. Thousands of people came. They sent packages, they talked to the families of the fallen – anything that could be done they did it. If a family was in need, all I had to do was put a call out to that town and angels would surround that family. It is an honor to stand here wing tip to wing tip with you all. I appreciate you."
We had the pleasure of hanging out with Chuck Ziegenfuss and his dog Polar Bear. Chuck is a wounded veteran who inspired our Valor IT program (you can read all about it here). He now works with Hero Labradors breeding labradors that go on to become service dogs.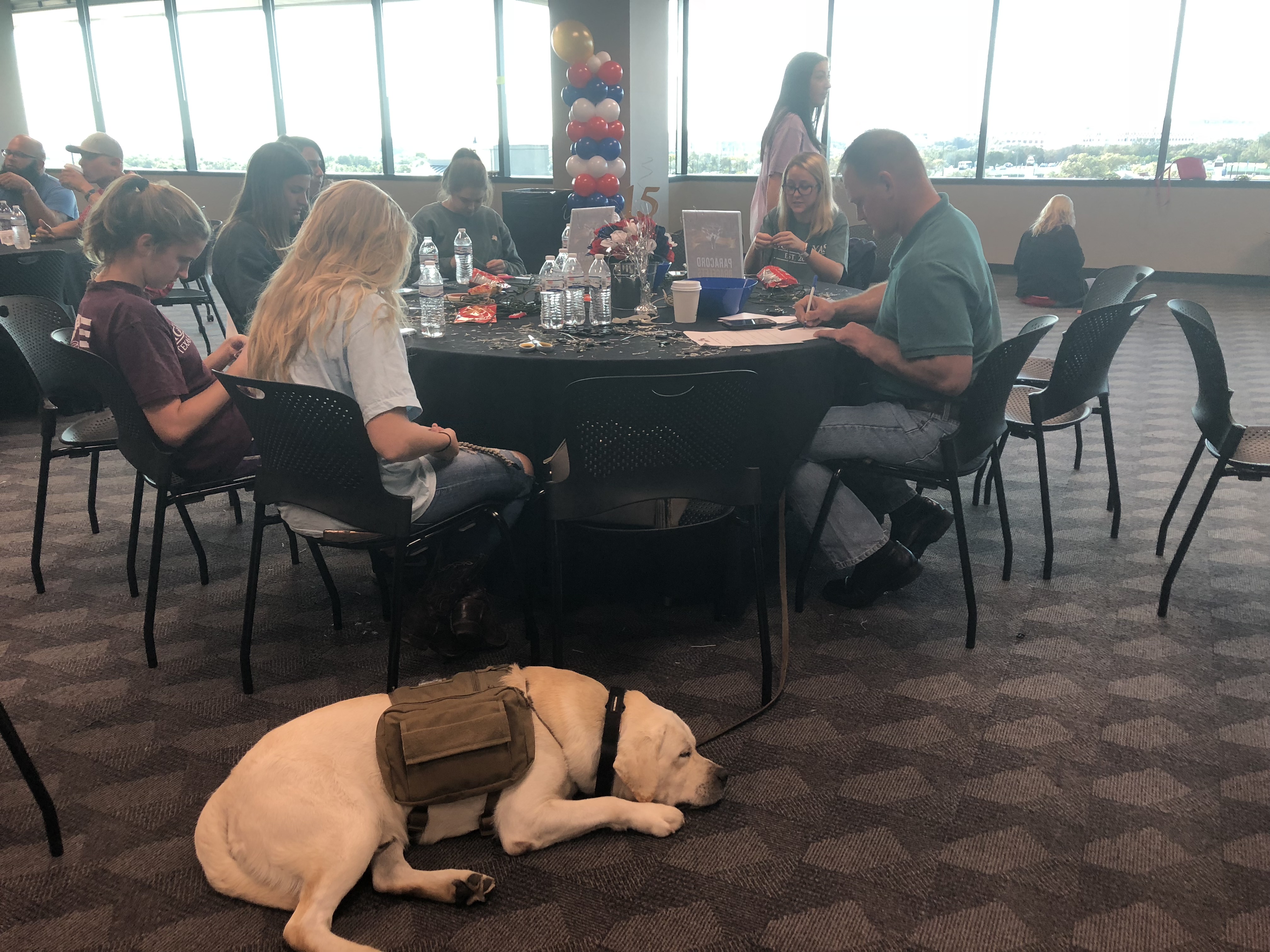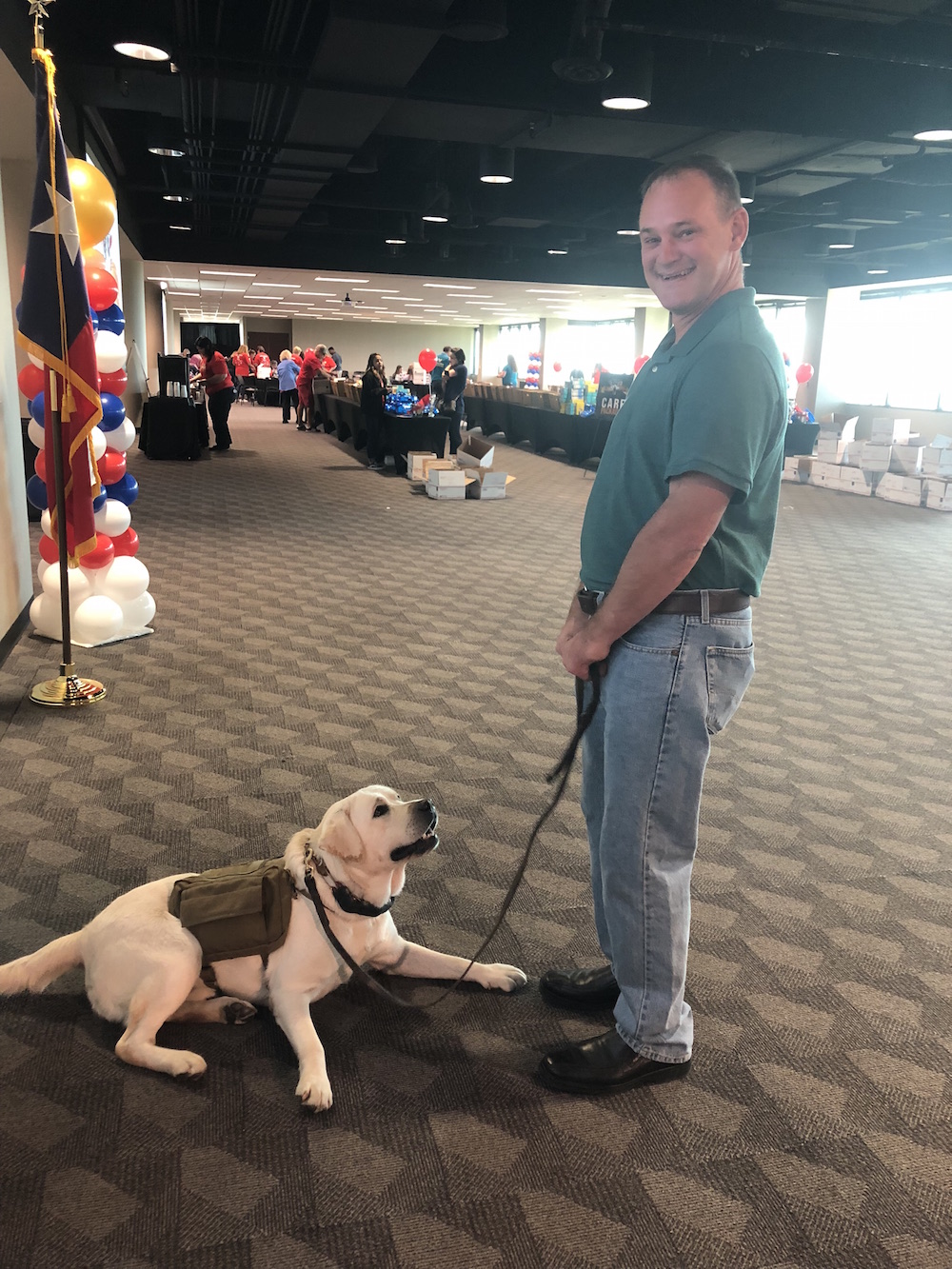 We flew in our Team Leaders to help us celebrate. They worked hard Thursday and Friday unpacking palettes, setting up, breaking down, and assisting with the entire event. We could not have done this without their support!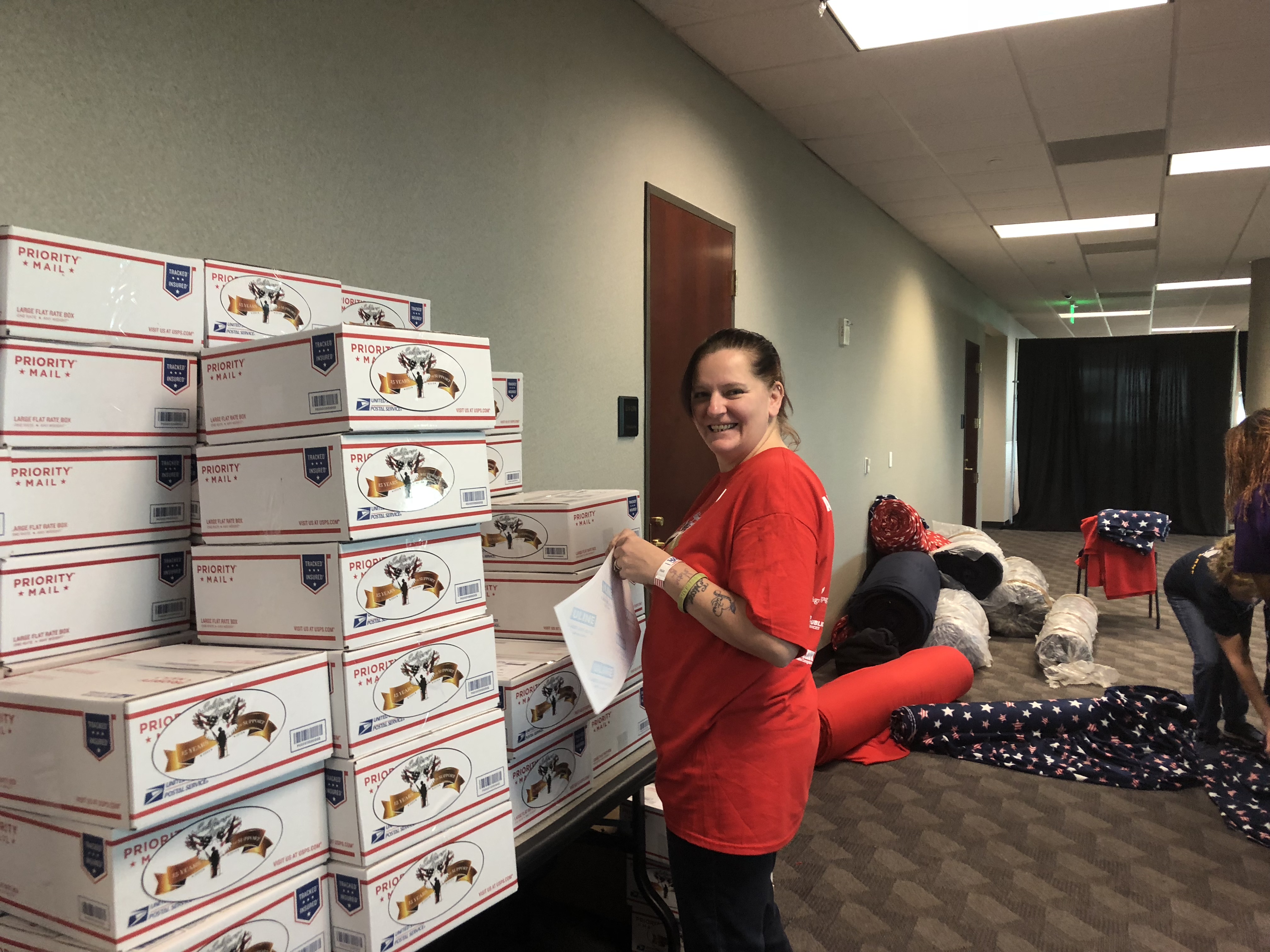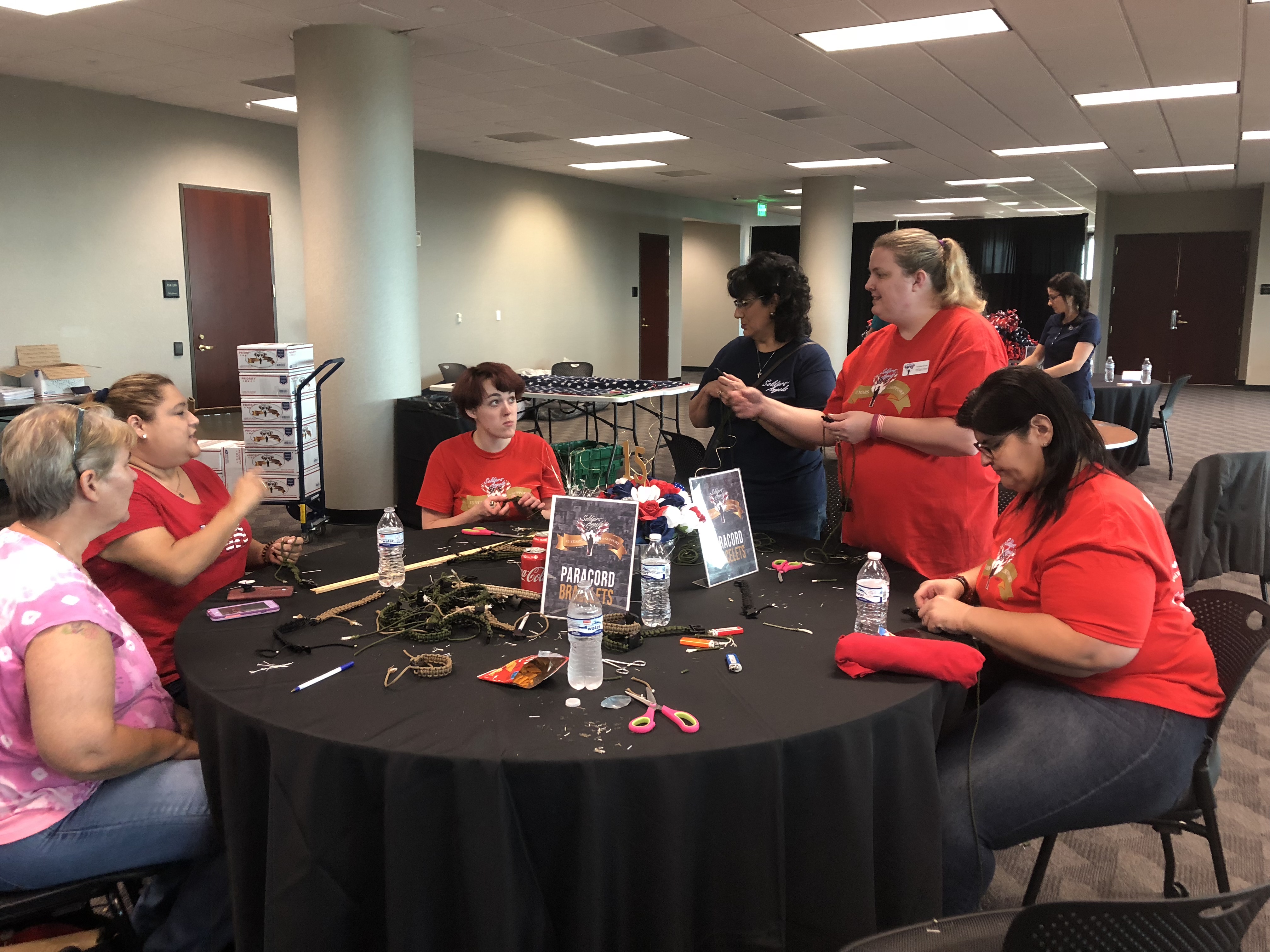 It was great to see some of our Board Members and Advisory Council Members – who took time out of their schedules to help us set-up, pack, and break down.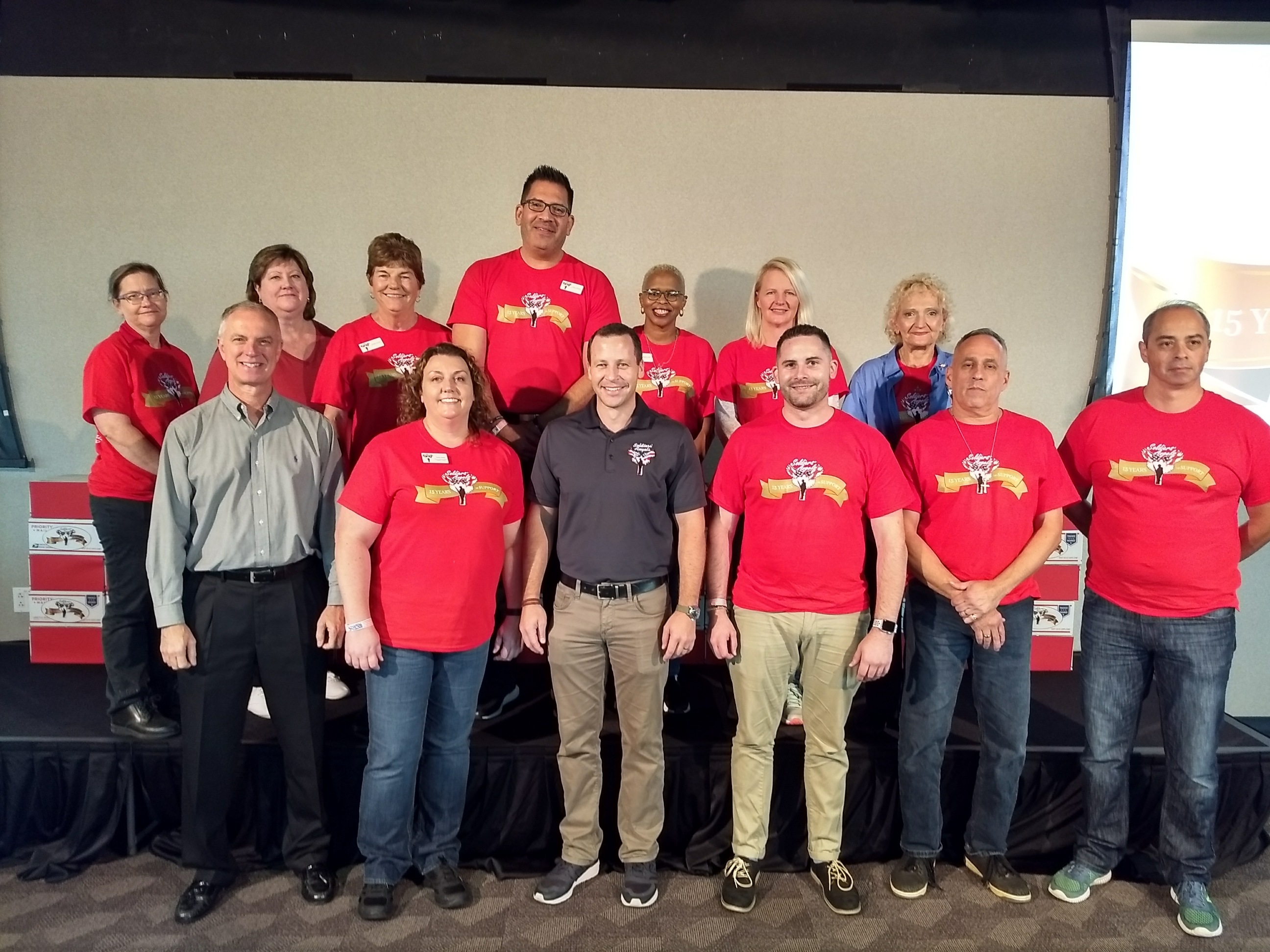 If you were at the event, you may have noticed a pile of care packages being placed on the stage. Did you see what we were building? An American flag! We invited board members, team leaders, staff, and donors up to lay each row throughout the day.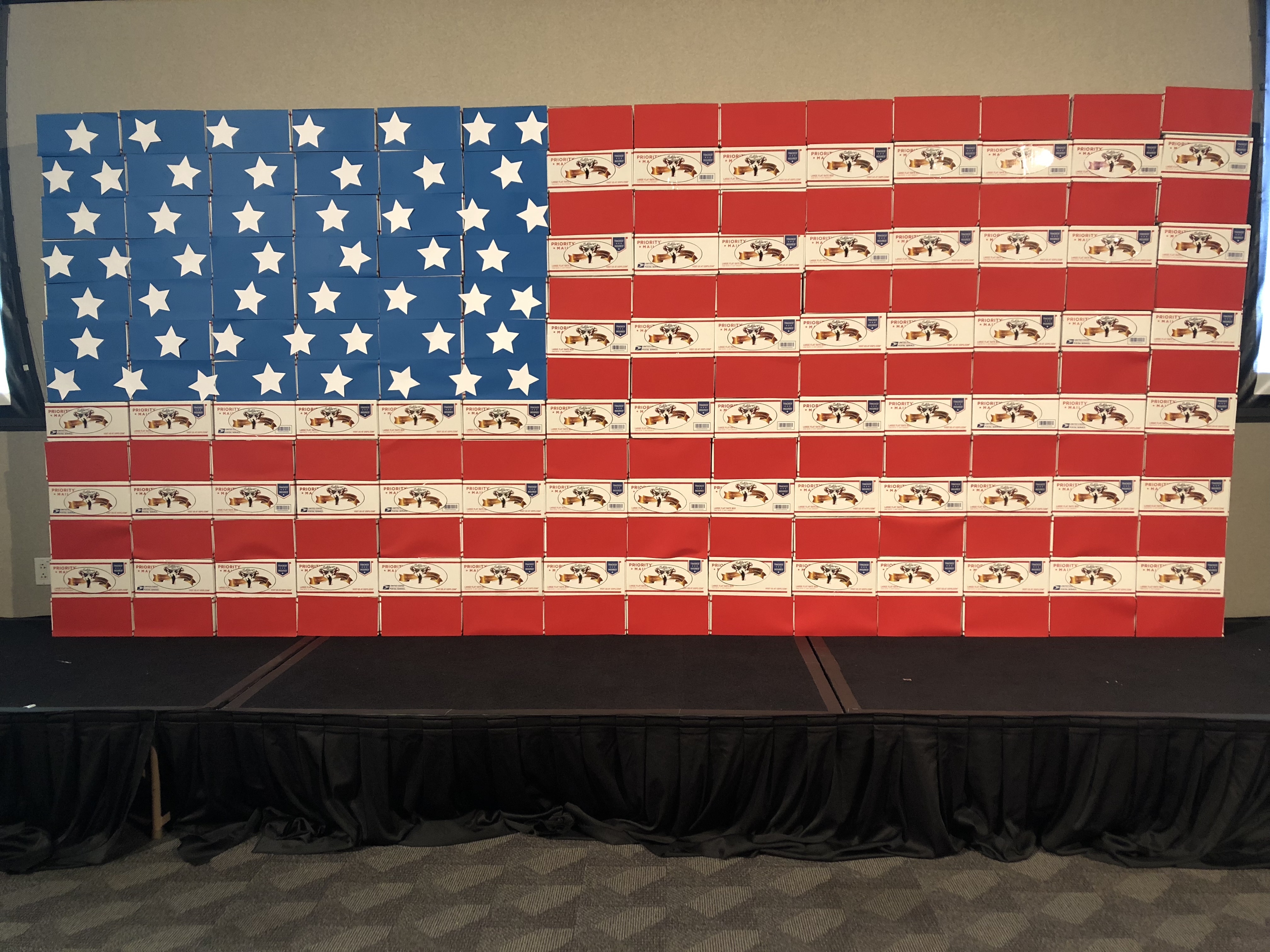 Shout outs
We could not have done this without some of our amazing donors, sponsors, and partners.
Thank you to Title Sponsor, Valero. Not only were they our title sponsor, they hosted us on their campus in The Vista at Valero, donated drinks and snacks for volunteers throughout the day, and encouraged their employees to come and volunteer during the day.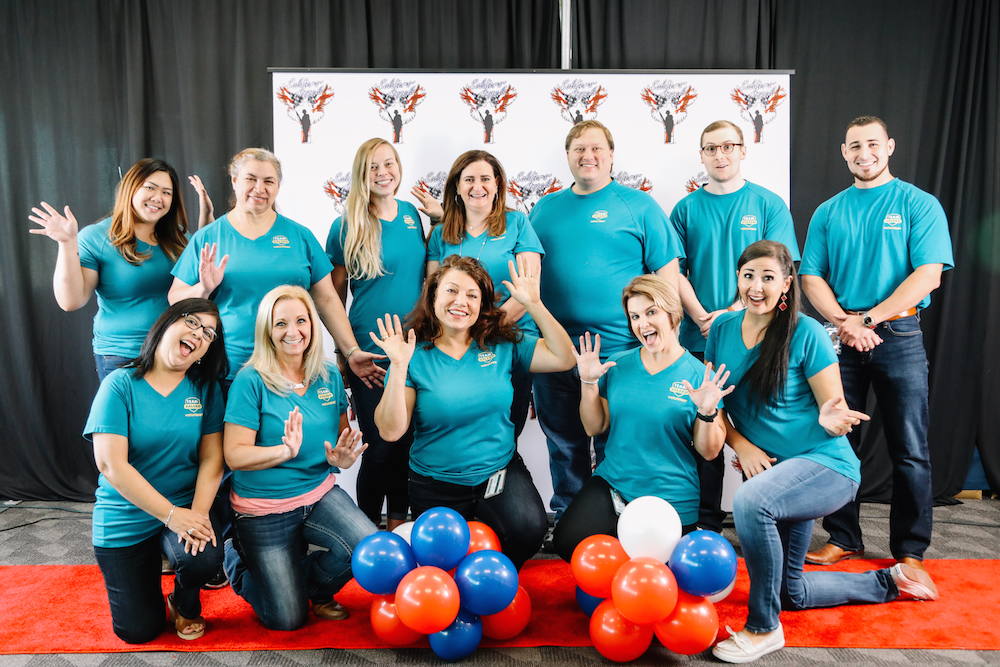 Johnstone Supply not only sponsored the event, owner Mike Wallace (who is also our Board Vice Chair) and his wife Rosemary were a tremendous help! Mike and his team worked tirelessly Thursday and Friday packing and palletizing the three truckloads of supplies we needed to make this event a reality. We are so thankful for their help.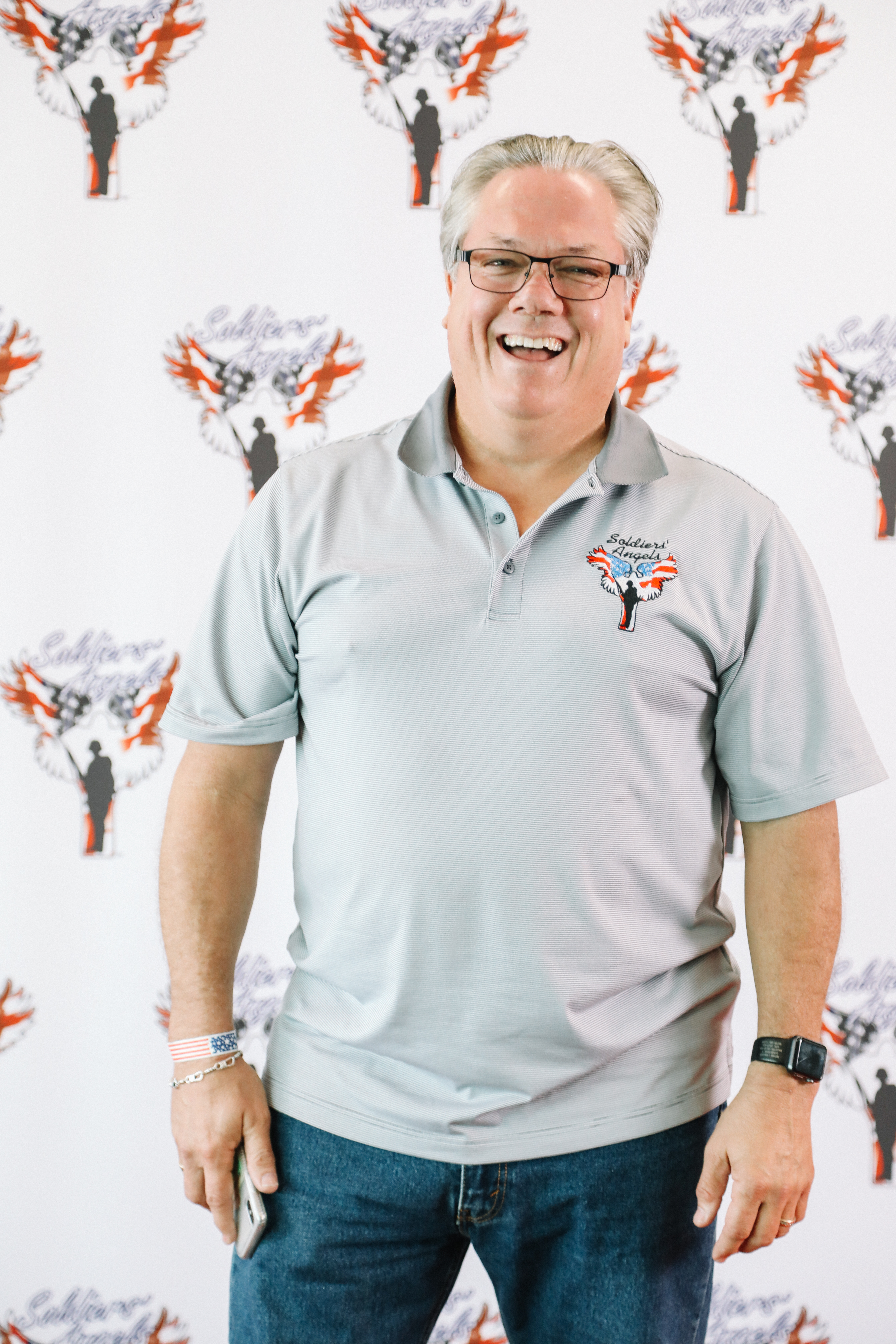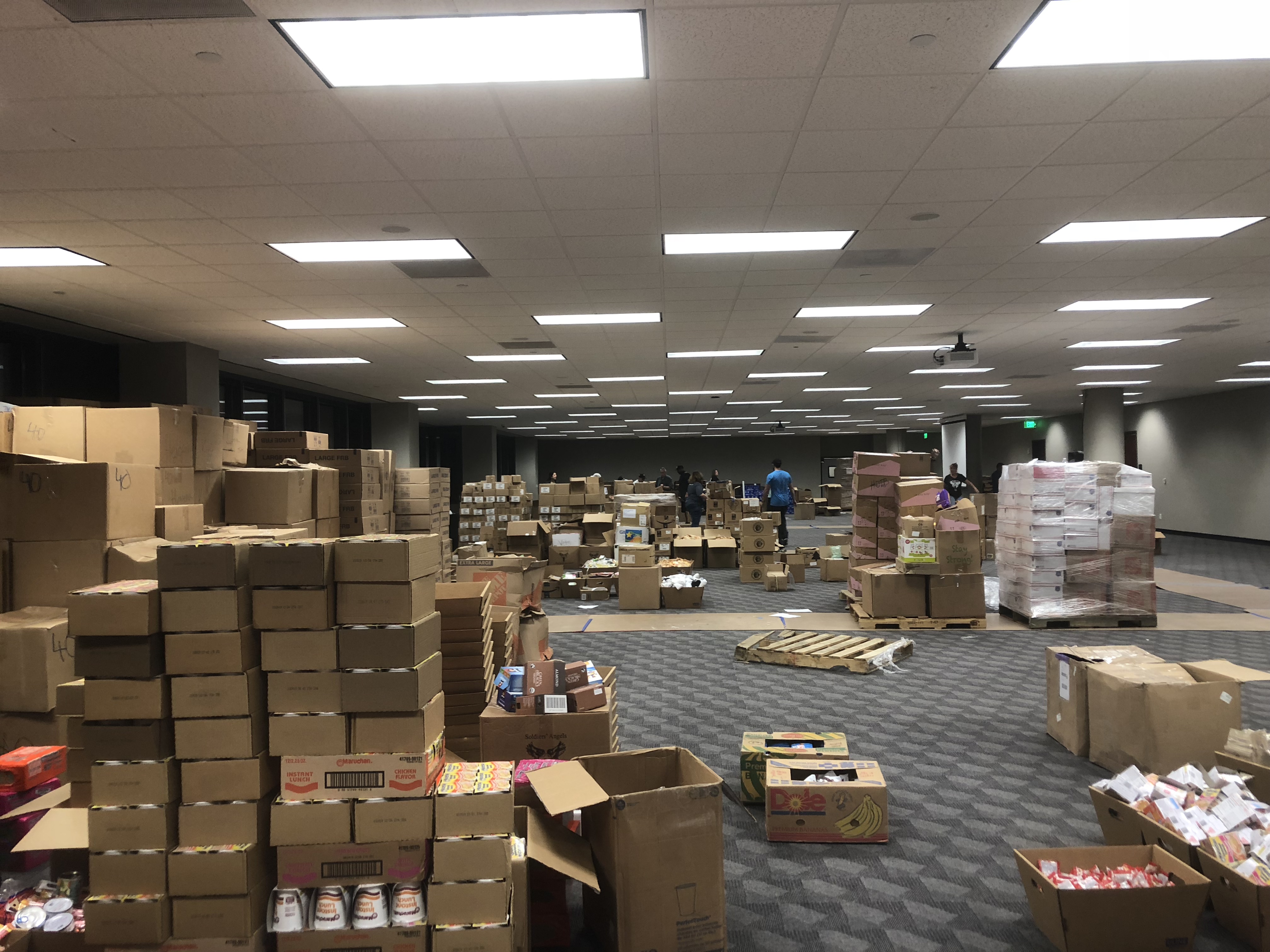 Tito's Vodka has been an amazing partner, sponsor, and supporter. They generously sponsored our Anniversary celebration, donated bottles for our reception and swag bags, and have been collaborating with us throughout 2018 to host Hygiene Kit packing events with their distributors across the country. Tito's and their distributors have worked together to pack over 40,000 Hygiene Kits (and counting) that are being distributed to homeless veterans across the country during Stand Downs. AND they helped us create an amazing video about our organization, which will be released soon.
If you live in San Antonio, you are probably familiar with Kens 5, one of our local stations. We are so appreciative of all they did to help get the word out about our Anniversary. They were there most of the day and filmed several segments about the event. They even brought in a group High School students to help us pack care items.
All in all, we had such a great event. As Patti Patton-Bader would say, we created 15,000+ ripples of kindness that will hopefully keep going.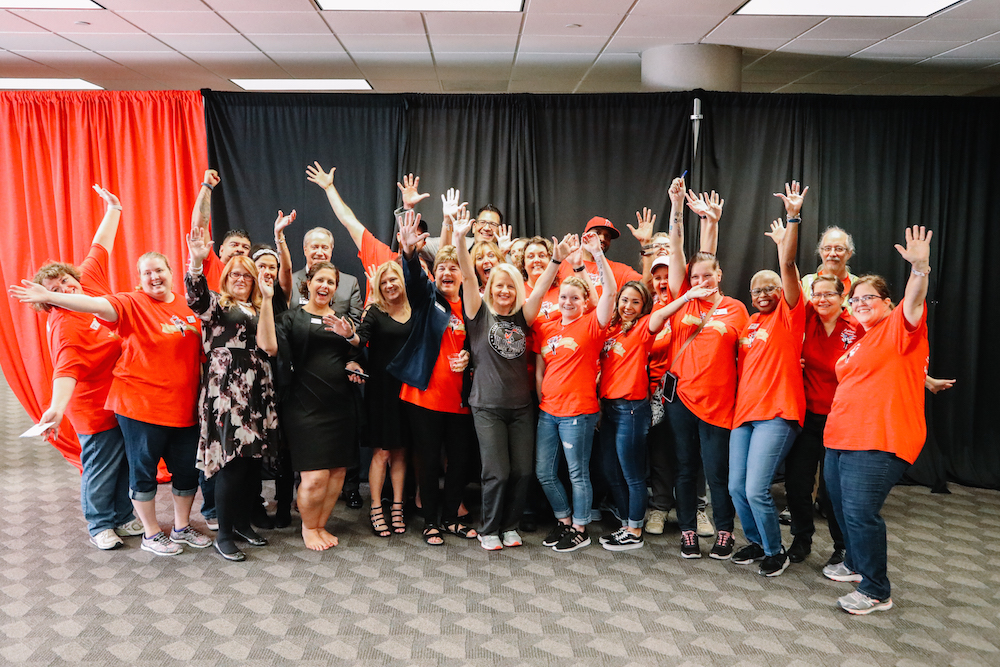 ---