Where Did R.E.D. Friday Come From?
October 10, 2014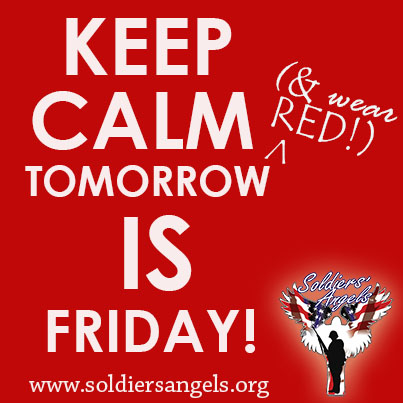 If you follow us on Facebook or Twitter you know that every Friday we celebrate R.E.D. Friday. You most likely see lots of images like the one below, and lots of people posting pictures of themselves wearing red.
What is R.E.D. Friday?
RED is an acronym that stands for Remember Everyone Deployed. R.E.D. Friday was created to remind people of our heroes overseas and show that we are thinking of them. People across the country wear red every Friday to serve as a reminder and spread the message of how important it is that we keep our troops in our thoughts.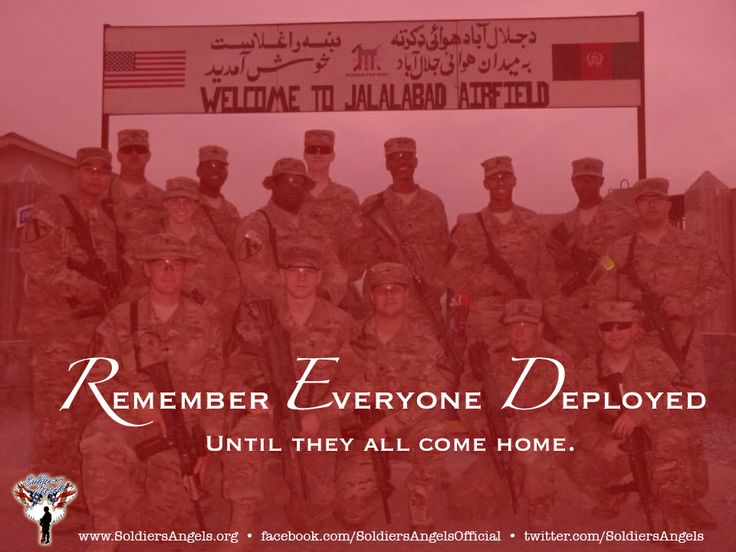 How did R.E.D. Friday Get Started?
Remember those email chains you used to get asking you to forward to 10 friends – or all of your friends? There were all kinds: some claiming ridiculous things, some trying to raise awareness for campaigns or diseases, and some that were just plain silly. This is how R.E.D. Friday originated: an email chain back in 2005.
According to SNOPES.com, the original email chain read:
You will soon see a lot of people wearing RED on Fridays. Here's why…..
The Americans who support our troops, are the silent majority. We are not "organized" to reflect who we are, or to reflect what our opinions are. Many Americans, like yourself, would like to start a grassroots movement using the membership of the Special Operations Association, and Special Forces Associations, and all their friends, simply to recognize that Americans support our troops. We need to inform the local VFW's and American Legion, our local press, local TV, and continue carrying the message to the national levels as we start to get this going. Our idea of showing our solidarity and support for our troops is starting Friday, and continuing on each and every Friday, until this is over, that every RED – blooded American who supports our young men and women, WEAR SOMETHING RED.

Word of mouth, press, TV — let's see if we can make the United States, on any given Friday, a sea of RED much like a home football game at a university.

If every one of our memberships share this with other acquaintances, fellow workers, friends, and neighbors, I guarantee that it will not be long before the USA will be covered in RED – and make our troops know there are many people thinking of their well-being. You will feel better all day Friday when you wear RED!

Let's get the word out and lead by example; wear RED on Fridays.

Please forward this to everyone you know!!

Wear RED on Fridays . SUPPORT OUR TROOPS! WE LIVE IN THE LAND OF THE FREE, BECAUSE OF THE BRAVE. FOR US, THEIR BLOOD RUNS RED!! GOD BLESS AMERICA.
Sometime in 2006, the RED Campaign was adopted in Canada by Lisa Miller and Karen Boier; the wives of two Canadian servicemen. Their purpose was to spread nationwide support of Canadians overseas. The color red worked perfectly because Canadian's official color is red. Their RED Shirt Friday campaigns were organized as rallies that spread across Canada.
Eventually, a guy by the name of Lloyd (Doc) Hofmeister became involved in the Canadian RED Shirt Fridays and decided to take it [back] to America. Lloyd started a website called redshirtfridays.org because, "I [Lloyd] know what it is like to be half a world away from your life, to feel that no one cares, and to come home to be humiliated and ashamed of your service."
Lloyd says on his website,
"I have come full circle now. I am no longer ashamed and I realize I never should have been! My hope is that none of our armed forces will ever have to go through this again. I have seen firsthand how troop morale is as important as basic training. If morale is low, mistakes are made and people die.
Our job is to support our troops and in the process we can help to increase their morale by showing we care. Let's face it, your show of appreciation could very well save someone's son or daughter's life."
And so RED Shirt Friday spread across the U.S. thanks to military families, spouses, organizations like Soldiers' Angels and Americans who want to make sure that our heroes overseas know they are supported. Join us!
Being a part of R.E.D. Friday is easy: just wear red on Friday and tell your friends why! You can also submit your RED Friday selfie on our Facebook page to appear in our RED Friday collage every week. We also have RED Friday T-shirts in our angel store. Proceeds go to our efforts of ensuring no soldier goes unloved.
Click here to go to the angel store.
---