Volunteering to Fight Veteran Hunger
September 15, 2022
Did you know that Soldiers' Angels provides more food exclusively to veterans than any other organization in America? Each month, we host Veteran Food Distributions for low-income, at-risk, and homeless veterans in six cities across the U.S. (Atlanta, Charleston, Denver, Detroit, Orlando, and San Antonio). Each food drive serves about 250 veterans and their families with approximately 75 pounds of quality produce, meat, and non-perishables. Over the past 8 years, Soldiers' Angels has provided 6,974,652 pounds of food to veterans in need!
We can't carry out these events without volunteers. Every month, in each of the six cities, volunteers of all ages and abilities work to ensure our nation's heroes do not go hungry. In honor of Hunger Action Month, we want to introduce you to some of the volunteers who go above and beyond to make these massive events possible.
LaVeda Michelle Bennett: Atlanta, Georgia
Meet Atlanta Veteran Food Distribution volunteer, LaVeda Michelle Bennett. She has been volunteering with us for 5 years because she loves helping veterans.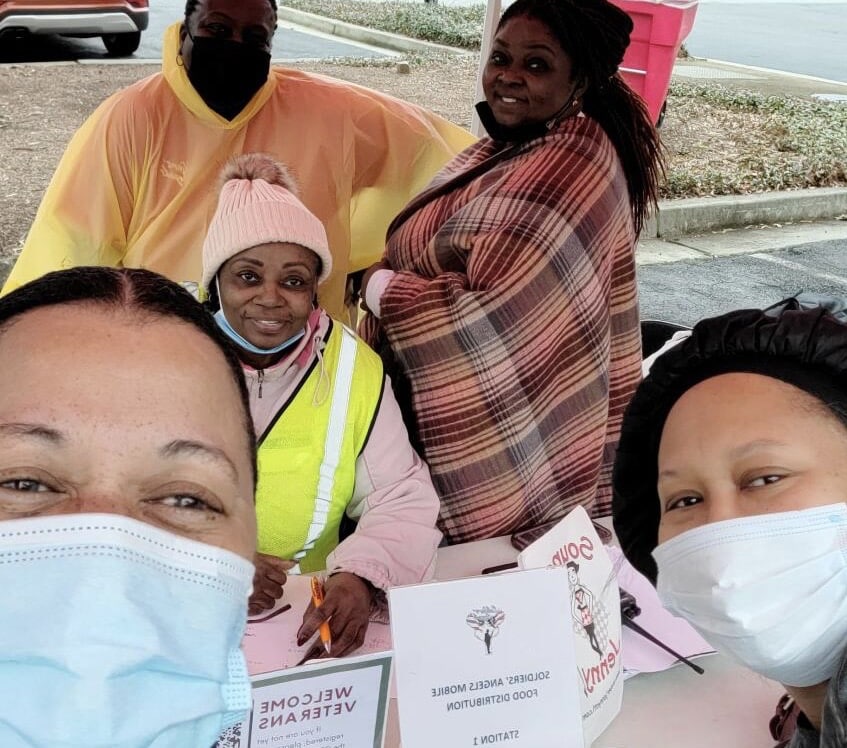 "My passion is helping people, especially our Veterans. I love looking at their faces when they are recognized as a Veteran. As a Veteran who had honorably served, it's a great feeling when someone says 'Thank You For Your Service'!"
Michelle Tice: Detroit, Michigan
Michelle has been volunteering at the Detroit Veteran Food Distribution for 4.5 years. She volunteers to honor veterans and her family's long legacy of service to this country.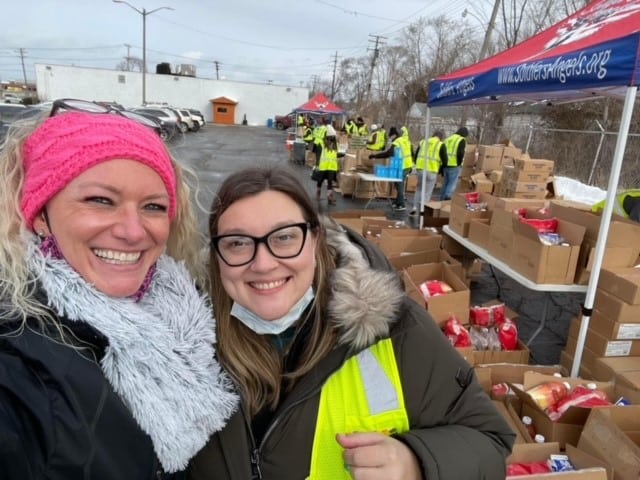 "I volunteer for this organization because this is a way to give back and care for our Veterans. My brother was in the Army and passed away at Ft. Hood in 2020. My Grandfather, Joseph Byers was Veteran of Korean War who suffered with addiction. My Uncle signed up to fight in the Vietnam war at the age of 17 and was killed on his 18th birthday. As much as I feel we owe our service men and women our honor and gratitude, it's the love and caring for each other we need to show our soldiers is what they were fighting for."
One story that comes to mind for her is the joy she feels over the holiday season.
"I love all the Veterans I have met over the years. These are some of the most genuine and warmest smiles. One year I was able to join Soldiers' Angels in spreading joy during the winter holiday at our Detroit VA hospital. The hospital can be a cold and lonely place, especially around Christmas and I don't know who benefited more from all the love that day."
Debby Eiser: Charleston, South Carolina
Debby Eiser has been volunteering at the Charleston Veteran Food Distribution for 1.5 years. This retired accountant has been integral in the online signup and back-end reporting of our monthly events.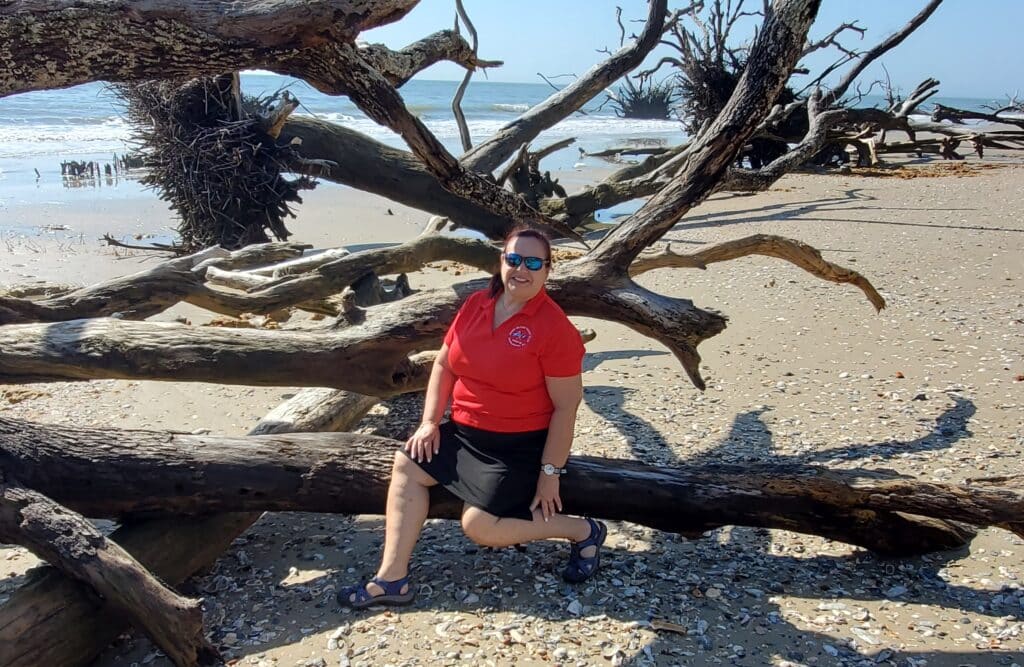 "I am recently retired and was looking for a volunteer opportunity. A friend of mine was already volunteering with VFD and asked me to participate in their monthly food distribution, so I started out with packing bags. Then I moved over to checking in veterans. After a few months I took over the online signup and back-end reporting, and then began participating in the weekly coordination conference calls. I still participate in checking in veterans and taking care of any registration problems. As an accountant, I enjoy working with spreadsheets for back-end reporting. And of course, I enjoy the opportunity to serve our veterans–they are always very appreciative and so nice to deal with!"
Laura Davis: San Antonio, Texas
Laura Davis is the San Antonio Veteran Food Distribution Coordinator and has been volunteering with us for two years.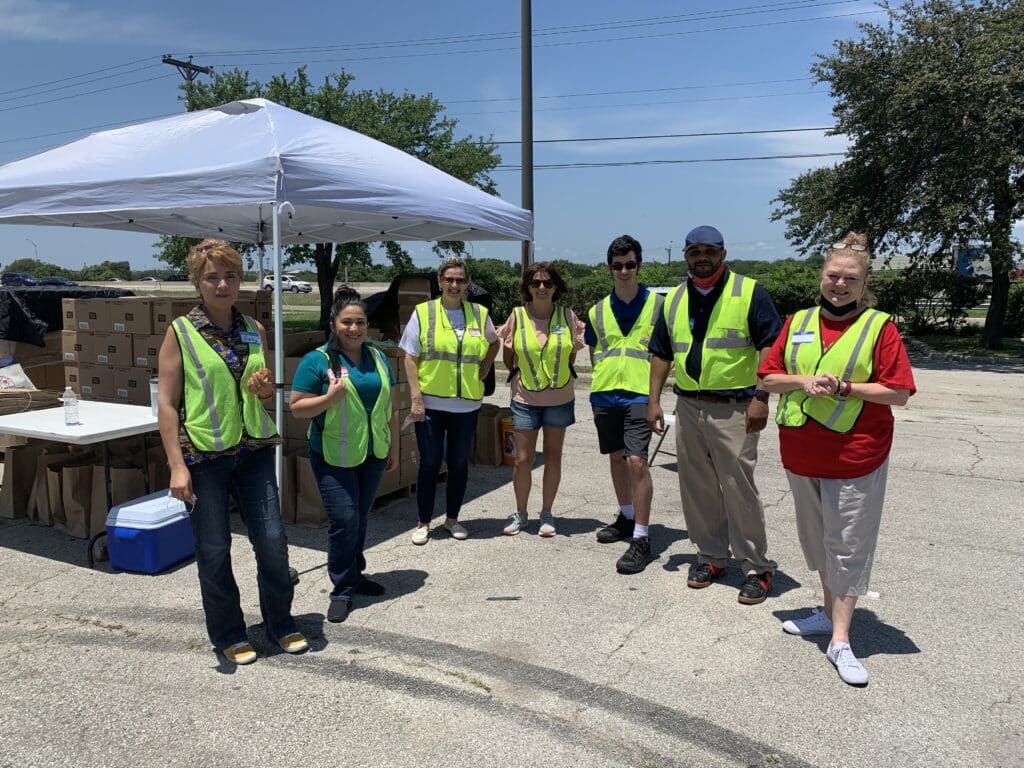 "We moved to San Antonio in June 2020 after my husband retired from the Army after 30 years of service. With it being the beginning of COVID lockdowns, and moving to a new neighborhood, not being able to go to church in person, and no spouse activities on post, I was feeling a bit lost. My son, started looking at volunteer opportunities for me and landed on Soldiers' Angels. I am passionate about food insecurity and our Veterans. Wherever we have lived I have volunteered with Feeding America and other organizations who provide this service for low income families. It will continue to be my passion."
She adds, "Each month, I am floored by the gratitude we receive from our Veterans. We are thanking them for their service, but they want to thank our volunteers for the impact they are having on the Veterans' lives. We hear so many stories about single Veterans who take their grocery distribution and share it with many other Veterans who were not registered. Their generosity continues to amaze me."
Zachary Breininger: Detroit, Michigan
Zachary has been a volunteer for the Detroit Veteran Food Distribution since February 2021.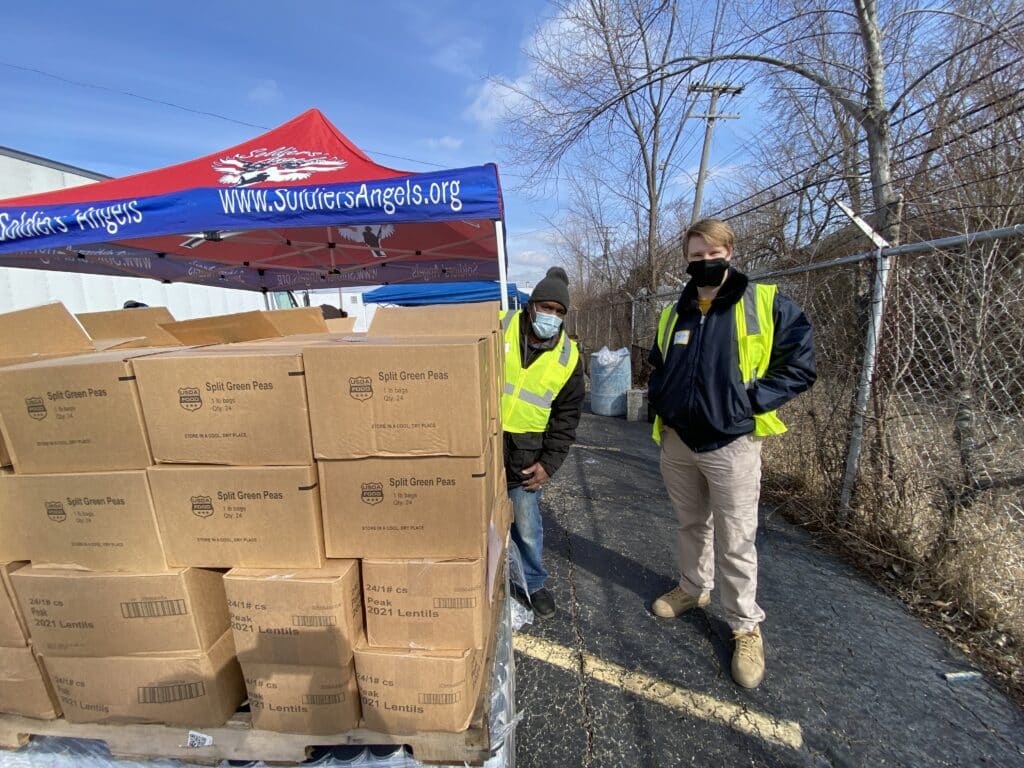 "I volunteer to continue the legacy of service and patriotism my paternal grandparents passed on to me. Ever since I was in a booster chair, they took me on meals-on-wheels routes to lead by example in giving back to veterans. Now that I can make a difference on my own, I choose to volunteer for VFDs to carry to reconnect with all those precious memories and to make new ones in service to those who sacrificed everything so that I may live free."
One story that sticks out for him from his time volunteering:
"At our August VFD, I overheard a conversation between two veteran volunteers about the flag flying at our venue. Old Glory was tattered and frayed, but she flew with pride. For context, we are graciously allowed to run the event out of the VFW Joe Louis Post in northern Detroit, which doesn't have the largest income as VFW posts are concerned (which isn't massive by any stretch of the imagination anyway). One veteran exclaimed he'd had many a sergeant who would have chewed us out for flying such a worn-out flag and that it was a sad sight to see. The other veteran politely but firmly said that it wasn't the flag that mattered but what it stands for. The other vet readily agreed, and then the conversation shifted to getting the Post a new flag. I'll hopefully be working with the Post to get them a new flag shortly. This vignette perfectly encapsulates the reasons why I volunteer with Soldiers' Angels. Not only do I get to help veterans in need, but I also have the honor of working alongside veterans who live up to the command that they leave no man behind. When good people come together to help those in need, there is no limit to the impact that they can have. And although not directly concerning the veterans we help through events like VFD, the hopeful outcome of a new flag for the Joe Louis post (and the impact that the conversation had on me) will strengthen the bonds we share in service to others."
Daniel Gonzales: Denver, Colorado
Daniel Gonzalez has been volunteering at the Denver Veteran Food Distribution for several months now with his business Ursa Major. Area Manager Chris Clark had this to say about him:
"Dan is a vet himself and a man of wisdom and family values so he has a great presence out there. He and I have had some really good conversations about how we can help veterans in the north part of town and raise food necessity awareness and homelessness for veteran resources. He is as reliable and optimistic as they come." – Chris Clark
Why Dan volunteers: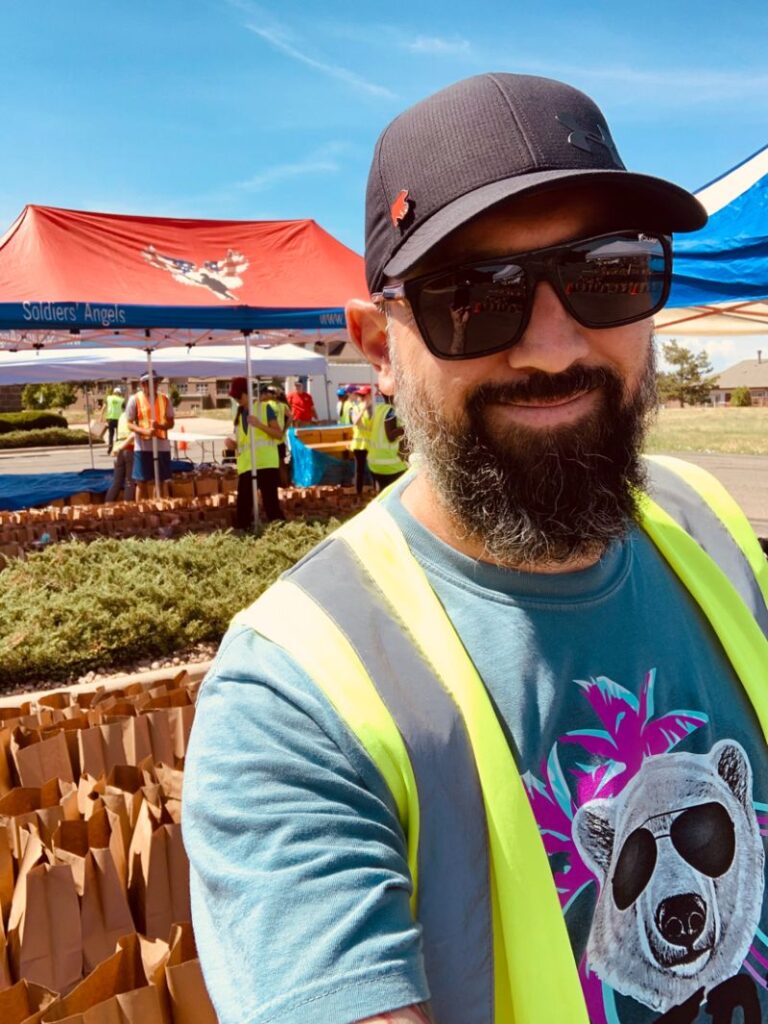 "I volunteer for the Veteran Food Distribution in Denver because I believe giving back to our veteran community and their families is vital. As a recently retired Army Veteran, I know firsthand some of the challenges our veteran communities face and would like to raise awareness of the available resources to them and their families. In the military, no mission is accomplished by one individual, and it takes a team to succeed. I hope through my time volunteering; I can inspire others to donate their time to help those in need."
One story that sticks out for him from his time volunteering:
"In the times I have had the opportunity to volunteer, I have seen veterans that span numerous generations. It is an honor to serve those who have served, especially the service members who have been a part of conflicts written in history. It puts a smile on my face to be able to serve our Veterans and see the pride they take in their service. Also, I am happy to see when they are benefiting from programs such as Soldiers' Angels."
These are just a few of the thousands of volunteers who support these events each month. Learn more about volunteering as a company or individual here.
Can you #TakeAction for Hunger Action Month and donate to provide food to veterans? Donate now
---